Samsung Galaxy Note II 16GB Smartphone Review – AT&T 4G LTE
By
Samsung Galaxy Note II Phablet
When Samsung launched the Galaxy Note Smartphone last year, the sheer size of the phone shocked many consumers. The Galaxy Note was hands down the largest smartphone that we have ever seen. It measures in at 5.75-inches long, 3.25-inches wide, and just under half an inch thick. When we first started using the device, we found it to be at the upper edge of comfort, and that it would just barely fits in a pair of jeans. It was like Samsung was creating a device for people like Shaquille O'Neal or something!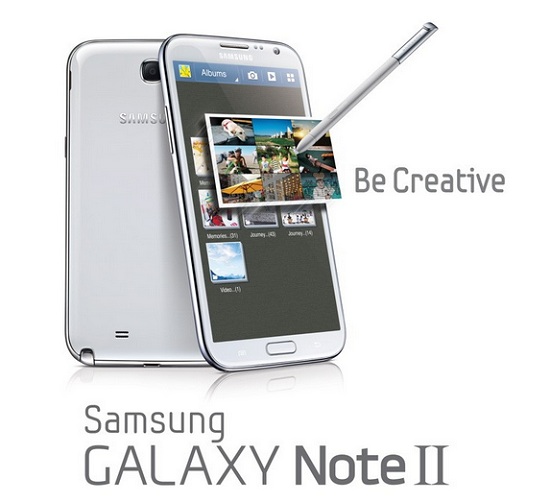 That said, Samsung sold over 10 million Galaxy Note smartphones in the first nine months alone. It turns out that people really loved the size of the device and that the Galaxy Note includes a stylus, which Samsung called the 'S Pen'. The hardware specs weren't bad either as the most popular version of the phone shipped with a peppy dual-core Qualcomm Snapdragon S3 (APQ8060 1.5 GHz) processor with the Adreno 220 GPU and 1GB of RAM. Top that off with a 5.29″ HD Super AMOLED display with RGBG-Matrix (Pentile) and a nice 1,280 x 800 (WXGA) resolution that is protected by Gorilla Glass and you have a winner on your hands. Samsung has done a great job with this phone over the past year when it comes to software support and has rolled out many updates. For example the phone originally launched with Android 2.3.6 (Gingerbread), but depending on the region, has rolled out Android 4.0 (Ice Cream Sandwich) and Android 4.1 (Jellybean) to customers. While the Galaxy Note has no doubt been a success for the company, it is time to move on and Samsung recently announced the successor to the Galaxy Note, the Galaxy Note II.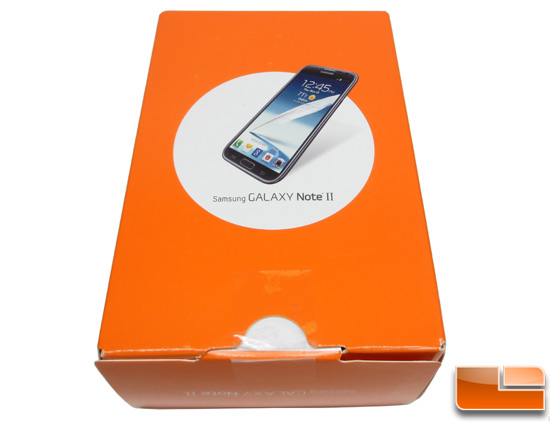 The Galaxy Note II keeps smartphone uses the same design principles, but Samsung has pretty much improved upon all areas of this phone. For starters the screen has gotten LARGER! The Galaxy Note II uses a 5.55″ HD Super AMOLED S-Stripe RGB (3 subpixels/pixel) (non-PenTile) with a 1,280×720 resolution. We love the fact that the phone now uses a 16:9 aspect ratio rather 16:10 like before and has a more common 720p resolution! The Galaxy Note II weighs in at 180g and measures 151.x x 80.5 x 9.4mm (HxWxD). This means that it is slightly thinner than its predecessor at, albeit heavier by 2 grams.
Inside the hardware has greatly improved with a quad-core 1.6 GHz Exynos 4412 processor, 2 GB RAM and a 3,100 mAh capacity battery. It also comes with an improved S Pen that has more features and a new ergonomic design compared to the original. When it comes to software, you'll find Google's Android 4.1.1 (Jelly Bean) operating system.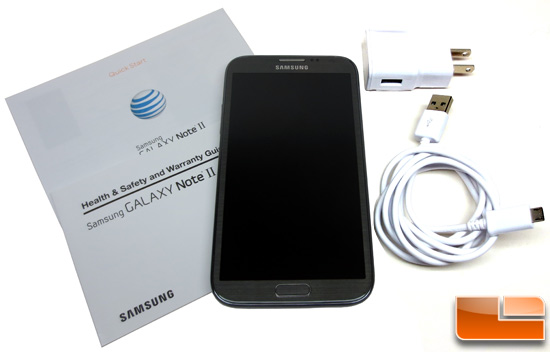 The Galaxy Note II is available in two colors – Titanium Gray and Marble White. We will be looking at the Titanium Gray 16GB model on the AT&T mobile network. It should be noted that 16/32/64GB models will be available and all feature removable storage, which means there is a microSD slot on the phone that allws you to add up to 64GB of memory. Inside the retail packaging you'll find the wall charger, USB cable, quick start guide and the warranty guide.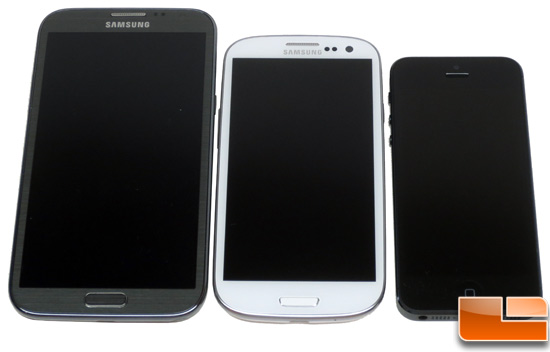 The Galaxy Note II is a very large device and to show this we took a photo of the Note II (far left) sitting next to the Samsung Galaxy S III and the Apple iPhone 5 (far right). As you can see the Note II is much larger and we were left wondering if this device should be considered a smartphone, tablet or a new hybrid? Many have
called it a 'phablet', but since Samsung markets it as a smartphone we
will be calling it that!
Let's take a closer look at the Note II!