Zalman Z11 Neo Mid Tower Case Review
By
Zalman Z11 Neo Mid Tower ATX Case

Zalman, based in Korea, has been providing a wide variety of unique computer products to consumers since 1999, with an emphasis on developing noiseless computing solutions for a market that was growing in demand for these products. Zalman has released a variety of products since being founded, including 3D LCD monitors, GPU cooling solutions, CPU heatsinks and of course, PC cases. Zalman's slogan is "Cool Innovations."
I fondly remember Zalman heatsinks from my early days of reviewing as being quiet performers with a unique, functional look. In fact, that's Zalman's angle. Their products tend to be different in looks and mechanism, but very functional and high performance. For example, their flagship AIO cooler, the Reserator 3 Max, uses a vastly different design than your typical AIO cooler, but offers great cooling performance. Zalman has been a favorite of PC enthusiasts in the past, so it will be interesting to look at their latest offering in the case market, the Z11 Neo.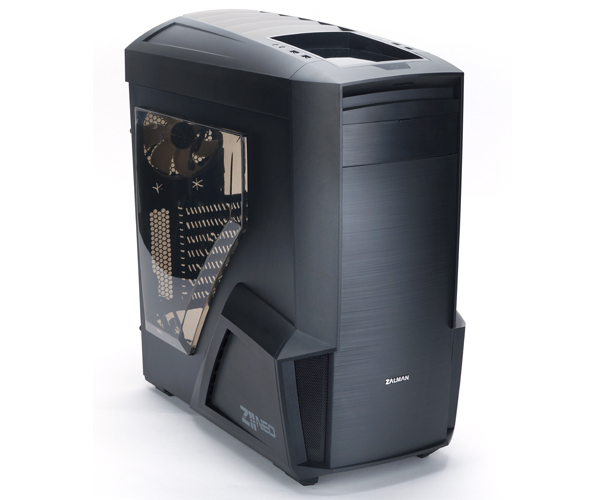 The Zalman Z11 Neo Mid Tower Computer case, which is a revision of an already popular line of cases marketed towards gamers from Zalman that fall under the Z11 model name, was sent to us for review directly by Zalman. Word of the Z11 Neo actually hit late last year, but Zalman has only now been able to release this case.
The case measures in at 205 x 520 x 515mm, which weighs it in at a little larger than your average Mid Tower ATX case, but this is largely due to the large plastic top and front fascia extending from the case so much. There is currently one model of Z11 Neo, with no variations in chassis color or LED fan type currently available. With an MSRP of $84.99, this case has a lot of competition from other manufacturers such as Corsair and NZXT, so it will be interesting to see what Zalman has up their sleeve to set the Z11 Neo apart from it's competitors. Luckily, it can be found for $54.99 shipped after a $20 rebate right now and that $30 price drop puts this case in a whole new price category.
Here are the specifications of the Zalman Z11 Neo Black ATX Mid Tower, taken directly from Zalman USA's Z11 Neo product page.
Case Type
ATX Mid Tower Case
Dimensions ( W x H x D)
205 x 520 x 515mm
Motherboards
Standard ATX / Micro ATX
Power Supply Unit
Standard ATX / ATX 12V
PCI / AGP Card Compatiblility
Full size 270~400mm
Expansion Slots
7 slot
Color
Black
Drive Bays
5.25″
External Bay x 1
3.5″
Internal Bay x 6
2.5
External Bay x 2
Cooling
Components
(Fans)
Front
2 x 120mm Fan Vent (1 LED Fan Included)
Rear
1 x 120mm Fan Vent (1 Fan Included)
Top
2 x 120/140mm Fan Vent (1 LED Fan Included)
Bottom
1 x 120/140mm Fan Vent (Fan Optional)
Side
2 x 80mm Fan Vent (2 Fan Included)
I/O Ports
Ports
1 x Microphone, 1 x Headphones, 2 x USB 3.0, 2 x USB 2.0
I looked for warranty information on the box, the manual and in the literature for the case that Zalman has posted on their website. The warranty information was not clearly spelled out on any of the product references. Referring to Zalman USA's website, I found a downloadable PDF with Zalman's warranty information:
"Zalman USA and any Zalman USA brand hardware products purchased in the United States come with limited 1-year warranties. Power supplies and SSDs come with 3-year limited warranties. The limited warranties cover defects in material and workmanship within the warranty period and they are further described below." – Zotac
Given the information provided, it appears that the Z11 Neo comes with a one year warranty for defects in material and workmanship. In the future, it'd be good practice for Zalman to list the warranty in the manual, or at least provide the URL to their warranty page.
Zalman is clearly targeting PC enthusiasts on a budget and gamers with the Z11 Neo, as it's distinct styling and lighting aren't going to fit well in an office or work environment. Users who are interested in a quality ATX mid-tower with appealing visual features that offers a decent amount of expansion and cooling options should definitely be interested in the Z11 Neo and what it has to offer. The Z11 Neo is currently available for $54.99 shipped at Newegg after a $20 rebate if purchased before 5/31/2015.
Let's take a closer look at the case, now.