be quiet! Shadow Rock LP CPU Cooler Review
By
Introduction to the be quiet! Shadow Rock LP CPU Cooler
be quiet! is a German company, founded in 2002, who manufacturers power supplies, CPU coolers, PC cases, and case fans. If you've never heard of them, there's a chance that you've been living under a rock! Delivering premium products, be quiet!'s main target is the PC enthusiast – AKA: You. They have been awarded nine times in a row as "Manufacturer of the Year" in the power supply category, five-time consecutive winner for fans, and also a top 3 CPU cooler brand for more than three years in a row. That should tell you that be quiet! strives for success and people really love their products. It has been a while since we've had the opportunity to review a be quiet! product, so today we're going to take a look at a recent CPU cooler release, the Shadow Rock LP – LP standing for Low Profile.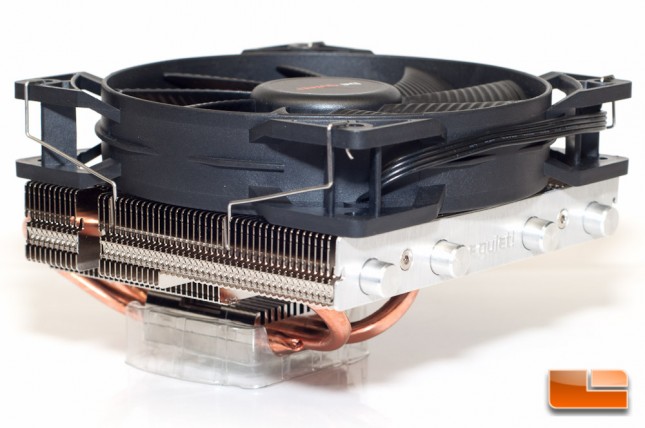 So you find yourself needing a better cooling solution in your home theatre PC (HTPC) or your small form factor (SFF) case, all while being relatively quiet and looking sleek? This is where the Shadow Rock LP comes into play, as it was designed to fit specifically into these types of cases – cases that generally don't have a lot of room. be quiet! even says, "If you are seeking the best possible mix of premium cooling performance for restricted space situations, remarkably quiet operations, eye-catching design, and a highly attractive price in the compact CPU cooler segment, seek no further. Shadow Rock LP is the new cooler for you."
With that all said, we are expecting to see some pretty good results over the stock Intel HSF. This cooler is clearly far more attractive than the stock Intel HSF, sporting 48 aluminum fins, four 6mm heatpipes, a dual heatsink setup, and a Pure Wings 2 fan. Measuring a whole 76mm tall, this HSF will fit in a lot of places. An aesthetic item that be quiet! paid attention to was the ends of the heat pipes – they're capped. Traditionally you will just find them crimped off at the end, so this cap makes the visual appeal so much greater.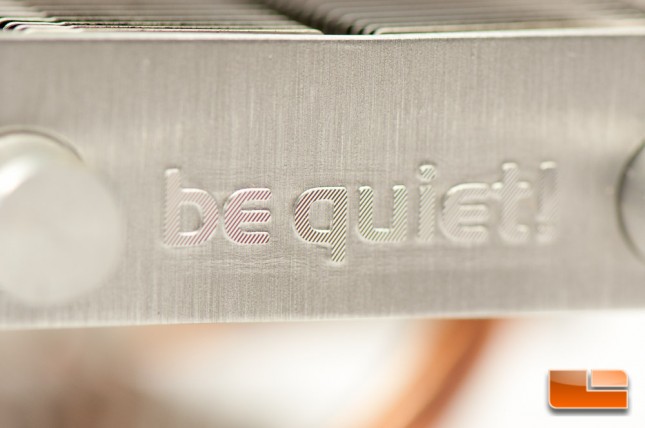 Be mindful on what you place this cooler on, though, as it only has a max TDP of 130 watts, which isn't a lot. This does not come as a surprise given the compact nature of this cooler. Basically what we're getting at here is, don't expect to be overclocking your HTPC's CPU and have this cooler take care of your heat concerns, because it won't do that well. However, do expect it to perform a fair amount better than the stock cooler as we have found that the stock cooler is just not that good.
The be quiet! Shadow Rock LP is currently for sale on Newegg for $43.90 shipped and comes with an astonishing 3-year warranty.
Shadow Rock LP Technical Specifications:
Model
Shadow Rock LP
Main Specification
Overall dimensions (L x W x H)
134 x 122 x 75.4 mm
Total weight
0.39 kg
TDP
130 Watts
Socket compatibility
Intel: 775 / 115X / 1366 / LGA2011 Square ILM / 1150
AMD: AM2(+) / AM3(+) / FM1 / FM2(+)
Overall noise level @ 50/75/100% (rpm)
14.8 / 18.6 / 25.5 dBA
Warranty
3 Years
Heatsink specifications
Dimensions (L x W x H)
134 x 122 x 50.4 mm
Number of fins
48
Fin material
Aluminum
Base material
Copper
CPU contact surface
CNC machined
Heatpipes
4 @ 6mm
General fan specifications
Fan model
Pure Wings 2
Fan dimensions
120 x 120 x 25 mm
Speed @ 100% PWM
1,500 RPM
Air flow @ 12V
51.4 CFM
Air pressure @ 12V
1.25 mmH2O
Bearing type
Rifle
Motor technology
4-pole fan motor
Rated voltage
12 Volts
Input current
0.09 Amps
Input power
1.1 Watts
Connector
4-pin PWM
Lifespan
80,000 hours
Let's move on and take a quick look at the packaging and what comes inside the box, and follow that up with a review of this great looking low profile air cooler.