Prolimatech Panther CPU Cooler Review
By
Test System & Results
For todays tests we will be comparing the Prolimatech Panther against the Cooler Master V8 as well as the stock Intel LGA 1155 retail box CPU cooler.
Here is a short list of the parts that make up the test system:
Intel Test Platform
Component
Brand/Model
Pricing
Processor
Intel Core i5-2500K
Click Here
Motherboard
ASUS P8P67 Pro
Click Here
Memory
Corsair Vengeance 8GB DDR3 1600MHz
Click Here
Video Card
EVGA GeForce GTX 470
Click Here
Storage Drive
Crucial C300 64GB SSD
Click Here
Power Supply
BFG Technologies
Click Here
Chassis
Cooler Master HAF 932
Click Here
Operating System
Windows 7 Home Premium (64bit)
Click Here

Testing Method:
For monitoring all temperatures I am using Coretemp. For idle temperatures, the computer was left unused for 15 minutes at desktop allowing it to settle. For load temperatures, prime95 was used, and ran for 20 minutes using the default blend setting. The CPU was tested at stock speeds with turbo enabled. Our overclocked tests were run at 4.8 GHZ using 1.46v to maintain stability. All tests are done using Arctic Cooling MX-2 thermal paste. Temperatures shown will be the average of all four cores.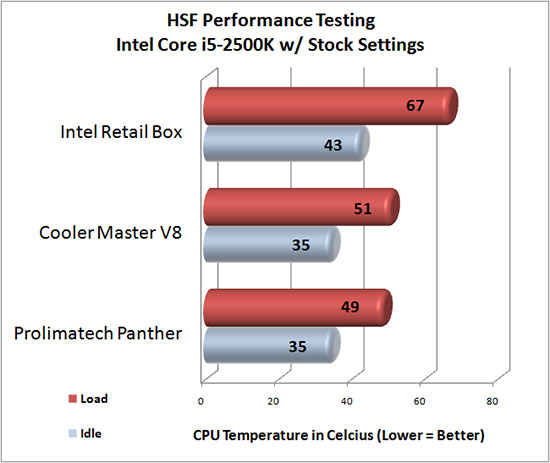 Here you can see that the Prolimatech Panther has a huge advantage over the stock Intel cooler, which was to be expected. The Prolimatech Panther dropped the load temperatures by 16C, a very nice 27% improvement. It also had a two degree advantage over the Cooler Master V8 at full load. At idle, however, they were identical.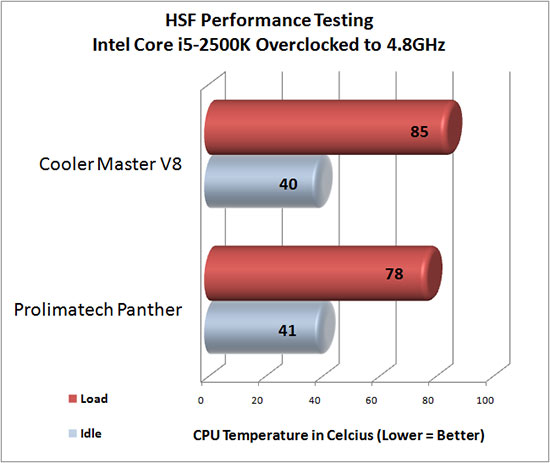 When the CPU was overclocked to 4.8 GHZ you really see that the Panther can handle the load heat much better than the Cooler Master V8 could. At full load neither cooler was silent, but the Panther was considerably quieter than the V8 was.