Plextor M7e M.2 PCIe SSD Performance Numbers From CES 2015
By
One most anticipated products of CES 2015 are the next round of PCI Express Solid-State Drives (SSDs) that so many have been waiting for. In 2014 Legit Reviews was able to take a look at the Samsung 941 XP M.2 PCIe SSD along with the Plextor M6e M.2 PCIe SSD in both single drive and RAID 0 configurations. We were ecstatic to get our hands on the latest M.2 PCIe drives, but these were the first consumer drives to come to market and six months ago there were some firmware improvements and optimizations needed. Plextor rolled out a number of firmware updates for the M6e since releasing the drive and it is better performing now due to the time and effort they put into ensuring Plextor customers are getting the performance they expected. When we learned that Plextor would be showing off the upcoming M7e PCIe SSD at CES 2015 we couldn't wait to see what Plextor had in store for enthusiasts.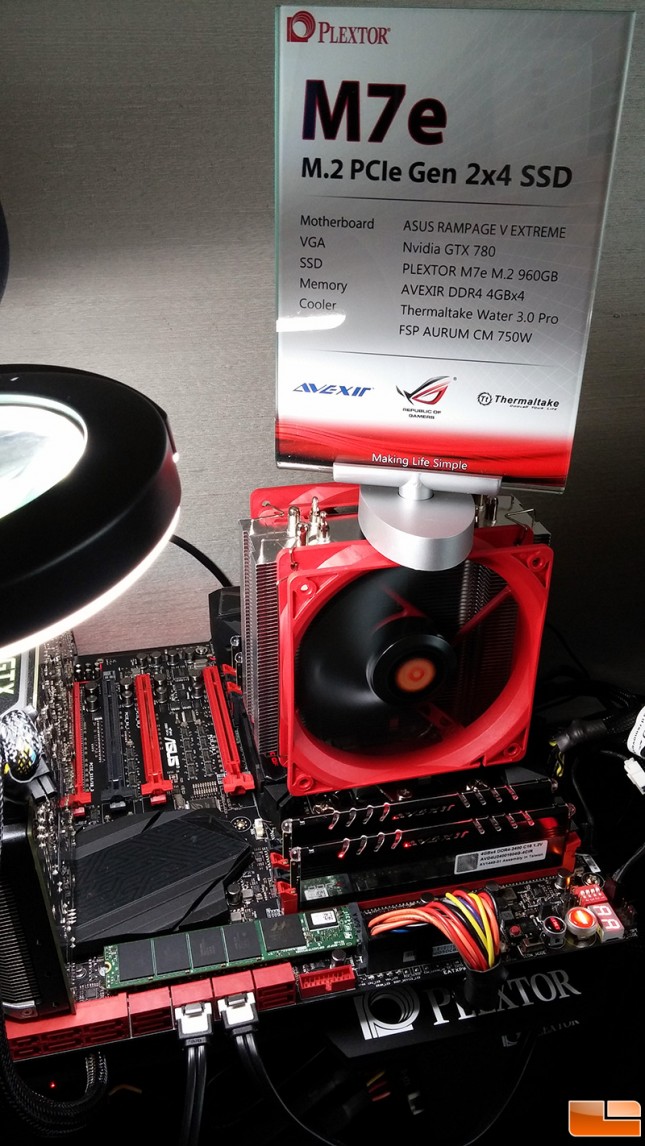 The Plextor M7e doesn't have a solid release date just yet, but it is coming in Q2 2015 and this next generation solid-state drive uses the PCIe Gen 2 x 4 interface (four lanes). The original Plextor M6e M.2 SSD was PCIe Gen 2 x 2 (two lanes), so you went from having a 1GB/s interface to one that is up to 2GB/s! This is a huge step up on the throughput of the PCIe interface and that is of utmost importance to gamers and enthusiasts that want the maximum performance from their devices. The Plextor M7e features Marvell's latest 88SS9293 controller and the latest Toshiba MLC NAND Flash. This Marvell controller appears to be popular as it is the PCIe Gen 2×4 (4-lane) PCIe SSD controller That Kingston went with on the HyperX Predator PCIe SSD that was also released today.
Legit Reviews stopped by Plextor's suite at the ARIA Resort and Casino and was shown a demo where the M7e was up and running on the ASUS Rampage V Extreme motherboard. The Plextor M6e Series 256GB M.2 PCIe SSD was rated at 770 MB/s – Sequential Write and 580 MB/s Sequential Read. The new Plextor M7e Series firmware is still being refined, but we were told that we should expect over 1000MB/s read and write! Plextor will offer the M7e in 256GB, 512GB and 1TB capacities and they are expected to be released by the end of Q2 2015. Pricing has not been set since the M7e series is still months away from being released.
As you can see from the image above the Plextor M7e is designed to fit in a modern motherboard's M.2 PCIe slot. Plextor will likely offer a half-height, half-length (HHHL) adapter for those that don't have a board with this interface as they did that with the M6e in 2014.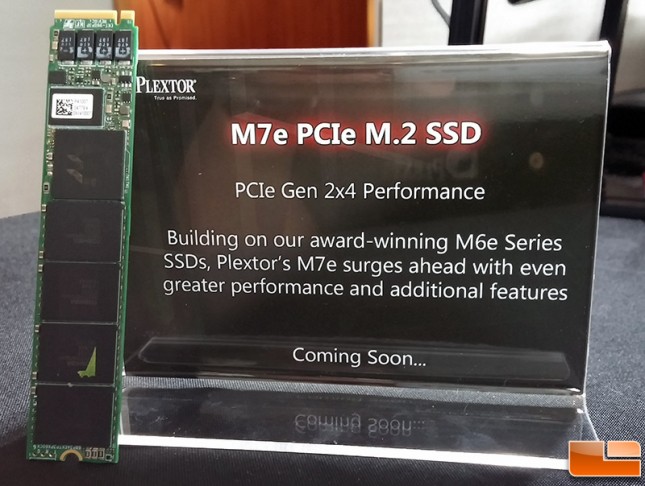 Plextor's suite at CES 2015 compared the new 1TB M7e versus a Samsung XP941 512GB M.2 PCIe SSD and the results were impressive. On CrystalDiskMark the Plextor M7e scored an impressive 1411 MB/s read and 1028 MB/s write. The Samsung XP941 512GB drive scored 1136 MB/s read and 929MB/s write. These are blistering speeds for a single drive and the sequential numbers it makes your SATA III SSD look painfully slow. When it comes to 4K performance numbers the read speeds on both the Samsung and Plextor drives were found to be 33MB/s on the Read test and then we saw the Samsung drive leading on the write test by about 22MB/s.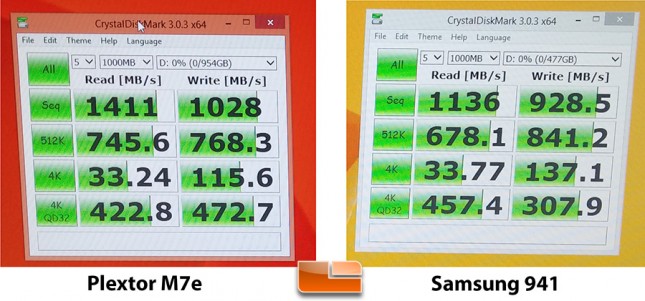 It looks like Plextor is continuing to focus on the M.2 PCIe market and we really like what we are seeing!