Plextor M6e 256GB M.2 PCIe SSDs in RAID – Hitting 1.4GB/s
By
Running RAID on M.2 PCIe SSDs To Get Fast Storage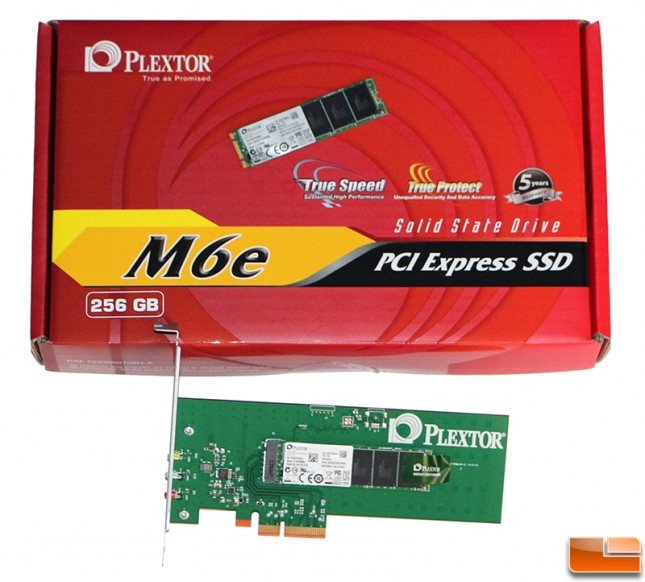 Last week we found the Plextor M6e 256GB M.2 PCI Express SSD to be pretty damn fast, but we really wanted to see what happened when we got two drives running in RAID. The Plextor M6e PCIe M.2 SSD is a PCIe Gen 2.0 x2 device is available in 128, 256 and 512GB capacities and is factory rated as having up to 770MB/s sequential read and 625 MB/s sequential write speeds. The performance varies slightly on the capacity of the drive, but the read speed is 770MB/s for all capacities. If you happened to put two of these drives together to create a RAID0 array, you are talking about having over 1.4GB/s on the sequential read speeds. You'd need at least three leading SATA III 6Gbps drives to hit those speeds, so PCI Express Gen 2 x2 drives are allowing you to push the boundaries when it comes to performance and hit speeds that once took multiple drives to achieve.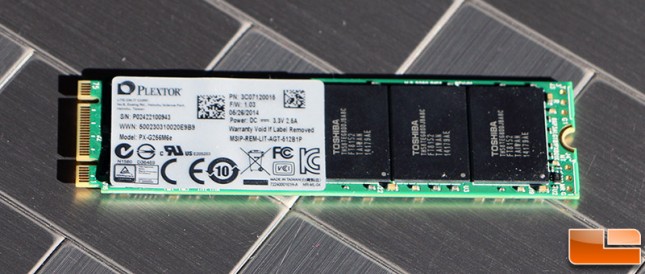 The Plextor M6e series uses the Marvell 88SS9183-BNP2 native PCIe 2.0 controller that uses custom firmware that was designed in-house by Plextor. The Marvell 88SS9183 controller supports two Gen 2 PCIe lanes and the firmware has been optimized for AHCI mode. A single NANYA branded 512MB DDR3 memory chip is located under the product label and handles the drive caching. Plextor uses eight 32GB Toshiba TH58TEG8DDJBA8C 19nm Toggle Mode MLC NAND chips on the 256GB Plextor M6e M.2 SSD. You'll find only 240GB of space available in Windows though as Plextor reserved about 7% of the storage space for over-provisioning. Plextor also relies on the TRIM command and garbage collection algorithms to keep performance up to the rated speeds.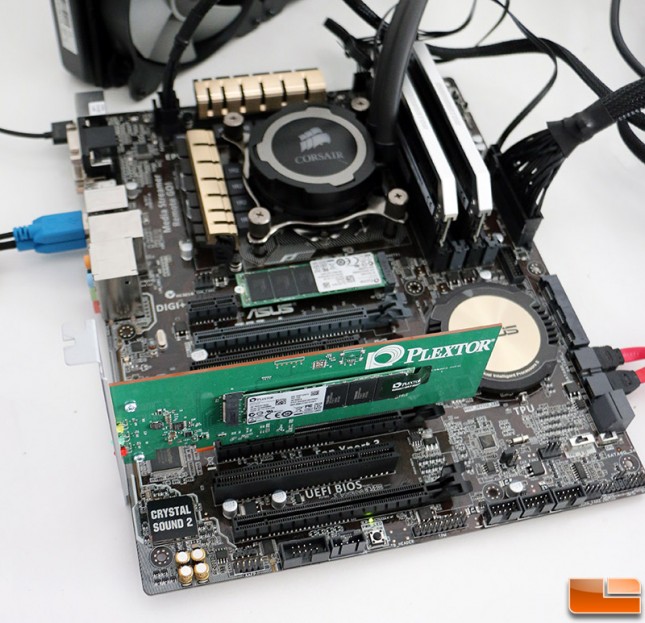 There are two quick and simple ways for a home PC user to run a pair of M.2 PCIe SSDs in RAID. Since the brand new Intel Z97 Express chipset fails to support PCIe RAID setups, you can either setup a dynamic RAID array in Windows by using one or two PCIe M.2 SSD Adapter cards or by investing in a costly hardware RAID card that supports PCIe M.2 SSDs. We know of one motherboard out there that has two M.2 interfaces on it and that is the ASRock Z97 Extreme6 ($169.99 shipped). So, unless you happen to own that board you'll pretty much have to buy an adapter to get software or hardware RAID to work. On our ASUS Z97-A motherboard we ended up using a Plextor PX-G256M6e M.2 SSD ($236.25) for the boards M.2 slot and then the Plextor PX-AG256M6e M.2 SSD w/ Adapter ($294.40) to add a second card to the platform. There are add-in dual slot M.2 adapters out there like the Bplus M2P4S Dual M.2 SSD to PCIe Gen 2 x4 adapter that is available online at RAMCity, so you could always use a third party adapter
Once you have figured out how to get two M.2 SSDs up and running on your PC you'll need to enable the RAID array that you want. Starting with Microsoft 2000 there is built-in functionality to set up a software RAID without any additional tools, but the dynamic volume will not be bootable. If you wanted a bootable RAID setup you'd have to invest in a hardware RAID card and we don't know of one yet that will work for M.2 SSDs. For this look at a pair of Plextor M6e 256GB M.2 PCIe SSDs in RAID0 we'll be setting up a software RAID array in Windows 8.1 Pro.
In order to do this you'll need to go into Windows Disk Management remove any volumes on the two disks if they were previously used and then just right click one and pick the type of RAID volume that you want to set up dynamically. Just follow the prompts and in a matter of seconds you'll have a striped dynamic RAID setup that you can use. You can click through the 11 screen captures above to see the steps that are needed once you get into Windows Disk Management.
Now that you know what we are doing, how we got two M.2 SSDs on our Intel Z97 platform and exactly how we enabled software RAID in Windows 8.1 Pro we can get to testing!