Phanteks PH-TC12DX CPU Cooler Review
By
The Phanteks PH-TC12DX CPU Cooler
Phanteks is a fairly new company that was founded in 2007 by engineers and a Dutch design team. They first came to fame with their PH-TC14PE cooler. Since then, they have diversified by developing a case, fans, and several other CPU coolers.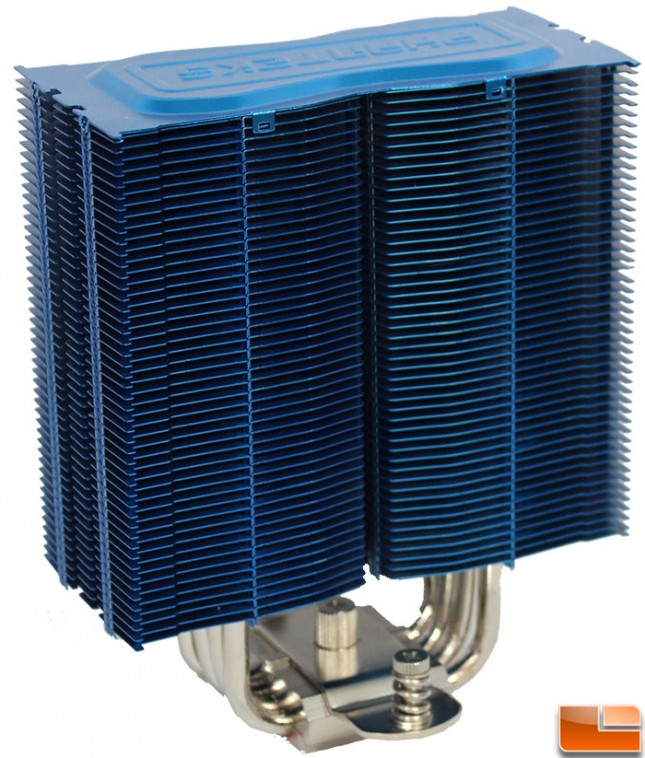 Today, they have sent over the PH-TC12DX the little brother to the PH-TC14PE. This cooler is based on the tower design, with four heatpipes, dual 120mm fans and a universal mounting system. In addition, like their previous coolers it features the P.A.T.S. and C.P.S.C. coatings on the fins. While it is similar to the PH-TC14PE, there are small feature differences. First, the PH-TC12DX is a single tower system rather than the dual tower like the PH-TC14PE. This also means, that only two 120mm fans can be attached to the PH-TC12DX, where the PH-TC14PE could support three 140mm fans.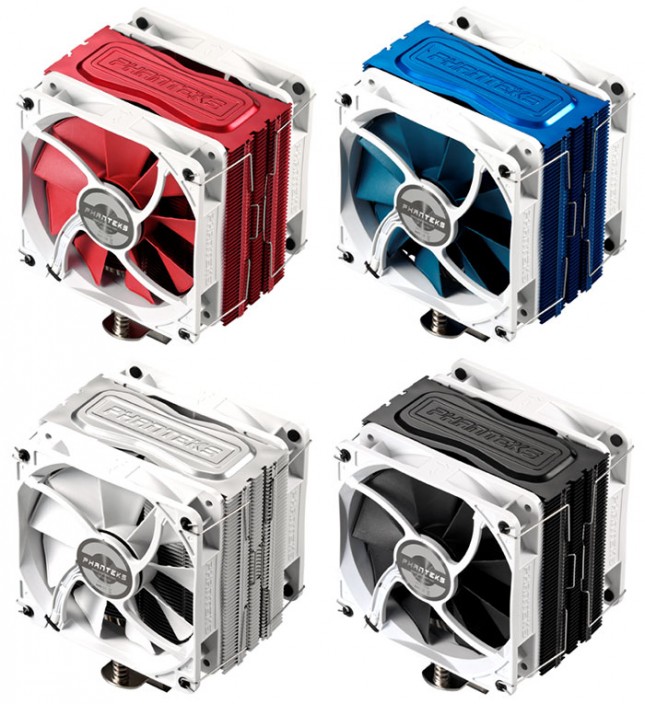 Like their other CPU cooler lines, Phanteks does a great job at making a cooler to fit nearly any color scheme. The TC12DX cooler is offered in four different colors, Red, Blue, White and Black; these are probably the most popular color choices in cases; Orange is not available in the TC12DX line. They also go one step further by color matching the fan blades to the cooler.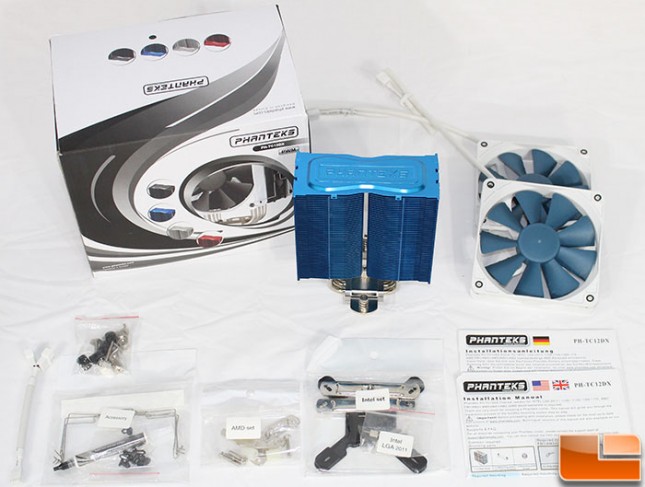 The Phanteks PH-TC12DX CPU cooler comes with everything necessary for a successful install on most motherboards. Included are mounting brackets for the AMD AM2, AM2+, AM3, AM3+, FM1 and FM2 sockets. Intel compatibility is just as diverse with brackets for the 775, 1366, 115x series and 2011 sockets. Phanteks doesn't stop with just a wide range of socket coverage, they also include a 5 year warranty for $49.99 shipped on Amazon.
Phanteks PH-TC12DX CPU Cooler Specifications:
Patented. P.A.T.S (Physical Antioxidant Thermal Shield) will greatly increase the cooling performance and reliability while deflecting other thermal radiation from other heat sources, such as the GPU, South Bridge, North Bridge, etc. P.A.T.S, ran at a long period, will display significantly better results in an enclosure, closed environment, than a tech station, open environment. In extreme conditions, PATS is able to withstand temperatures of up to 200 degrees Celsius. P.A.T.S is environmental friendly and non-toxic.
Patented. C.P.S.C (Cold Plasma Spraying Coating Technology) is a brand new technologic forming deposit that displaces heat onto corresponding metals at a quicker rate. With this technology, the Phanteks PH-TC12DX enhances thermal conductivity on the soldered surfaces of the heat-pipes through the copper deposits.
Phanteks PH-F120HP PWM Premium fans uses UFB (Updraft Floating Balance) bearing, Nine blades and MAFO (Maelstrom Air-Fort Optimization) drive system to achieve massive airflow and perfect dynamic balance. The PH-F120HP fans with the support of the anti-acoustic rubber pad and rubber bar produces low level dB(A) and eliminates vibration. With PWM functions built in, PH-F120HP fans allows you to set speed adjustments for either performance and/or silent operation.
SoliSku universal mounting kit provides broad socket compatibilities for Intel LGA 2011/1150/1155/1156/1366/775 and AMD FM2/FM1/AM3+/AM3/AM2+/AM2 (Stock back-plate required).
Phanteks PH-NDC is made of high purity Nano diamond-like particles to improve the thermal conductance between components. The PH-NDC is a superb quality thermal compound for heat-sinks. Heat generated by CPUs will transfer to the heat-sinks without reduction in efficiency and resistance.
Type

Heatsinks and Fans

Compatibilities

Intel Socket: LGA 2011/115X/1366/775

AMD: FM1/FM2/AM3+/AM3/AM2+/AM2 (stock back-plate required)

Colors

White / Black / Blue / Red

Material

Copper (Base and Heat-pipes), Nickel Plated

Aluminum (Fins and Top Cover)

Patented P.A.T.S (Physical Anti-Oxidant Thermal Shield)

Patented C.P.S.C (Cold Plasma Spraying Coating)

Fan Model

PH-F120HP PWM Premium Fan

Fan Size

120 x 120 x 25mm

Fan Compatibilities

120 x 120 x 25mm (2pcs)

Bearing Type

UFB (Updraft Floating Balance) Bearing

Blade Geometry

Nine Blades with MVB(Maelstrm Vortex Booster) Design

Speed (RPM)

600 1800 RPM 10%

Max Airflow

23 68.5 CFM

Max Air Pressure

0.39 2.07mm H2O

Acoustical Noise

21.9 27.6 dB(A)

Input Power

2.16W

Current (Ampere)

0.18A

Rate Voltage

12V

MTBF

>150,000 h

Heatsink Dimensions

(LxWxH)

126 x 57 x 157mm (without fans)

126 x 107 x 157mm (with dual fans)

Package Dimensions

220x163x173 (LxWxH)

Scope of Delivery

1x PH-TC12DX Heatsink

2x PH-F120HP PWM Premium Fans

8x Fan Clip Adapters

4x Rubber Bar,

4x Fan wire clips (PH-F120HP Fans Accessories)

SoliSku Mounting Kits for Intel and AMD (Stock back-plate required)

1x Y Fan Splitter (4pin)

1x PH-NDC Thermal Compound

2x Phanteks PH-TC12DX Users Manual

Warranty

5 Years.