Phanteks PH-TC14CS C-Type CPU Cooler Review
By
Our First Updraft Floating Balance HSF
Phanteks come on the scene with their PH-TC14PE, just rolls of the tongue doesnt it, and made a lot of buzz because it topped the charts on many review sites giving long standing kings of cooling like the Noctua NH-D14 and run for their money. It had a down side, its size. The PH-TC14PE was just flat out massive.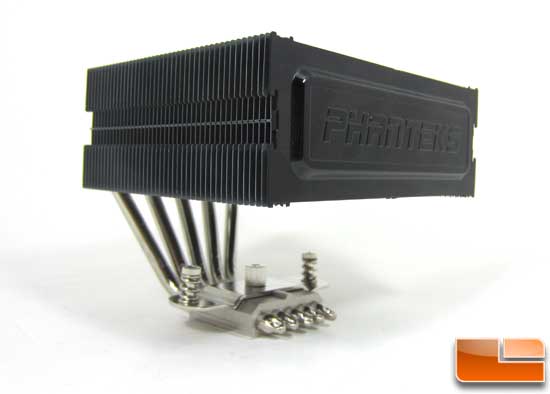 This time around Phanteks has sent us their newest cooler the PH-TC14CS, a C shape down draft cooler that sports dual 140mm fans. The PH-TC14CS sports a lot of the same features as the PH-TC14PE did with the P.A.T.S. and C.P.S.C. coatings on the cooling fins, as well as multiple color choices.
Phanteks add a couple new features to the list for the PH-TC14CS though. The most noticeable is the addition of the color black to the lineup. The other new feature is the addition a PWM adaptor for the fans. The fans themselves are not PWM, so instead of redesigning the PH-F140 fan Phanteks created an inline adaptor to add in the PWM function.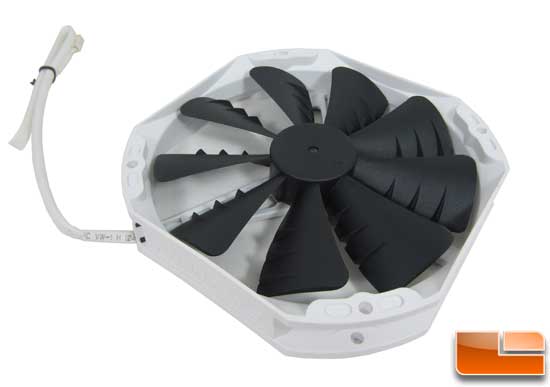 The PH-F140 fan is rather quiet running at 19.6dBA pushing 88.6CFM. With the new PWM adapter that changes to 13.4 to 19dBA pushing 45.1 to 78.1CFM. So with the PWM function you lose about 10CFM on the high end, but with the system at idle the sound is pretty well silent. Since the adapter is user installed this makes the PWM function user selectable.
Features of Phanteks PH-TC14CS
Patented P.A.T.S (Physical Antioxidant Thermal Shield) will greatly increase the cooling performance and reliability while deflecting other thermal radiation from other heat sources, such as the GPU, South Bridge, North Bridge, etc. P.A.T.S, ran at a long period, will display significantly better results in an enclosure, closed environment, than a tech station, open environment. In extreme conditions, PATS is able to withstand temperatures of up to 200 degrees Celcius. P.A.T.S is environmental friendly and non-toxic.
Patented C.P.S.C (Cold Plasma Spraying Coating Technology) is a brand new technologic forming deposit that displaces heat onto corresponding metals at a quicker rate. With this technology, the Phanteks PH-TC14PE enhances thermal conductivity on the soldered surfaces of the heat-pipes through the copper deposits.
Phanteks PH-F140 premium 140mm fans uses Updraft Floating Balance (U.F.B) bearing, nine Maelstrom Vortex Booster (M.V.B) blades, to achieve massive airflow and perfect dynamic balance. to reduce noise level, the fan emits a low dBA with the support of the acoustic rubber damper and rubber-bar to help eliminate vibration.
The SoliSku universal mounting kit provides an easy-to-install rotational backplate for Intel LGA 2011/1155/1156/11366/775. AMD FM1/AM2/AM2+/AM3 (stock backplate required ).
The PH-NDC is a superb quality thermal compound for heatsinks. It is made of high-purity nano diamond like particles to improve the thermal conductance between components. The generated heat caused by the CPU will transfer to the heatsink, without reduction in efficiency and resistance.
Specifications of Phanteks PH-TC14CS
Model: PH-TC14CS_BK
Compatibility
Intel: LGA 2011, 1155,1156, LGA 1366, LGA775
AMD: FM1/AM3+/AM3/AM2+/AM2 ( stock backplate required )
Color: Black
Material
Copper ( Base and 8mm x 5 Heat-pipes), Nickel Plated.
Alum. ( Cooling Fins / Top Cover) with Patented P.A.T.S (Physical Anti-Oxidant Thermal Shield) to increase cooling performance. Patented C.P.S.C Technology ( Cold Plasma Spraying Coating Technology ) to enhance thermal conductivity.
Fan
Model: PH-F140 Premium Fan with PWM Adapter.
Fan Size: 140x140x25 , Dual Fan
Bearing Type: UFB bearing ( Updraft Floating Balance bearing )
Blade Geometry: 9 colored Blades with MVB ( Maelstrm Vortex Booster) Design
RPM: 1300 RPM 10%
Max Air Flow: 88.6 CFM
Max Air Pressure: 1.37 mm H2O
Acoustical Noise: 19.6 dBA
RPM with PWM adaptor: 700-1200 RPM 10%
Max Air Flow with PWM adaptor: 45.1CFM-78.1 CFM
Max Air Pressure with PWM adaptor: 0.45 mm H2O 1.21 mm H2O
Acoustical Noise with PWM adaptor: 13.4-19 dBA
Input Power: 2.8W
–Current (Ampere): 0.24A
Rate Voltage: 12V
–MTBF: > 150,000 hr.
Heatsink Dimension (LxWxH)
without fan: 143.8x140x112 mm
Single Fans: 160x151x112mm
Dual Fans: 160x151x140.5 mm
Heatsink Weight
without fan: 600g
with single fan: 750g
with dual fan: 900g
Scope of Delivery
1x PH-TC14CS Heatsink
2x PH-F140 Premium fan, (Maelstrm Air Fort Optimization drive)
PH-F140 Fan accessory
4 x rubber bar, 8x fan clip adaptor, 4x fan wire clip
SoliSku mounting kits for Intel LGA 2011, 1155/1156/1366/775 and AMD FM1/AM3+/AM3/AM2+/AM2 ( stock backplate required )
1x PWM external adaptor (Pulse Width Modulation, P.W.M. )
1x Y Fan Splitter
1x PH-NDC Thermal Compound
1x Hex Wrench
Phanteks PH-TC14CS Users manual
Warranty: 5 Years