Patriot P300 1TB M.2 NVMe SSD Review – USA Edition
By
Final Thoughts & Conclusions
Patriot is clearly going after the entry-level market with the P300 series. By offering 128GB to 2TB models, Patriot ensures they have the size you need whether it is a primary system drive or a secondary storage drive.
We managed to meet or exceed the P300 1TB drives rated speeds of 2,100 MB/s read and 1,650 MB/s write as the primary drive with it over half filled. While this is impressive, the P300 is clearly an entry-level drive that struggles to compete against other models in our benchmark testing. If you are wanting a drive that offers the best performance around, this is not it. This drive is for those that are looking for an NVMe SSD on the cheap.

The Patriot P300 is available from Amazon right now in 256GB, 512GB and 1TB capacities. Pricing on the 256GB model is $49.99 shipped, moving up to a 512GB drive runs $79.99 shipped and the 1TB model is $119.99 shipped. The 1TB drive has the best performance ratings and the lowest price per GB, so it is the 'best' model of the three if you are looking for performance and bang for the buck. All P300 M.2 PCIe Gen3 x4 SSDs are backed by a 3-year warranty and have an endurance rating of 40 TBW per every 128GB of storage space. Most entry-level drives now carry a 5-year warranty and a more robust endurance rating.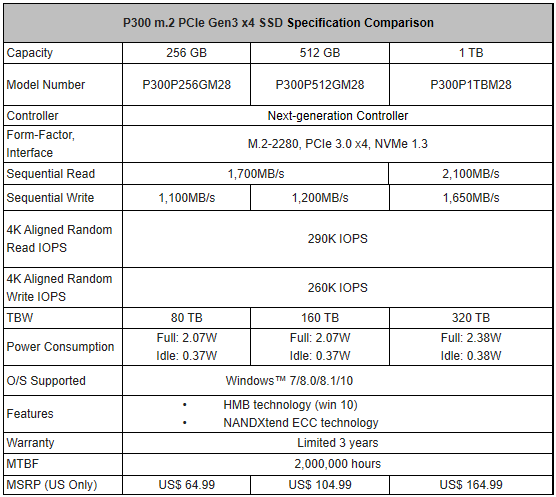 At the end of the day the Patriot P300 faces fierce competition in the crowded entry-level SSD market. The Western Digital Blue SN550 1TB model in our performance charts is currently available for $114.99 shipped and is a rival drive. The SN550 was nearly 68% faster in the full PCMark 10 storage test that uses real-world workloads. It also happens to have a longer 5-year warranty, a more robust 600 TBW endurance rating all while costing less money. That doesn't mean the P300 is a bad drive, but we'd only recommend purchasing this drive if you can pick it up for a great price.
Legit Bottom Line: The Patriot P300 1TB (US Edition) is a DRAM-less SSD that struggles to compete with other entry-level drives on the market.