Patriot Fuel iON Magnetic Wireless Charger Review – Samgung Galaxy S5
By
Patriot Fuel iON Magnetic Wireless Charger for Samsung Galaxy S5
In the world of wireless charging of devices there are several competing technologies. The Qi (pronounced Chee) inductive power standard is probably the leading technology when it comes to wireless charging. Qi Wireless charging solutions use a pad and a receiver on the device for inductive charging. In the past I have found devices using Qi to be unable to keep a full battery charge while streaming music through Bluetooth. It can also be difficult at times to find the exact spot to place a device where the charger needs to be and a slight bump and move it out of alignment. Patriot is using another method of wireless charging, they went with Magnetic Charging on their Fuel iON solutions. To help explain this technology and see it in action, Patriot provided us a Fuel iON system for the Samsung Galaxy S5 smartphone.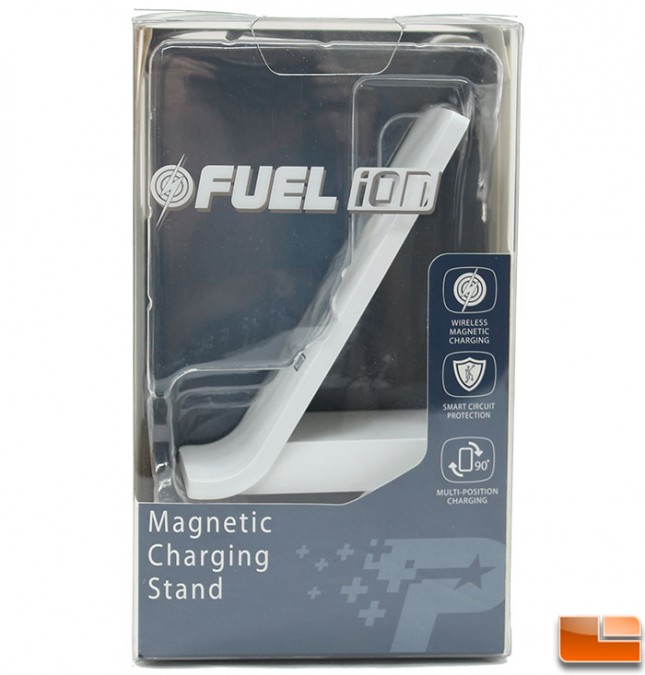 Patriot claims that the Magnetic Wireless charging is as fast as plugging your device into a wall. It uses neodymium magnets to secure the device to the charging base, ensuring the connection is secure and properly situated. With the magnets you don't have to worry about the angle the device is placed on the pad, once the magnets make their connection it pulls it to the exact spot and starts charging.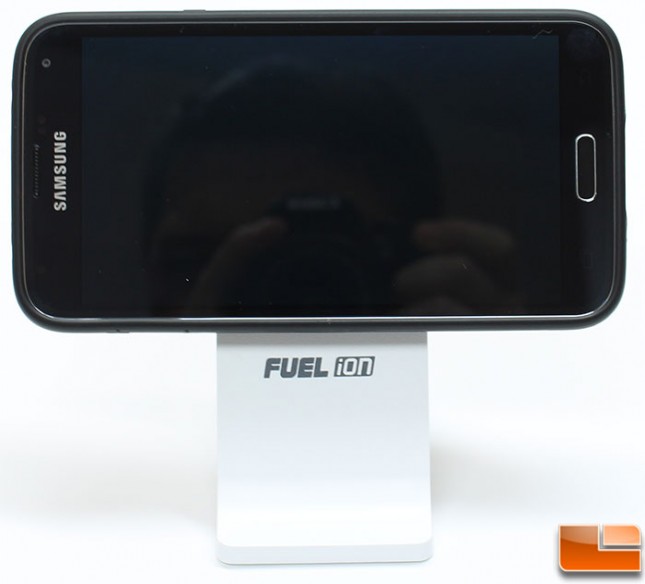 The Patriot Fuel iON is currently available for iPhone 5, iPhone 6, Galaxy S4, Galaxy S5 and Note 3. They are watching the market to determine which other devices to bring support to. Each of the base kits include a case for the phone, and the charging stand. They can all be purchased online now for $79.99 shipped and is backed with a two year warranty. In addition to the base kits, there are many other accessories available to meet nearly any need with the Fuel iON system.
Features and Specifications:
At the heart of FUEL iONs slim, stylish and fully protective case is a robust magnetic power transfer pad that uses incredibly strong neodymium magnet technology to automatically secure your phone by simply making contact with the charge base. Once the FUEL iON case is securely docked to the base, it not only charges but also provides a seamless snap to position rotational axis for viewing your phone in vertical or horizontal orientation.
Package include: Charging Stand, Case, and Cable
Patriot Fuel iON Product Information
Product Name
Patriot Fuel iON
Patriot Part #
PCGCS5
Description
Samsung Galaxy S5 Case with Charging Stand
Certifications
RoHS
Product Warranty
2 Year
UPC
0815530018049
Weight
Galaxy S5 Case – 0.17lbsCharging Stand – 0.33lbs
Dimensions
Galaxy S5 Case – 0.52 x 3.27 x 6.29in (DxWxH)Charging Stand – 3.1 x 2 x 3.9in (DxWxH)
Now that we know a little about the Patriot Fuel iON, let's get to unboxing it and install it for testing.