OCZ ProXstream 1000W Power Supply Review
By
Test Setup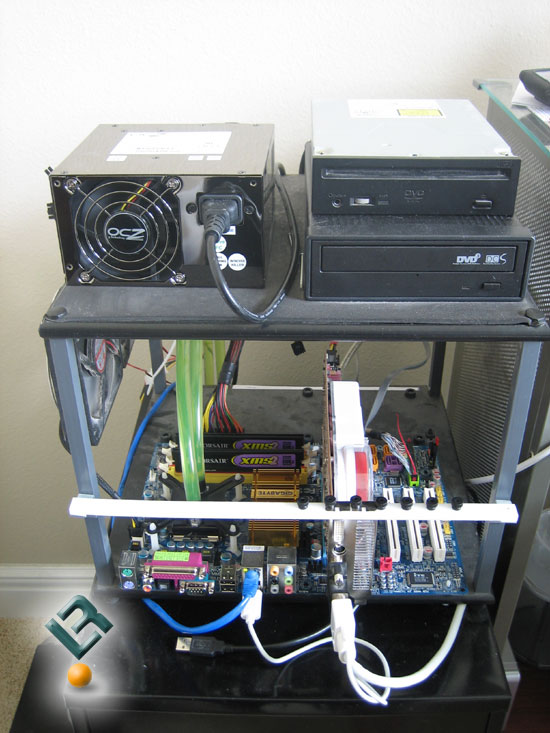 Benchmarks and Testing Setup:
Test Platform:
Test Platform

Component

Brand/Model

Live Pricing

Processor

Intel Core 2 Duo E6600 (2.4ghz)

Motherboard

Video Card

ATI X1900 XTX

Memory

Corsair C6400C4 2 GB kit

Hard Drive

Western Digital 250GB, 16mb Cache

Cooling

Corsair Nautilus

Power Supply

OCZ Pro Xstream

PC Power & Cooling Silencer 750

Operating System

Windows XP Professional w/SP2
All tests were run using a clean install of Windows XP Professional with SP2. For our stock speed tests, we ran everything at default timings for the CPU. Our stock speed testing used Corsair DDR2 C6400C4 2 GB kit at 2.0 vDimm at DDR2 800. Timings for our overclocking were left 4-4-4-12, but the ram divider was set to the lowest possible to take any ram issues out of the CPU overclocking. The video card was left at default timings as well for all tests.
For our voltage readings at default settings, we ran everything at stock speeds, and memory settings of DDR2 800 and 4-4-4-12, at 2.0v.
Our overclocked settings on our Gigabyte P35-DS3R were a fsb of 390, with a CPU mulitplier of 9, using a vcore of 1.5. The memory was kept at DDR2 800 speeds and 4-4-4-12, but we raised the vdimm to 2.4v to stress the system even more. We also raised the other available voltages on the board to the middle of available settings.
Our system also has 2 x 120mm fans connected to it.
For our load testing, we played a CD, ran SuperPi 32M test as well as looping 3dMark 2006.
All voltages were read by a Digital Multimeter that was purchased at Radio Shack.