OCZ ProXstream 1000W Power Supply Review
By
Introduction and Specs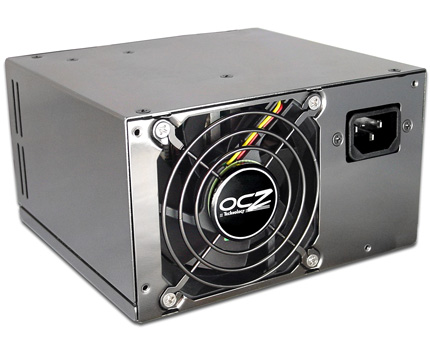 We know that OCZ has always liked to push things to the limit, and many times, beyond what has been acceptable and normal (Remember the DDR booster?). That is why the enthusiast loves OCZ. OCZ has risen to the top not only in the world of ddr ram, but also in the power supply arena. One of the more interesting developments in recent days has to be the purchase of PC Power and Cooling by OCZ. By aquiring PCP&C, OCZ has placed themseslves at the very top when it comes to power supplies, and has given themselves the opportunity to have a stronger position in what can be a very tough market. Before they made the purcase though, they already had a VERY high end unit of their own to display, and we have the opportunity to look at that today. So, without any more fluff, let's take a look at the OCZ Pro Xstream 1000W Power Supply! First off, let's look at the specs:
Features and Specifications:
1000W Configuration
Dimensions: 150 x 140 x 86mm
3 year warranty backed by OCZs exclusive PowerSwap replacement program.
No more endless return-for-repair loops!
Internal 80mm fan
4 Channel 12V Output provides stable electric power to computer components
4 Channel PCI-E connectors
Dual CPU support: provides 8-pin 12V dual CPU support with stable voltage
20+4 pin: compatible with all motherboards available on the market
4pin & 8pin: accords with the requirements of CPU in ATX or EPS 12V V2.91 systems
Active PFC: enhances utilization of energy
Over Voltage and current protection:
A complete protection circuit is implemented, protecting every component in your system.
Environmental protection specifications: accords with WEEE & RoHS by Europe
115Vac 60Hz / 230Vac 50Hz
+3.3V(28A), +5V(30A), +12V1(20A), +12V2(20A), +12V3(20A), +12V4(20A)
Part Number – 1000W – OCZ1000PXS
So, as you can see, this unit has four +12v rails that each pack a whopping 20A on them, giving us a total of 80A of +12v power. They also have a three year Powerswap warranty on this unit, which just adds to the value, and gives confidence to the consumer when they are paying this much for a unit.