OCZ Fatal1ty 1000W Power Supply Review
By
Unboxing the power supply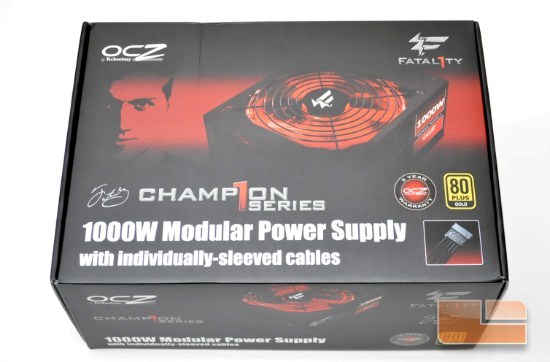 The box
Gamer
series, Champ1on serieswe are getting confused here. Anyway, the Fatal1ty
1000W unit is supplied inside a large dark cardboard box. The front of the box
is covered with reddish artwork, featuring a sketch of Johnathan Wendels
portrait and a partial 3/4 picture of the unit itself.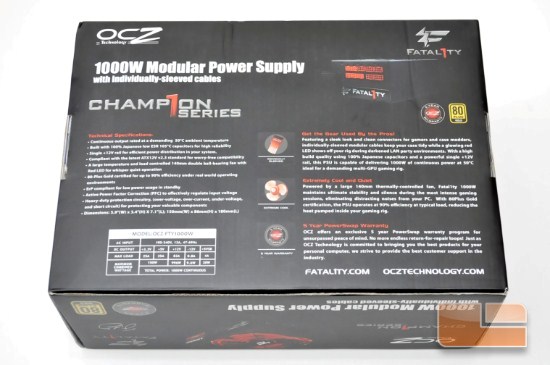 The box (rear)
At the back
of the box OCZ printed the features and specifications we listed in the
previous page, including a small table with the electrical specifications of
the power supply.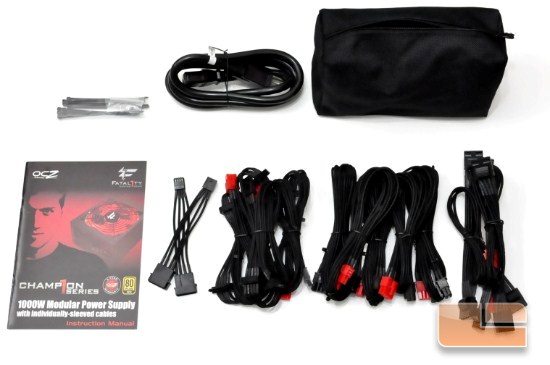 Bundled items
Inside the
box we found a purse with the modular cables stored inside of it, an
instructions manual, the standard A/C power cable, some black mounting screws
and a few basic cable ties. Call us greedy if you may but we did expect more of
a bundle from such a high-class product, or at least a few quality cable
straps.
The
individually sleeved cables are perhaps the strongest selling feature of the
Fatal1ty 1000W unit. OCZ definitely did a marvelous job here, as we could not
find a single imperfection no matter how hard we struggled. Whether
individually sleeved cables look better or not, thats a subjective matter;
however do note that they significantly increase the width of each cable and
might make cable management more difficult.