NVIDIA Multi-Frame Sampled Anti-Aliasing (MFAA) Performance on GTX 970
By
Final Thoughts and Conclusions
We are glad to see that NVIDIA has finally releasaed MFAA (Multi-Frame Sampled Anti-Aliasing) as we first learned about it months ago when the GeForce GTX 980 and GeForce GTX 970 video cards were revealed to the world. The technology looks solid, but we were a bit dissapointed to learn that only 20 game titles are able to support MFAA. It must be pretty time consuming to get the drivers optimized for MFAA as one would think that more games would have been supported especially NVIDIA game titles like Far Cry 4 that comes out today. That said, this is the first driver release to enable MFAA and we were able to see a significant improvement in performance and even graphics quality with MFAA when we compared to MSAA.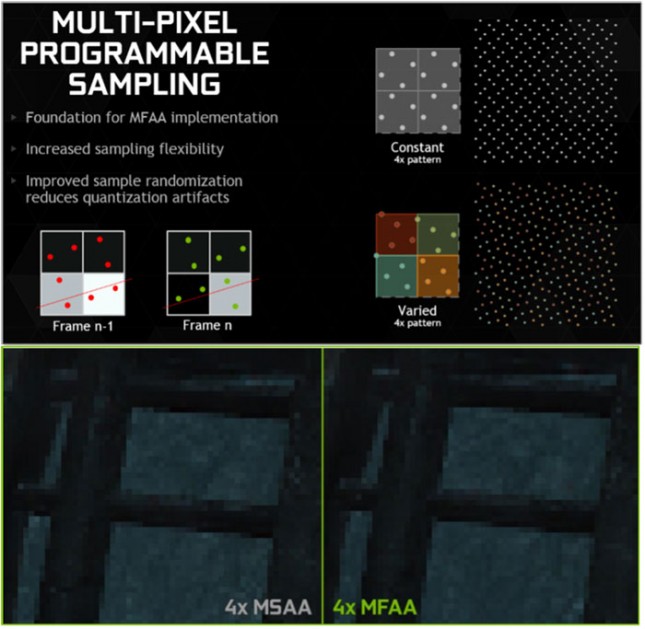 Across the three games we tested we saw double digit increase in performance on our ASUS STRIX GeForce GTX 970 video card when running the games at a resolution of 1920 x 1080 and MFAA. Battlefield 4 received the highest boost in performance of 22%, while Far Cry 3 received around 18%. Crysis 3, the most graphic intensive game of the three received a 15% FPS increase. The only thing that changed on our system was the AA mode and getting that type of increase in performance without needing to update the games is pretty incredible. NVIDIA tells us that with a Maxwell enabled GPU, when games become CPU bound, MFAA will still increase the image quality beyond the maximum setting.
Legit Bottom Line: MFAA looks to increase the graphics quality while reducing the system performance impact. Receiving a boost to FPS by over 10% is almost like getting an updated graphics card just by updating your driver and changing the AA mode. Hopefully NVIDIA can keep the driver updates coming to implement MFAA in more games quickly, making the Maxwell GPU even more appealing than it already is.