Noctua NH-L12 Low Profile CPU Cooler Review
By
NH-L12 CPU cooler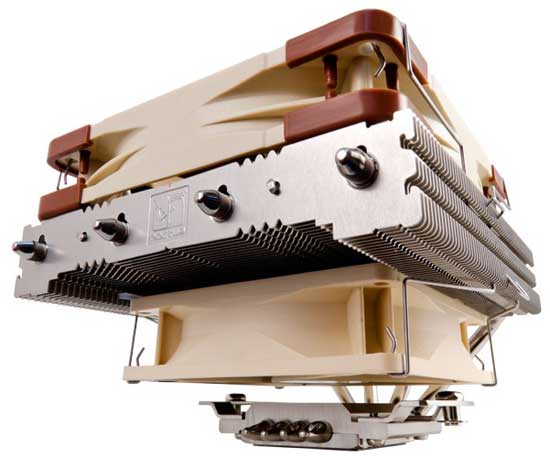 Noctua came on the scene in 2008 and quickly made a name for themselves with their solid performing coolers that were pretty well silent. The first cooler we looked at from Noctua was the NH-U12P back in 2008. It was large and aimed at enthusiasts, but it performed very well and did so quietly. It was one of the biggest coolers on the market. Later that year Noctua released the NH-C12P, a short top down cooler. Then in 2010 Noctua brought us the massive NH-D14, but like the NH-U12P it was aimed at overclockers and enthusiasts.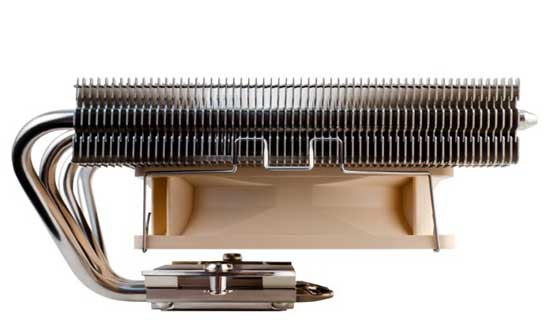 Now Noctua is showing the SFF or Small Form Factor users some love with the NH-L12. The NH-L12 sports two fans, a 120mm NF-F12 and 92mm NF-B9. How low is low? With both the fans installed the NH-L12 stands a very short 93mm or 3.7 inches. With only the lower 92mm fan installed for the Extra Low configuration the height comes to only 66mm or 2.5 inches, or about the same height as a stock Intel box cooler.
Unlike any of the coolers that we have looked at from Noctua before, the NH-L12 comes with some uh, caveats, provisos, a couple of quid pro quo. Noctua is not hiding this fact and has an entire page dedicated to talking about the suggested CPU TDP restrictions for the NH-L12, as well as ambient room temperature limits for single fan mode. Overclocking is a no go as well. Here is quote from the Noctua product page and link to the TDP guidelines page.
Caution: The NH-L12 is a low-profile quiet cooler designed for use in small form factor cases and HTPC environments. While it provides first rate performance in its class, it is not suitable for overclocking and should be used with care on CPUs with more than 95W TDP (Thermal Design Power). Please consult our TDP guidelines to find out whether the NH-L12 is recommended for your CPU.
So the NH-L12 is aimed squarely at non-overclocking users with small cases. Lets take a look at the features and specifications of the NH-L12 before we get too far.
Features of the Noctua NH-L12
120/92mm dual fan design: Thanks to its exquisite dual fan setup consisting of Noctuas highly optimised NF-F12 (120mm) and NF-B9 (92mm) premium fans, the NH-L12 pushes the bar in terms of low-profile quiet cooling performance.
Extra-low profile in 92mm single-fan mode: The NH-L12 can be used with the NF-B9 92mm fan only in order to reduce the overall height to 66mm. This way, the cooler is suitable for many typical mATX or Mini-ITX enclosures and ideal for whisper-quiet HTPC systems.
PWM support and Low-Noise Adaptors: The NH-L12s NF-F12 and NF-B9 fans support PWM for convenient automatic speed control. In addition, the maximum fan speed can be reduced to 1200/1300rpm using the supplied Low-Noise Adaptors for even quieter operation.
SecuFirm2 mounting system: Noctuas enthusiast grade SecuFirm2 multi-socket mounting provides broad socket compatibility (LGA 2011, LGA1366, LGA1156, LGA1155, LGA775, AM2, AM2+, AM3, AM3+, FM1) and meets the highest demands in safety, performance and ease-of-use.
Mini-ITX mounting without backplate: Some Intel based Mini-ITX mainboards dont allow for the installation of backplates. The NH-L12 thus comes with an extra set of Intel mounting bolts which make it possible to install the cooler without using the SecuFirm2 backplate.
NT-H1 thermal compound: Noctua's much-acclaimed NT-H1 is a well proven pro-grade TIM solution that provides minimum thermal resistance, excellent ease-of-use and outstanding reliability.
Specifications for the Noctua NH-L12
Intel LGA2011, LGA1366, LGA1156, LGA1155, LGA775
AMD AM2, AM2+, AM3, AM3+, FM1 (backplate required)
Height (without fan): 66 mm
Width (without fan): 128 mm
Depth (without fan): 150 mm
Height (with fan): 93 mm
Width (with fan): 128 mm
Depth (with fan): 150 mm
Weight (without fan): 415g
Weight (with fan): 680g
Material: Copper (base and heat-pipes), aluminum (cooling fins), soldered joints & nickel plating
Fan compatibility: 120x120x25mm & 92x92x25mm
Scope of Delivery
1x NF-F12 PWM premium fan
1x NF-B9 PWM premium fan
2x Low-Noise Adaptor (L.N.A.)
Y-Split Cable
NT-H1 high-grade thermal compound
SecuFirm2 Mounting Kit
Mini-ITX Mounting-Kit
Noctua Metal Case-Badge
Warranty: 6 Years
Fan specifications
Model: Noctua NF-F12 PWM & Noctua NF-B9 PWM
Bearing: SSO-Bearing
Max. Rotational Speed (+/- 10%): 1500 / 1600 RPM
Max. Rotational Speed with L.N.A. (+/- 10%): 1200 / 1300 RPM
Min. Rotational Speed (PWM): 300 / 300 RPM
Max. Airflow: 93,4 / 64,3 m3/h
Max. Airflow with L.N.A.: 74.3 / 52.6 m3/h
Max. Acoustical Noise: 22.4 / 17.6 dB(A)
Max. Acoustical Noise with L.N.A.: 18.6 / 13.1 dB(A)
Input Power: 0.6 / 0.96 W
Voltage Range: 12 V
MTBF: > 150.000 h