Noctua NH-C14 CPU Cooler Review
By
Conclusion and Final Thoughts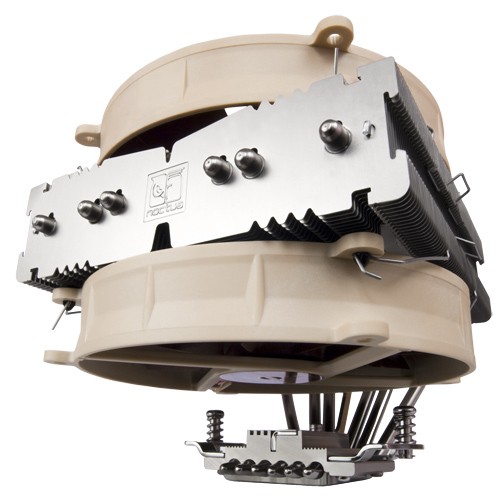 Noctua has upped the performance from the old NH-C12P with the new NH-C14. The new design did very well at the stock speeds and handled the mild overclock just as easy. But when I really pushed the system the NH-C14 just couldn't take it. The Intel i7-930 is a little on the toasty side when compared to the new 1155/1156 CPUs out on the market now. Aside from not being able to handle the 4.0Ghz OC, I am quite happy with the NH-C14.
The NH-C14 does a couple things that other coolers I have tested recently cant. First its short, real short. Even with the top fan installed it is a good inch shorter than most tower coolers today. If you drop the top fan it gets even shorter. This makes the NH-C14 a good option for those running smaller/narrower cases that a typical 150mm+ tall cooler cannot fit in. The other rather large plus is the Noctua's fans, they are dead quiet. Just shy of 20dBA at full speed, and if that is too loud then the Ultra Low Noise Adaptor will drop that to a smidgen over 10dBA.
The third thing that makes a Noctua coolers so attractive is they carry a 6 year warranty. Noctua, so far, has also offered a free mounting kit for their coolers when they updated it for socket compatibility. All you have to do is prove you own the cooler and they will send you the mounting kit. So if you bought a NH-U12P three years ago for your LGA775 system, and you are about to upgrade to an newer socket like the 1155/1156/1366, all you have to do is get in touch with Noctua and get a updated mounting kit free of charge.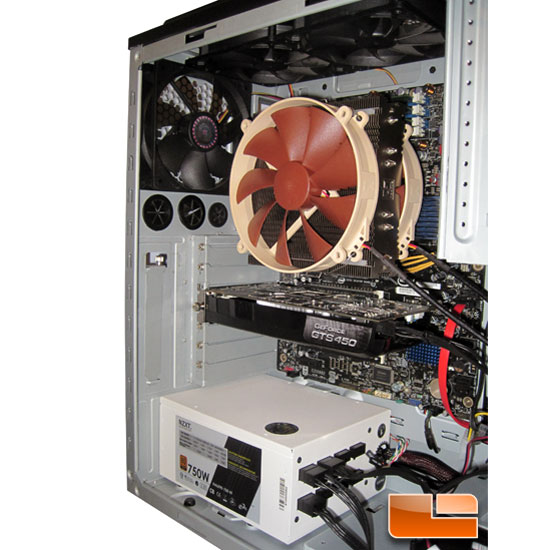 Currently I could find the NH-C14 for $89.99 plus shipping. That price tag puts the NH-C14 into the highend air column. Which is where it preformed up until we did an extreme overclock. So I have mix feelings on that. I can say that the NH-C14 would be a solid performing cooler for the those who want quiet performance but are not pushing their system to the limits.
Legit Bottom Line: Noctua's NH-C14 CPU cooler is a very nice near silent cooling solution for the mainstream user that wants performance. Costing $89.99 it is in the high end air rage, but comes with a 6 year warranty and those beautifully silent Noctua fans.