Noctua NH-C14 CPU Cooler Review
By
Noctua NH-C14 CPU Cooler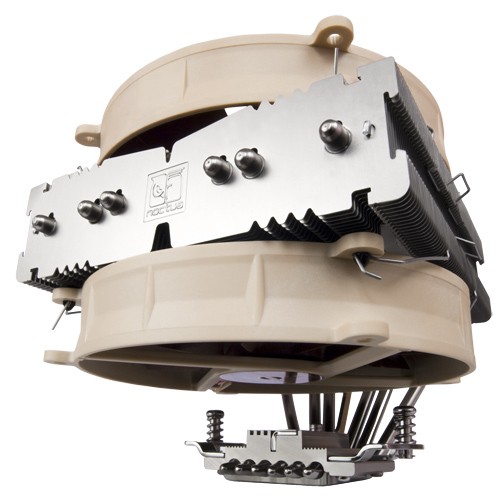 For those who dont know who Noctua is, they are an Austrian base company that makes high quality, nearly silent CPU coolers. About the only way to get quieter is to run passive cooling. Now we first met Noctua and their then flagship cooler the NH-U12P three years ago. The NH-U12P beat everything we had then, and for some time after. Later that year we looked at NH-C12P, a top-down cooler with a single 120mm fan. Now three years later Noctua has released an new version, the NH-C14.
The NH-C14 is still a C shape top-down style cooler, but there are a few updates. A new fin profile, its taller, and now sports twin 140mm fans. The NH-C14 has nickel plated copper base, 6 copper heat pipes, and aluminum fins. With the NH-C14 having two fans the upper or lower fan can be removed to create high and low clearance configurations. In low clearance with the top fan removed the cooler is only 105mm tall. With lower fan removed for the high clearance mode there is 65mm of clearance to the motherboard. This is good for those running RAM with tall heatspreaders like Kingston HyperX T1.
Features of the Noctua NH-C14
C-Type top-flow design:

The NH-C14s six heatpipe c-type design allows for superb quiet cooling performance while maintaining a much lower profile than todays tower-style coolers and providing excellent airflow over RAM modules and near-socket mainboard components.

Dual NF-P14 FLX fans:

The NH-C14 comes with two of Noctuas award-winning, premium quality NF-P14 140mm fans that can be fine-tuned according to the users needs via the supplied Low-Noise (L.N.A.) and Ultra-Low-Noise Adaptors (U.L.N.A.).

Low Profile Mode:

Run with a single NF-P14 fan underneath the fin stack and with the top fan removed, the NH-C14 measures only 105mm in height, which makes it ideal for use in smaller enclosures and HTPC applications.

High Clearance Mode:

The lower NF-P14 fan can be removed in order to provide additional clearance for chipset coolers or RAM modules with tall heat-spreaders. Run with a single fan on top, the NH-C14 provides a full 65mm of clearance.

SecuFirm2 multi-socket mounting system

: Noctuas enthusiast grade SecuFirm2 multi-socket mounting provides broad socket compatibility (LGA1366, LGA1156, LGA1155, LGA775, AM2, AM2+ and AM3) and meets the highest demands in safety, performance and ease-of-use.

Noctua NT-H1 high-end thermal compound:

Noctua's much-acclaimed NT-H1 is a well proven pro-grade TIM solution that provides minimum thermal resistance, excellent ease-of-use and outstanding reliability.
Specifications of the Noctua NH-C14
Socket compatibility: Intel LGA1366, LGA1156, LGA1155, LGA775 & AMD AM2, AM2+, AM3 (backplate required)
Height (without fan): 105 mm
Width (without fan): 140 mm
Depth (without fan): 166 mm
Height (with fan): 130 mm
Width (with fan): 140 mm
Depth (with fan): 166 mm
Weight (without fan): 700 g
Weight (with fan): 850/1000* g
Material: Copper (base and heat-pipes), aluminium (cooling fins), soldered joints & nickel plating
Fan compatibility: 140x140x25mm / 120x120x25mm
Warranty: 6 Years
Fan specifications
Model: Noctua NF-P14
Bearing: SSO-Bearing
Rotational Speed (+/- 10%): 1200 RPM
Rotational Speed with L.N.A. (+/- 10%): 900 RPM
Rotational Speed with U.L.N.A. (+/- 10%): 750 RPM
Airflow: 110,3 m/h
Airflow with L.N.A.: 83,7 m/h
Airflow with U.L.N.A.: 71,2 m/h
Acoustical Noise: 19,6 dB(A)
Acoustical Noise with L.N.A.: 13,2 dB(A)
Acoustical Noise with U.L.N.A.: 10,1 dB(A)
Input Power: 1,2 W
Voltage Range: 12 V
MTBF: > 150.000 h