Noctua Focus Flow 120mm NF-F12 PWM Fan Review
By
Testing – Voltage Based
Testing Methodology


Today we'll be testing 4 Aspects of these fans:
Sound Pressure Level (recorded in dBA)
Airflow (recorded in CFM)
Static Pressure (recorded in mmH20)
Heat Tolerance (testing done at 30*C)
The Testing Equipment that I will be using was purchased by me and it includes:
Dwyer Differential Pressure Gauge Model 2000-00 AV
General Tools DCFM8906 Digital Air Flow Meter
Tenma Digital Sound Level Meter
Kintrex IRT0421 Non-Contact Infrared Thermometer
Universal Enterprises DM383B Digital Multimeter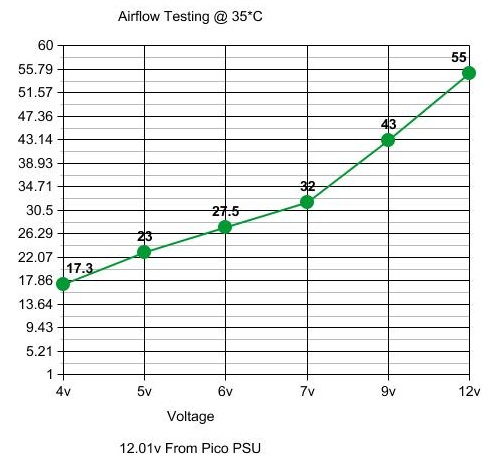 To start off, we have our Airflow testing, as normal things look pretty good. With the introduction from demand, I have decided that I will try to push fans to their lowest starting voltage and see what kind of airflow I can get off of the fan.
Fairly standard for a high end DC Axial fan, the starting voltage for this guy was just below 4v, so I started it off and progressed all the way from 4v to 12v.
Nothing too special to say here, though; 55 CFM @ 1500 RPM is fairly standard.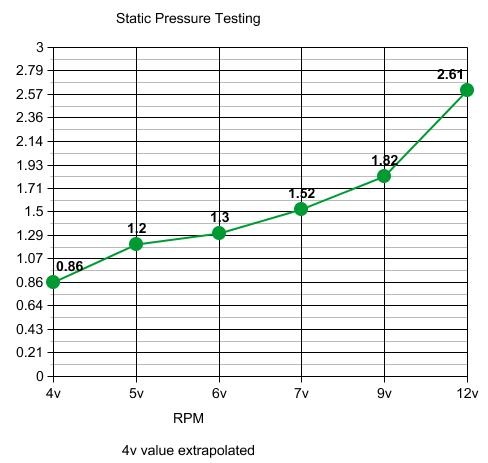 The 4v value here is extrapolated in this part due to the low reading. On the other hand, for a 1500 RPM / 55 CFM fan, the static pressure is considerably higher than previous Noctua offerings, and good for most fans in this category.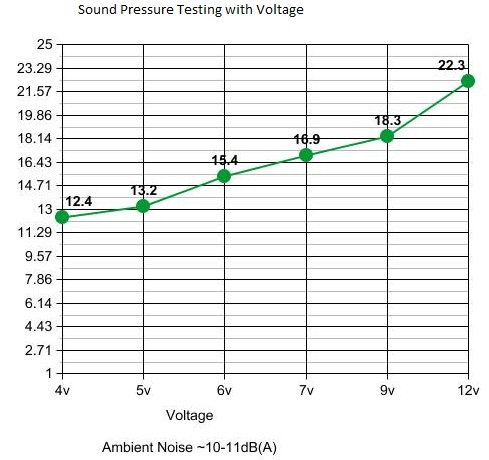 Here is Noctua's bread & butter put to the test; the sound pressure results from this fan were on the high side of downright impressive.
On the subjective side of things, I can't say if I'm all that impressed with this fan though, for all of Noctua's bolstering about sound optimization I always felt that I was hearing the fan and that it never really did slip into the background.
Moving on, we'll be testing this fan in its PWM mode as well. While I do expect the results to line up for the most part, the numbers will be lower at the end of the graph due to 300RPM being lower than 4v.