Noctua Focus Flow 120mm NF-F12 PWM Fan Review
By
Introduction – The NF-F12 PWM 120mm Fan & Specifications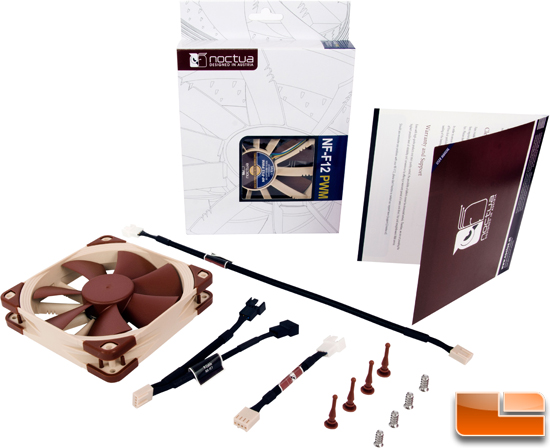 Legit Reviews is no Stranger to Noctua and their unique color scheme. The first time we looked at a Noctua fan was back in 2009 when we had a look at the S12B-FLX fan from Noctua's FLX (Flex) series of fans, designed to operate in multiple configurations from Standard to "Ultra Low Noise." More recently, we had a look at the Noctua NH-C14 Top-Down CPU Cooler which featured a pair of NF-P14 FLX Fans, which were Noctua's last entry into the fan market.
Today we have the honor to look at their brand new Focus Flow 120mm fan, the NF-F12 PWM. The Focus Flow 120mm (NF-F12 PWM) is a brand new Pulse Width
Modulation fan which has vastly improved on Noctua's old designs with
the brand new Focus Flow technology to improve airflow & static pressure. Likewise, Noctua did not stop there, and also implemented its brand new NE-FD1 PWM IC as well as the brand new SSO2 bearing.
Before we get into the technical side of things, we might as well have a look at the specifications of Noctua's NF-F12 PWM fan.
Noctua Focus Flow 120mm NF-F12 PWM Fan Specifications
| | |
| --- | --- |
| Model Number | NF-F12 PWM |
| Size | 120mm x 120mm x 25mm |
| Connector | 4 Pin PWM |
| Blade Technology | |
| Frame Geometry | Focus Flow |
| *Rotational Speed (RPM) | 1500 RPM @ 12v |
| *Rotational Speed with **L.N.A. | 1200 RPM @ 9v |
| Min. Rotational Speed (PWM Mode) | 300 RPM |
| *Airflow | ***54.97 CFM |
| *Airflow with **L.N.A. | ***43.73 CFM |
| *Acoustical Noise | 22.4dB(A) |
| *Acoustical Noise with **L.N.A. | 18.6dB(A) |
| *Static Pressure | 2.61mmH20 |
| *Static Pressure with **L.N.A. | 1.83mmH20 |
| Max. Input Power | 0.6w |
| Max. Input Current | 0.05A |
| Mean Time Before Failure | > 150,000 Hours |
| Warranty | 6 Years |
*
All Values are given as a 10% Figure
**
L.N.A. stands for "Low Noise Adapter" which is a resistor cable designed to reduce voltage to the fan by 3v.
***
Values converted from Noctua's measurements in m/h to CFM.
Overall, you're looking at a fairly impressive fan, to say the least. Noctua has gone out of their way to beat the 2:1 Airflow to Noise ratio that's most common on 120mm fans, as well as have a fairly astute pressure rating with this fan as well. By all respects, this is definitely looking to be a performance part from Noctua's factories.