Noctua Focus Flow 120mm NF-F12 PWM Fan Review
By
Noctua Technology – What it All Means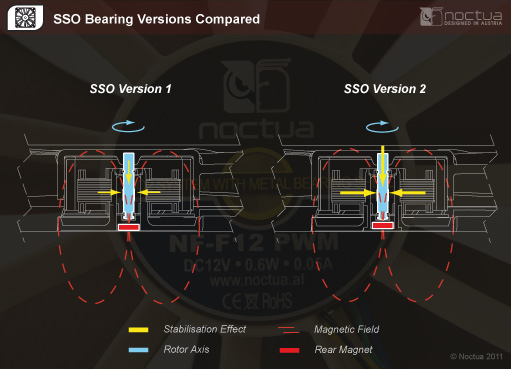 (Diagram Courtesy of Noctua)
Here we have an extrapolated diagram of the Noctua SSO & SSO2 bearings used in their fans. Noctua is unique as a company since everything from fan design to bearing design is done in house, instead of using a stock model from an OEM with slight tweaks to RPM levels or extra functions like voltage control switches.
The SSO2 bearing used in this fan is an advancement on the negative points of the old SSO bearing, as well as an evolution of the previous generation of technology.
This diagram is a bit hard to analyze at first glance, but I'll help explain to you all of the fine points of this new design. The first design point which caught my eye in this diagram is Noctua has extended the shaft of the impeller to help with stabilization during rotation. This is one facet which helps improve fan longevity and sound quality.
Second, you can see that Noctua has placed the magnet closer to the fan while encasing the whole bearing in a brass shell. The reason behind this is two-fold; with the magnet being closer to the shaft, the impeller generates a larger magnetic field which gives the fan greater control during rotation so that RPM levels should be more accurate between what you set in the BIOS and what is output by the fan. Also, the brass shell of the bearing helps the fan's lubrication not leak and stay inside the bearing to help keep the fan's sound signature more consistent as time goes on, as well as keep the fan's longevity up.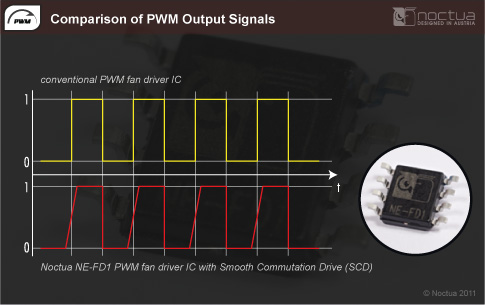 (Image Courtesy of Noctua)
Here's the brand new Noctua NE-FD1 IC, another addition to Noctua's technology base. This brand new IC is going to be used on Noctua's upcoming PWM Fans as a revamp to their fan line-up.
This is Noctua's first foray into PWM fans, and arguably one of the best solutions for them to implement.
Noctua's PWM chip uses a PWM signal with a stepped sine wave at a slant to achieve less noise from the fan when increasing or decreasing the speed. While this method is slower than a traditional on-off signal, it does tend to be more compatible with the fans. This slanted increase in on-to-off signal also should allow Noctua achieve greater fan speed ranges with this PWM IC.
To give a brief overview of this, the last PWM fan I did a review on was the Deep Cool UF120, which only went as low as 500 fan speed via PWM mode. The Noctua NF-F12 PWM can go as 300 RPM via PWM mode and it is also a 1500 RPM fan.
This could also be attributed to the SSO2 bearing used inside the fan, giving it a smoother start up and spin down. Though, no matter what the case is, this is definitely an innovation on Noctua's part. The lowest possible RPM level of this fan is at 20% of its max speed, which is not often seen on fans of today or of the past.