Netgear R8000 Nighthawk X6 AC 3200 Tri-Band WiFi Router Review
By
Router Network Attached Storage Tests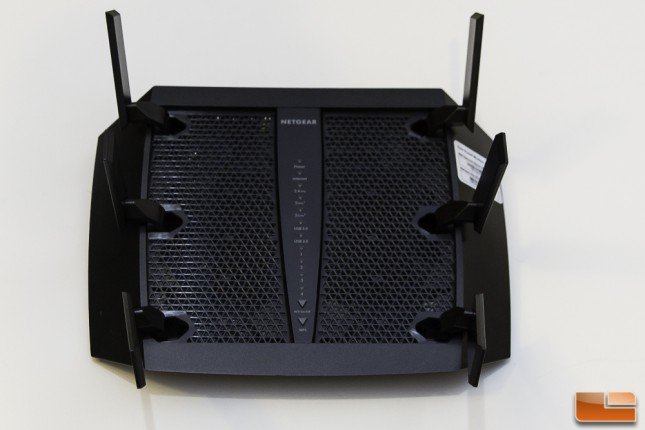 One of the major components of these next-generation routers is the ability for them to double as home-ready Network Attached Storage (NAS) devices. If a person didnt want to spend a lot of money for a stand-alone NAS unit which could cost hundreds of dollars for a 2TB unit, an integrated solution that allows you to add a USB Flash drive for much less might be perfect. Of course the question is how good is the performances of these routers when it comes to attached storage.
For our Router Storage test, we used the very popular ATTO Disk Benchmark to measure transfer speeds of our routers USB 2.0 and USB 3.0 ports. ATTO measures raw transfer rates for both Read and Write plotting them in a graph that is easy to understand. We ran our routers with this test with default ATTO settings of 0.5 KB up through 8192.0 KB transfer sizes with the total length being 256 MB.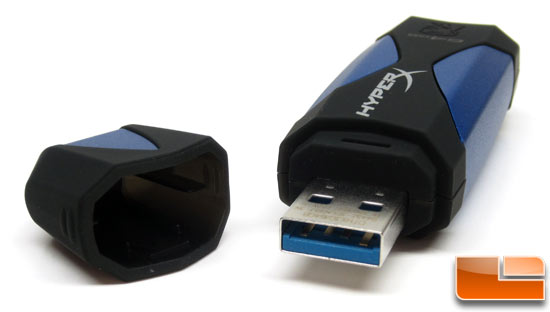 The folks at Kingston were kind enough to send over a Kingston DataTraveler HyperX 3.0 64GB USB drive ($60.00 shipped) for our tests. The Kingston HyperX USB 3.0 Flash drive is rated conservatively at 225MB/s read and 135MB/s write. On our test system we were able to get 300MB/s read and 160MB/s write speeds on the DTHX30/64GB. Those speeds should be well over what this generation routers can support. We wanted to make sure the write speeds would be high enough not to bottleneck the benchmarks of these next generation routers.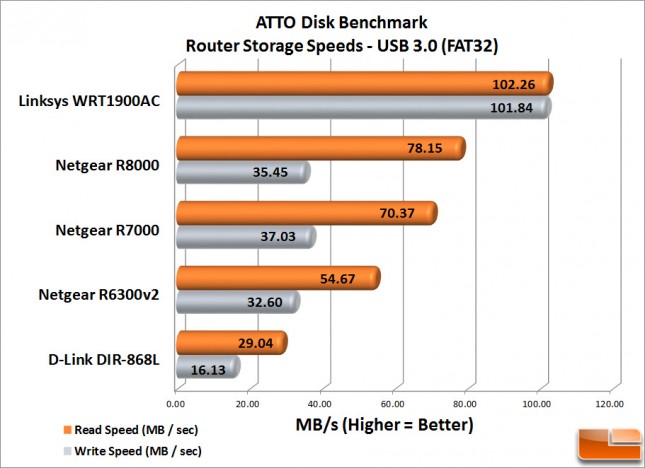 Benchmark Results: The Network Attached Storage benchmark was one of the most interesting measurements we have taken in a quite some time. We saw the majority of the Next-Generation Wireless Routers excelling in their 802.11ac speed tests on the previous page, but here, it looks like these routers have come back to earth with some very pedestrian throughput results for attached storage. Surprisingly, the leader of the pack when it comes to attached storage speeds is the newest router from Belkin/Linksys, the WRT1900AC clocking a blazing 100+ MB/s in read and write speeds. While the Netgear R8000 (78 MB/s and 35 MB/s) came in behind the WRT1900AC in Read Speed, we expected a bit more with the Write Speeds from this unit. We were also shocked to see that we weren't even breaking past USB 2.0 speeds on the D-Link DIR-868L, so it might be a USB 3.0 port, but it certainly doesn't have USB 3.0 speeds. [Note: Not all of our routers had a USB 3.0 port and we did not test the eSATA port on the Linksys WRT1900AC.]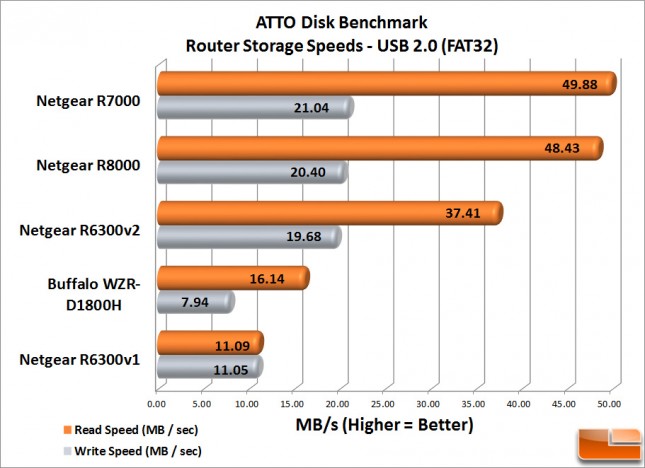 Benchmark Results: Looking at the High-Speed USB 2.0 results from these routers one thing jumps out the poor performance of one of our long-time favorite routers, the Netgear R6300v1 that was one of the first 802.11AC routers. Even using one of the fastest USB 3.0 drives on the market we found this router could only achieve a little over 11 MB/sec in Read and Write speeds. The Netgear R7000 and R8000 clock speeds close to 50 MB/sec while the Netgear R6300v2, Buffalo WZR-D1800H, and Netgear R6300v1 fill out the rest of the lineup.These numbers are a bit odd as the USB 2.0 interface can only transfer data up to 480Mbps or 60MB/s in theory. By the time you factor in the protocol overhead and the fact that USB 2.0 is half-duplex, the maximum data rate will be 30-40 MB/s megabytes per second. We aren't sure what Netgear is doing to get such impressive read speeds over the USB 2.0 port, but these are the double checked results. If you have a Netgear R6300V1 router with a single USB 2.o port on it and want to upgrade, you'll find much improved USB performance on the newer Netgear R7000 and R8000 Nighthawk routers and that is important for those looking to attach external storage. [Note: The Belkin/Linksys WRT1900AC and D-Link DIR-868L are not presented since they dont have a USB 2.0 port.