Netgear R8000 Nighthawk X6 AC 3200 Tri-Band WiFi Router Review
By
Netgear R8000: Speed Tests – Second Room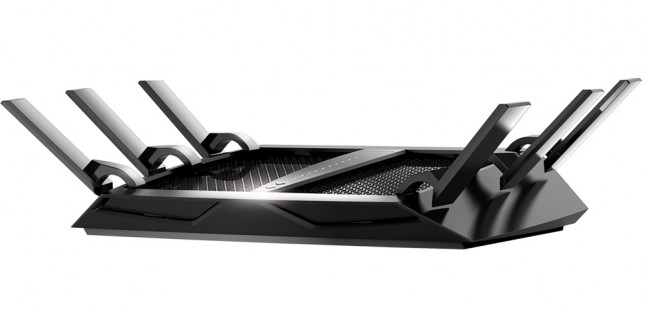 For this Second Room test we moved our client computer with the Netgear R7000 in bridge mode to a second room that was 20 feet away from the test router. There was a wooden double door that we had half way closed throughout all of our tests. For the 1MB data packets we told the LAN Speed Test (LST) application to run 240 successive test packets. For the 100MB data packet, we told LST to run for 10 successive tests.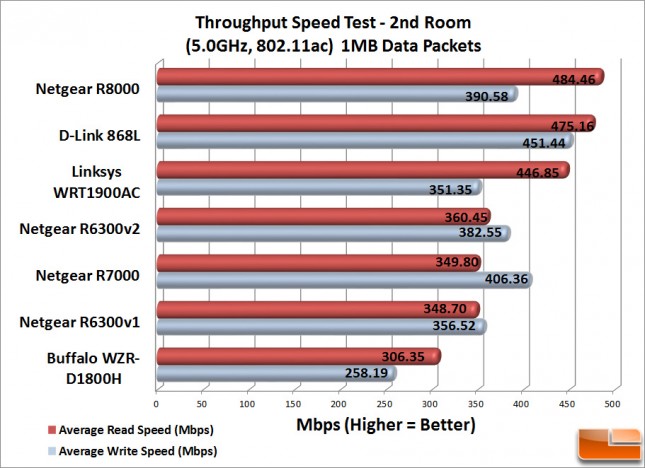 Benchmark Results: Even though our speeds were a bit slower in this second room, we feel that we obtain so very valid results representing a typical setup of each of these AC routers. Here, we see the Netgear R8000 leading the way with Average Read Speeds of 484 Mbps just in front of the D-Link 868L. It is a bit surprising that the Netgear R7000 is so far down the list especially because it was paired up to a twin R7000 unit working as a bridge. We have noticed in the past that these speed tests can be affected by the chip each individual router is powered by. The D-Link, Buffalo, and Netgear boxes are powered by Broadcom chips, while the Linksys is powered by a Marvell CPU.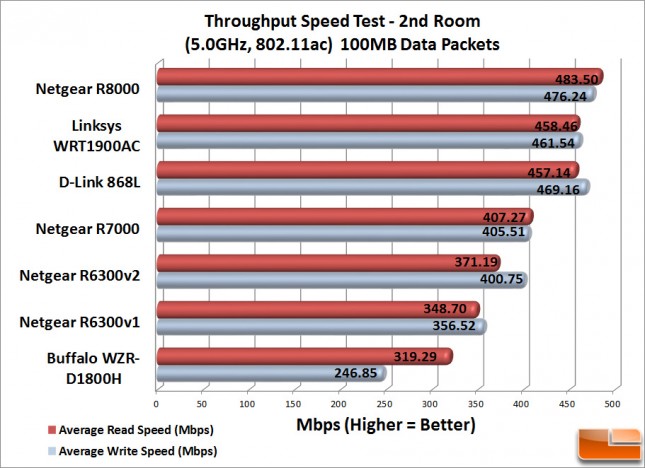 Benchmark Results: Our 100MB data packet tests showed us similar results as that of the 1MB test above. We did notice that the larger packet sizes really gave us a great reference as the Average Write Speeds for all devices seemed to get closer to that of the Average Read Speeds. The Linksys WRT1900AC recovered a bit and moved to second behind the performance of Netgears R8000. The surprising D-Link DIR-868L was doing a fine job as our most economical (and oldest) router continued to kick butt. Not sure which is more impressive here-the average speeds of the Netgear R8000 approaching 500 Mbps throughput via Wi-Fi, or that a router costing half as much as our test leader Netgear is only 5% slower.