Netgear R8000 Nighthawk X6 AC 3200 Tri-Band WiFi Router Review
By
Netgear Nighthawk X6: Netgears Latest Flagship with Tri-Band Wi-Fi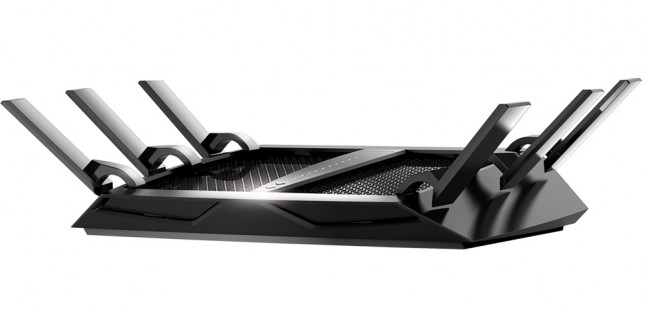 Netgear has released their latest flagship wireless router, the Nighthawk X6 R8000 which is an Tri-Band 802.11ac. After hearing rumors of this new router back in January when we were in Las Vegas for the Consumer Electronics Show, Netgear officially released specifics about the new R8000 last month.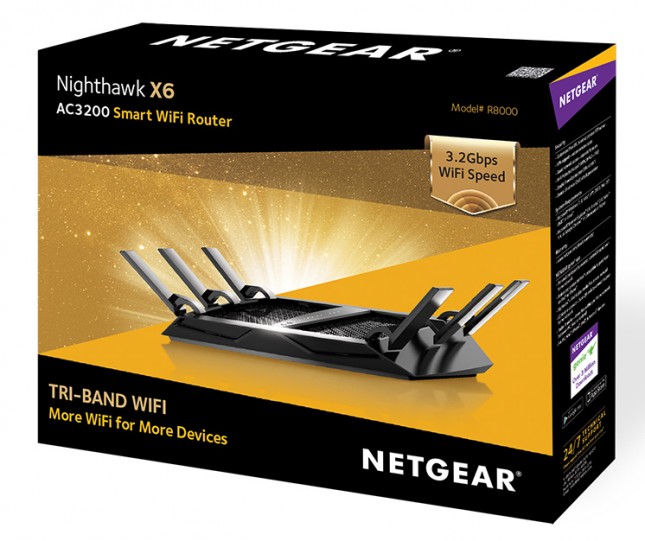 The Nighthawk X6 AC3200 Tri-Band Wi-Fi Router also known as the R8000 is the markets first tri-band Wi-Fi router and features six high-performance antennas working over three concurrent network bands, one 2.4Ghz and two 5.0GHz for combined speeds of up to 3.2 Gbps (or 1300+1300+600Mbps). The $299.99 (MSRP) Nighthawk R8000 X6 is designed to automatically balance the network ensuring the best WiFi performance and maximum range for each device.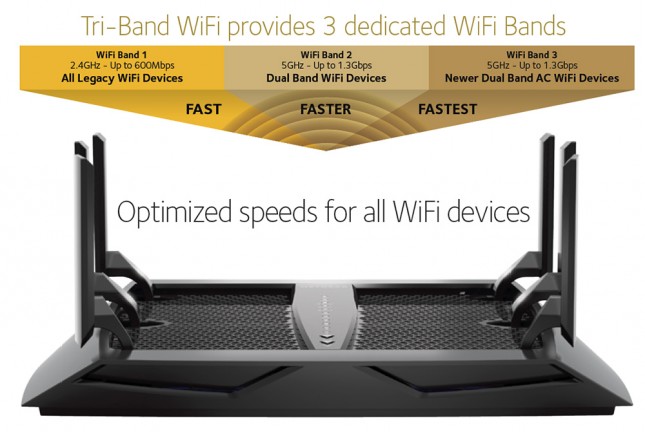 The Netgear R8000 Wi-Fi infrastructure is based on Broadcoms XStream platform that allows the Nighthawk X6 to decide automatically how to provision network traffic. For the Nighthawk X6, one 5GHz radio works in the low channel range, while the other 5GHz radio works with higher channels and the router decides which devices to assign to which radio automatically. The way the Nighthawk was designed, the router essentially aggregates slower devices like cell phones, Wi-Fi-N devices, or slower AC devices to one radio and puts fast clients (N450, AC1300, etc) on a separate radio. This should allow you to have additional bandwidth and reduce the losses that faster clients experience due to slower clients on the same channel. Netgear equipped the Nighthawk X6 with the same dual-core 1GHz processor found on their last flagship router, but one of the main differences on the X6 from previous routers is that each of the Wi-Fi channels has its own dedicated processor. This new processing power allows the R8000 to have even more robust processor intensive features such as Open VPN and a new USB 3.0 Backup feature, ReadyShare Vault, Beamforming +, Personal FTP Server, new Netgear Genie, and so on. The Broadcom 5G XStream that powers the Nighthawk X6 is designed to identify and offload processing to free up the main dual-core processor for other tasks.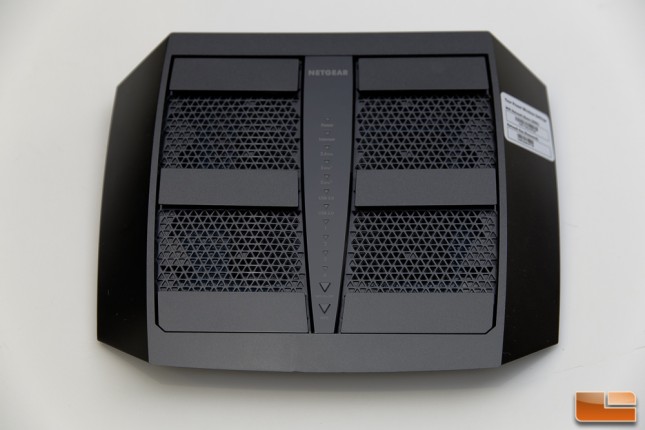 Netgear has partnered with Broadcom to supply the System on Chip (SOC) architecture and processor for the Nighthawk X6. We spoke to Richard Najarian, Broadcoms WLAN Product Marketing Senior Director, and he explained that Broadcoms 5G Wi-Fi XStream technology optimizes speeds for all Wi-Fi devices to alleviate bogging down the entire network. The router automatically uses Smart Connect to choose which is the best 5 GHz band for connected devices to use.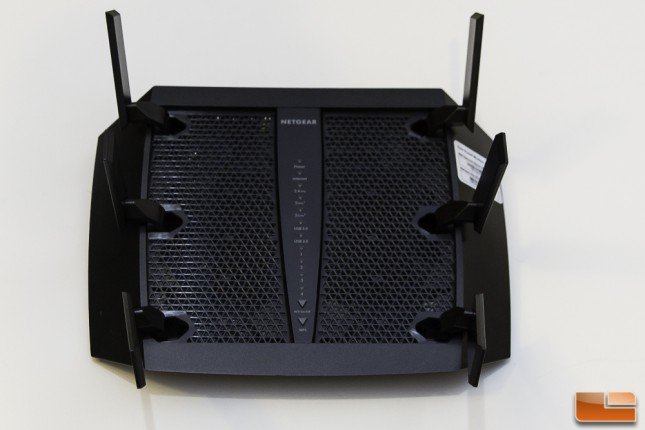 Not only does the X6 pick out which is the best Wi-Fi radio to use, but Netgear designed the Nighthawk to use load balancing to distribute Wi-Fi connections among all three Wi-Fi bands. Slower devices like printers and older computers connect to the 2.4 GHz band.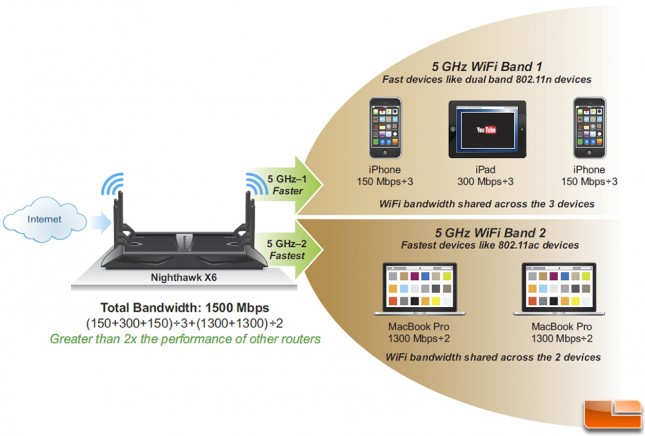 Netgear Nighthawk X6 Featured Specifications: Product Number
WiFi Technology
802.11ac Tri-Band Gigabit
Speed and Range WiFi Performance
AC3200 (600 + 1300 + 1300 Mbps)
WiFi Range
WiFi Band
Simultaneous Tri-Band WiFi – Tx/Rx 3×3 (2.4GHz) + 3×3 (5GHz) + 3×3 (5GHz)
Beamforming
Beamforming+Smart, signal-focusing technology boosts the speed,reliability, and range of your WiFi connections
Number of Ethernet Ports
Five (5) 10/100/1000 (1 WAN and 4 LAN) Gigabit Ethernet ports
Number of USB Ports
Two (2) USB ports: 1 USB 3.0 & 1 USB 2.0 port
Key Features
AC3200 Tri-Band WiFi
WiFi Band 1: 600 Mbps @2.4GHz-256QAM
WiFi Band 2: 1300 Mbps @5GHz
WiFi Band 3: 1300 Mbps @5GHz
Smart Connect intelligently selects the fastest WiFi for every device
High powered amplifiers and six (6) high performance external antennas
Implicit & Explicit Beamforming for 2.4 & 5GHz
Powerful Dual-Core 1GHz processor with 3 offload processors
Memory: 128 MB Flash and 256 MB RAM
Two (2) USB ports: (1) USB 3.0 & (1) USB 2.0 port
Security
Customized free URL to set up personal FTP server
VPN supportsecure remote access
Guest network accessseparate & secure
WiFi Protected Access (WPA/WPA2PSK)
Double firewall protection (SPI and NAT)
Denial-of-service (DoS) attack prevention
Processor
1GHz dual core processor with three offload processors
128 MB Flash and 256 MB RAM
Product Diagram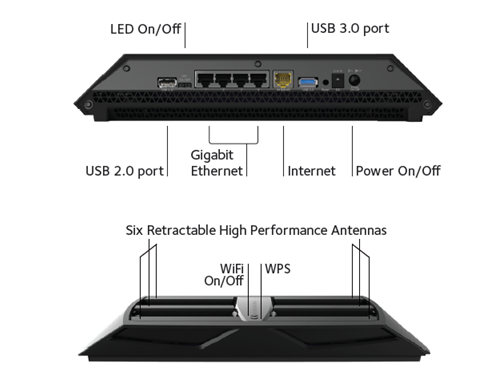 Physical Specifications
Dimensions: 11.63 x 8.92 x 2.14 in (295.5 x 226.8 x 54.5 mm)
Weight: 2.43 lbs (1.1 kg)
Package Content
Nighthawk X6 AC3200 Tri-Band WiFi Router (R8000)
Ethernet cable
Quick install guide
Power adapter
Standards
Two (2) USB ports: 1 USB 3.0 & 1 USB 2.0 port
IEEE 802.11 b/g/n 2.4GHz-256QAM support
IEEE 802.11 a/n/ac 5.0 GHz
Five (5) 10/100/1000 (1 WAN and 4 LAN) Gigabit Ethernet ports
System Requirements
Microsoft Windows 7, 8, Vista, XP, 2000, Mac OS, UNIX, or Linux
MicrosoftInternet Explorer 5.0, Firefox 2.0, Safari 1.4, or Google Chrome 11.0 browsers or higher
Maximum wireless signal rate derived from IEEE standard 802.11 specifications. Actual data throughput and wireless coverage will vary. Network conditions and environmental factors, including volume of network traffic, building materials and construction, and network overhead, lower actual data throughput rate and wireless coverage. NETGEAR makes no express or implied representations or warranties about this products compatibility with any future standards. 802.11ac 1300 Mbps is approximately 3x faster than 802.11n 450 Mbps. 2.4GHz Performance Mode requires 256 QAM support on WiFi client. Up to 1300 Mbps wireless speeds achieved when connecting to other 802.11ac 1300 Mbps devices.