Mushkin Atlas Deluxe mSATA 30GB SSD Review
By
Final Thoughts & Conclusions
Similar to the Intel 525 30GB mSATA drive, the Mushkin Atlas Deluxe 30GB drive yields 27.9GB (actually GiB) to the user in Windows. This is really too small for using as an OS drive and in fact, the drive image we use on all of our test drives for the real world tests, exceeds the available space on the drive as it's really intended more for cache drive duties. So, if you were looking for the real world tests, this is why it was omitted.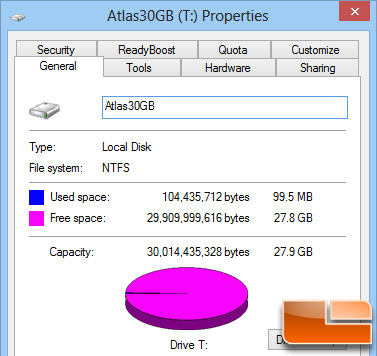 While larger form factor SSDs have been busily making their way into all manners of computers, mSATA drives are still emerging, mainly in small form factor machines which capitalize on the compactness of the drives. As such, there aren't a vast array of brands widely available. Mushkin chose to power the Atlas line with the SandForce SF-2281 controller which we're very well familiar with and know to be one of the best available controllers, and pair it with Micron NAND. This combination makes for a solid product which has proven out in the benchmarks.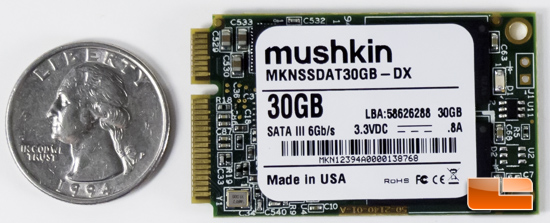 While our performance comparison was limited to only one other drive of the same capacity, that comparison drive is probably is on top of the mSATA 30GB heap being an Intel 525 Series drive. That makes is a very nice yardstick to measure up the bantam Atlas Deluxe drive. In that regard, the Atlas measures up very well with performance numbers that are very robust for a drive of this size. The maximum performance attained is 555MB/s sequential reads and 379MB/s sequential writes. This is with compressible data and, like all SandForce drives, things change a bit when incompressible data is thrown at it. Max performance drops to 200MB/s reads and 40 MB/s writes which is on par with Intel 30GB drive as it features the same controller.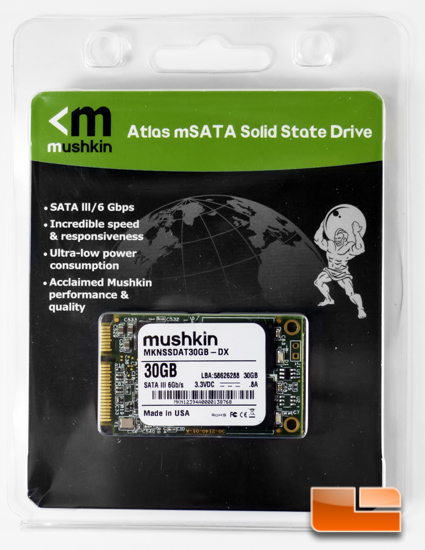 For $64.99, you can pick one of these up at various retailers, but for a mere $10 more you can get the 60GB variety. Barring use as a cache drive, we'd recommend splurging the extra $10 for double the capacity or even step up to the 120GB drive. The larger drives garner better overall performance so you more than just more capacity. We're not huge fans of cache drive configurations, preferring a straight SSD solution, but if this is the route you must take, it still offers a lot of performance improvements. If a 30GB drive fits your needs, you can hardly go wrong with this one!
Legit Bottom Line: The 30GB Mushkin Atlas Deluxe mSATA SSD is a fine drive that performs remarkably well for a small capacity drive but it's that small capacity that makes it much better suited for a cache drive than a main OS drive.