MSI Z77A-GD65 Motherboard Preview – Intel Z77 w/ Sandy Bridge
By
MSI Z77A-GD65 'Ivy Bridge' Motherboard Overclocked Benchmark Results
Not wanting to leave our overclocked systems alone we fired up several of the benchmarks to test the stability of our systems.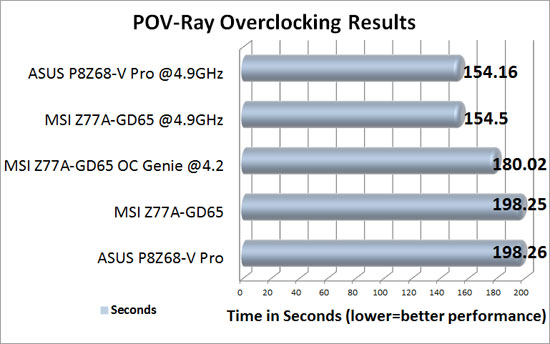 The first benchmark to run under the overclocked systems is POV-Ray. We were able to bring the Intel Core i7 2600K to 4.9GHz on both systems. The ASUS P8Z68-V Pro was a hair faster completing the rendering benchmark with a time of 154.16 seconds. The MSI Z77A-GD65 completed the benchmark in 154.5 seconds, .34 seconds behind the ASUS system. We also ran the MSI Z77A-GD65 while testing the OC Genie II overclock and it was able to complete the POV-Ray benchmark in 180.02 seconds.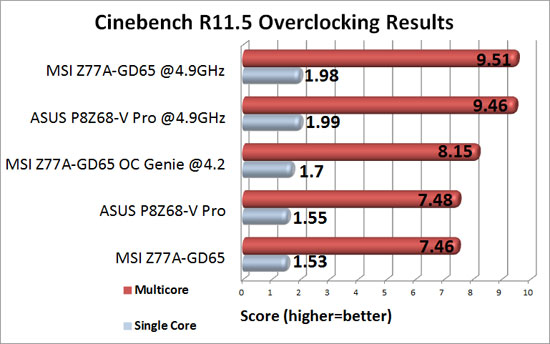 Cinebench R11.5 is next on the chopping block. At 4.9 GHz the MSI Z77A-GD65 took the top spot with a score of 9.51 while the ASUS P8Z68-V Pro had a score of 9.46. When automatically overclocked by the OC Genie II to 4.2GHz the MSI Z77A-GD65 had a score of 8.15 over the stock score of 7.46.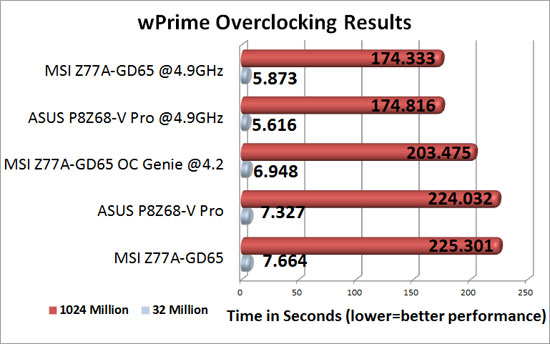 Our final test for stability is wPrime. The MSI Z77A-GD65 started the day completing the 1024 million benchmark in 225.301 seconds. Running the system under the OC Genie II the completion time dropped to 203.032 seconds, an improvement of 9.7%. At 4.9GHz the MSI Z77A-GD65 completed the benchmark in only 174.33 seconds for an improvement of 22.6%!