MSI Z77A-GD65 Motherboard Preview – Intel Z77 w/ Sandy Bridge
By
MSI Z77A-GD65 'Ivy Bridge' Motherboard Overclocking
Overclocking greatly varies due to what hardware is being used and who is doing the overclocking. Always remember that no two pieces of hardware will perform the same, so our results will differ from what you might be able to get.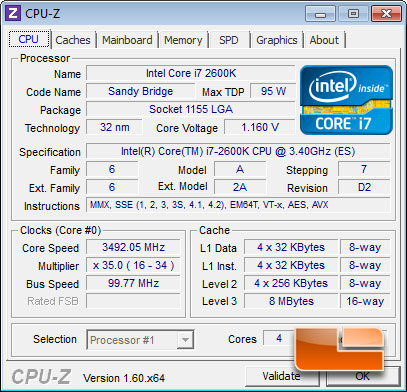 The Intel Core i7 2600K utilizes a Bclk of 100MHz, under full load the Intel Core i7 2600K uses a multiplier of x34 to achieve the final clock speed of 3.4GHz. Since we are using a K series processor which has an unlocked multiplier we will be able to increase the default x34 multiplier to achieve our overclock today. We can see in the above CPUz 1.60 screen shot that with the Turbo mode engaged we are cruising along at 3.5GHz.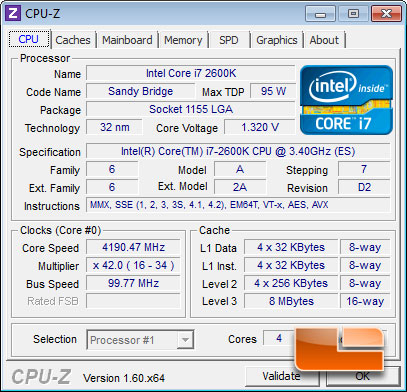 The MSI Z77A-GD65 has the OC Genie II capabilities. This means that we can automatically overclock our Intel Core i7 2600K by simply depressing the OC Genie II button on the motherboard. Doing this we were able to automatically overclock our i7 2600K to 4.2GHz. The OC Genie increased the CPU multiplier to x42 instead of the default x34 for an 800MHz boost to the performance.
We didn't want to leave the overclocking to automatic alone, what fun would that be? Once we disabled the OC Genie we stuck our heads into the MSI Click BIOS II and started to tinker with the settings. After a few short minutes we had our system chugging along at 4.9GHz! The only adjustments that we made were the CPU ratio, CPU Core Voltage, Vdroop control, and the CPU Core OCP Expander.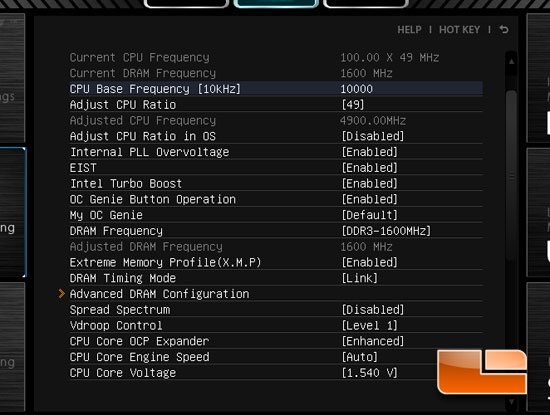 Above you can see the settings that we used to bring our Intel Core i7 2600K up to 4.9GHz. If you happen to use this combination of parts, you can use these as a baseline to hit your desired goal. Though this particular piece of silicon takes a bit more power than some.