Limited Edition 750GB Crucial MX300 SSD Review
By
IOMeter 4KB Random Performance
Our 4KB random performance test is conducted in the same manner as our sequential tests, but once the drive is conditioned we run our saved random test profile that runs our 4KB test for two minutes without any idle time in between the tests. The queue depth is set to 32 on four workers and the test is begun. To get the benefits from NVMe based drives you must use multiple CPU queues and this is why we are now using four workers for this IOMeter test.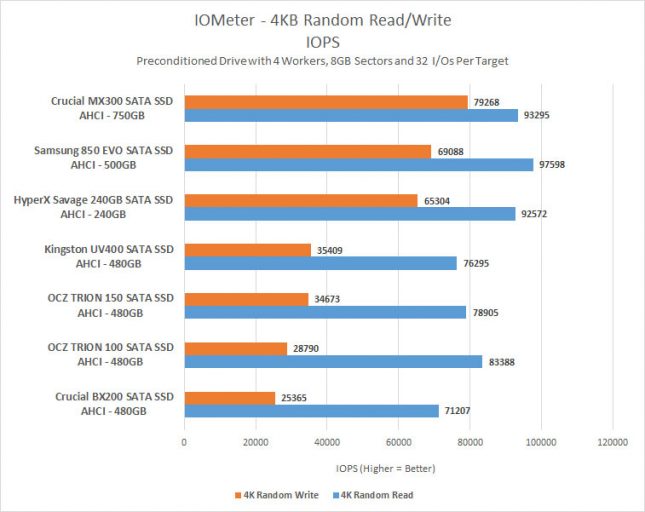 IOPS is the main thing we are looking at in this test scenario and the Crucial MX300 750GB SSD is rated at 92k IOPS for the 4K Random Read and 83k IOPS for the 4K Random Write. Our testing showed that we were only able to get 93,295 IOPS read and 79,2689 IOPS write on our pre-filled drive right after a secure erase was complete. This is pretty close to the rated speeds and among one of the fastest TLC drives that we have ever tested!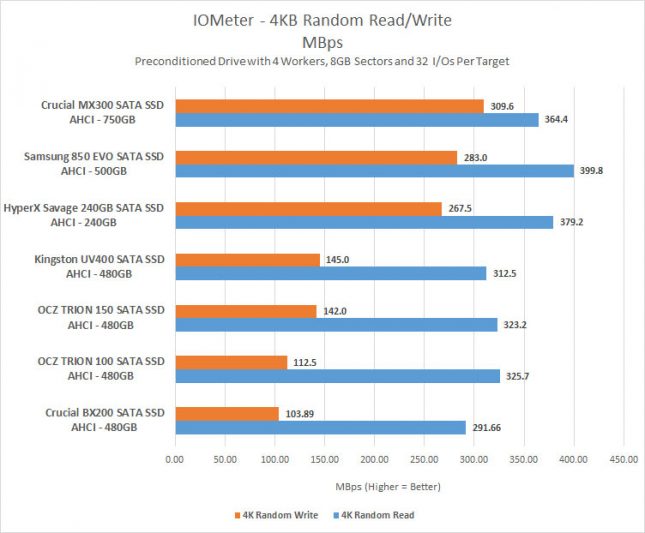 When it comes to MBps you are looking at 364MB/s on the 4KB Random Reads and 310 MB/s on the 4KB Random writes for the Crucial MX300 750GB Limited Edition SSD.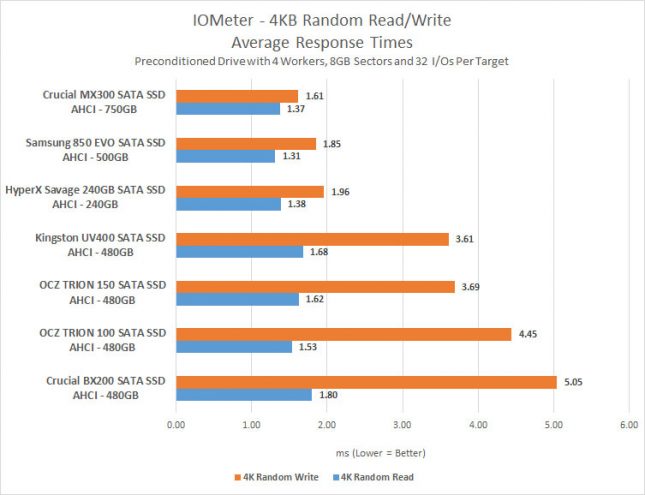 The write response times on the Crucial MX300 750GB were found to be better than the Samsung 850 EVO, OCZ Trion 150, OCZ Trion 100 and Crucial BX200 drives!
Here is a closer look at just the Crucial MX300 750GB SSDs Random 4K performance at various queue depths using short 10 second transfer tests tests. As you can see Random 4K write performance starts off very high as the MX300 750GB SSD started out at 78,000 IOPS at QD1. The read performance on the other hand was just 28,000 IOPS at QD1, but that quickly improved and then leveled off at roughly 93,000 IOPS by QD6.