LG Optimus G Pro E980 AT&T 4G LTE SmartPhone Review
By
LG Optimus G Pro E980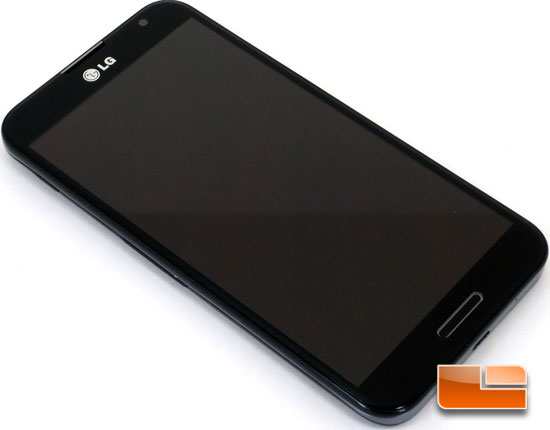 It doesn't seem that long ago that we had our first look at the LG Optimus G smartphone, but in reality it's been 9 months since we wrapped that one up. Today we have the latest iteration of the LG Optimus series, the Optimus G Pro. The Optimus G Pro is still an Android based smartphone with all the benefits that come with it and has a lot of the same features of the Optimus G, with of course a few updates. The LG Optimus G Pro came shipped with Android 4.1.2, more commonly known as JellyBean. Our previous LG Optimus G came with Android 4.0.4 Ice Cream Sandwich, right off the bat the core software has been updated. Not only did the software get updated for the Optimus G Pro, there are a number of Hardware improvements as well!
For starters, the processor has been improved. The Optimus G was had one of the fastest processors at the time, a 1.5GHz snapdragon processor. The LG Optimus G Pro features a Qualcomm Snapdragon 600 quad core processor running at 1.7Ghz. At 1.7GHz the Snapdragon 600 processor in the LG Optimus G Pro isn't the fastest processor out there, for example the Samsung Galaxy S4 features a 1.9GHz quad core processor, but it's still going to be more than enough processor. The screen resolution saw some improvement as well as the screen size. The Optimus G has a resolution of 768 x 1280 while the Optimus G Pro features a full 1080p resolution of 1920 x 1080. The screen size also went up, from 4.7″ to 5.5″, this also led the overall dimensions to climb from 5.15″ x 2.82″ x 0.33″ (HxWxD) to 5.91″ x 3.00″ x 0.37″ (HxWxD).
There are a number of apps in the LG Optimus G Pro that add to the experience of using the LG Optimus G Pro. With applications like VuTalk, QuickRemote 2.0, QSlide 2.0, QuickMemo, and Miracast just to touch on few there's a lot key points about the LG Optimus G Pro. VuTalk is a neat little app that allows you to share notes on pictures, maps and more while you're on a phone call, I can see this as being handy when you're giving somebody directions or many different situations. QuickRemote 2.0 is exactly what it sounds like, a remote built into the LG Optimus G Pro that you can control compatible devices with (at least if this remote goes missing you can call it to find it). QSlide 2.0 is a app that allows you to color code you itineraries and according to LG QSlide 2.0 is a vacation multitasking pro!
The LG Optimus G Pro is available on AT&T's 4G LTE network, so bandwidth isn't going to be a problem in the least. AT&T has Wi-Fi hotspots all over the place which you're always able to connect to when you're out and about. If you're at home you're able to connect to you home Wi-Fi network at 802.11 A/B/G/N speeds for the ultimate bandwidth. Though in the past I've had faster connections over the AT&T 4G LTE network where I've hit nearly 50MB/s download, nearly double the speeds of my Comcast Cable internet!
LG Optimus G Pro Specifications
| | | |
| --- | --- | --- |
| Type | LG Optimus G E970 | LG Optimus G Pro E980 |
| Form Factor | Bar | Bar |
| 4G Technology | HSPA+, LTE | GSM, LTE |
| Processor | 1.5 GHz Quad-Core | Qualcomm Snapdragon 600 Processor with 1.7Ghz Quad-Core CPUs |
| RAM | | 2 GB |
| Network | GSM Quad Band/UTMS Tri Band/LTE Dual Band | GSM Quad Band/UTMS Tri Band/LTE Dual Band |
| Frequencies | GSM/GPRS 850/900/1800/1900 MHz, HSPA+21 Mbps 850/1900/2100 MHz, LTE Cat. 3 CSFB 700/1700 MHz | LTE CAT 3 Band 4, and 17, HSPA+ 21 Mbps, UMTS 850/1900/2100 MHz, GSM 850/900/1800/1900 MHz |
| Data Transmission | | EDGE, GPRS Class 10, UMTS (W-CDMA), HSDPA, LTE Bands 4/17 |
| Dimensions | 5.15″ (H) x 2.82″ (W) x 0.33″ (D) | 5.91″ (H) x 3.00″ (W) x 0.37″ (D) |
| Weight | 5.19 oz | 6.14 oz |
| Display | 4.7″ (768 x 1280) True HD IPS Plus Display | 1920 x 1080 Full HD IPS Display, 5.5″ |
| Battery Capacity | 2,100mAh | 3,140 mAh |
| Talk Time | Up to 10 hours | Up to 15 hours and 30 minutes |
| Standby Time | Up to 13.5 days | Up to 24 days |
| Internal Memory | 32 GB total memory (16GB built in memory and 16GB microSD card), and support for up to 64 GB of expandable memory | 32 GB |
| MicroSD Memory Slot | support for up to 64 GB of expandable memory | Support up to 64 GB |