Kingston mS200 120GB mSATA SSD Review
By
Kingston SSDNow mS200 120GB SMS200S3/120G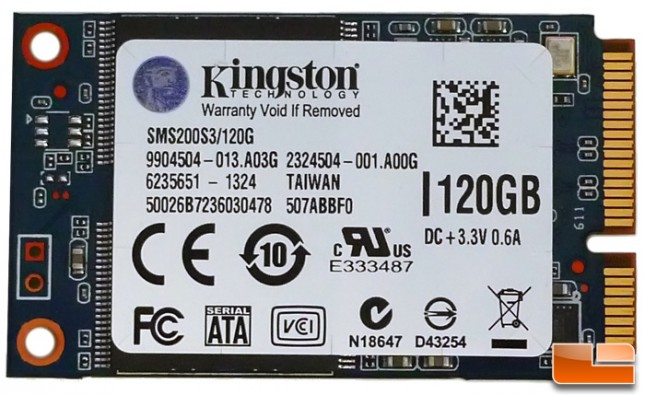 Now that mSATA drives are really starting to grow in popularity, we are seeing more models pop up from various SSD manufacturers. Kingston has the latest one we've received powered by a SandForce controller paired with Toshiba NAND. The SSDNow mS200 line is part of their 'System Builders' series which they state is "specifically designed for use in OEM branded servers". What this means for most is that it's geared toward mobile hosts with a focus on value (it comes with no accessories) and power savings while still pumping out up to 550MB/s read and 520MB/s write performance. Offered in capacities of 30GB, 60GB and 120GB, they currently retail for $47.72, $79.99 and $120.74 respectively. They offer a three year warranty to cover any defects or failures and they project that the 120GB drive we received will last up to a total of 93TB of data written. This means even if you wrote an unthinkable 25GB to the drive a day, every single day, the drive would still be viable for almost 10.5 years. This is way more than any consumer would even possibly come close to using.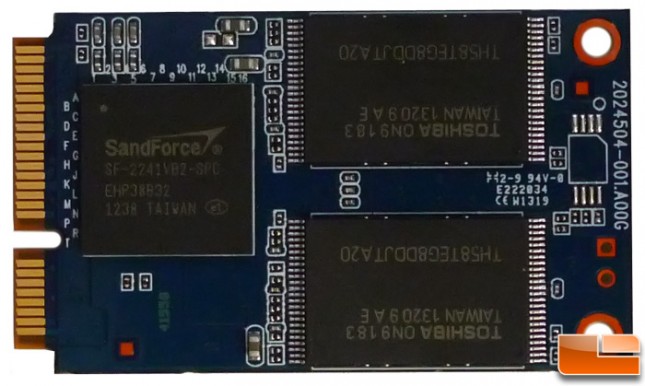 Kingston SSDNow mS200 mSATA SSD SMS20053 Features and Specifications:
LSI SandForce 2241 controller with SATA Rev. 3.0 (6Gb/s) interface

Twice as fast as the previous generation, yet more cost-efficient

mSATA interface

Fully compliant with industry standard, easy to fit, guaranteed to work

NAND Flash memory based

Shock-resistant with low power consumption

Supports Intels SRT

Combines capacity advantage of HDD with performance improvements of SSD in dual-storage configuration

Supports S.M.A.R.T.

Monitors the status of your drive

Supports TRIM

Maintains maximum performance on compatible operating systems

Guaranteed

Three-year warranty (two-year warranty on 30GB), free technical support
Form factor: mSATA
Interface: SATA Rev. 3.0 (6Gb/s), SATA Rev. 2.0 (3Gb/s), SATA Rev. 1.0 (1.5Gb/s)
Capacities: 30GB, 60GB, 120GB
Controller: SandForce-SF2241
Encryption: AES 128bit
Sequential Read/Write:

30GB 550 MB/s / 510MB/s
60GB, 120GB 550 MB/s / 520MB/s

Maximum 4k Read/Write:

30GB up to 86,000/ up to 77,000 IOPS
60GB up to 86,000/ up to 79,000 IOPS
120GB up to 86,000/ up to 48,000 IOPS

Random 4k Read/Write:

30GB up to: 7,500/71,000 IOPS
60GB up to: 14,000/77,000 IOPS
120GB up to: 17,000/45,000 IOPS

PCMARK Vantage HDD Suite Score: 60,000
Power Consumption: 0.4W Idle / 1.2 (TYP) Read / 1.8W (TYP) Write
Storage temperature: -40C ~ 85C
Operating temperature: 0C ~ 70C
Dimensions: 50.88mm x 30mm
Weight: 6.86g
TRIM: Supported
Vibration operating: 2.17G
Vibration non-operating: 20G
MTTF: 1,000,000 Hrs
Warranty/support:

30GB two-year warranty with free technical support
60GB, 120GB three-year warranty with free technical support

Total Bytes Written (TBW):

30GB: 23TB
60GB: 46.5TB
120GB: 93TB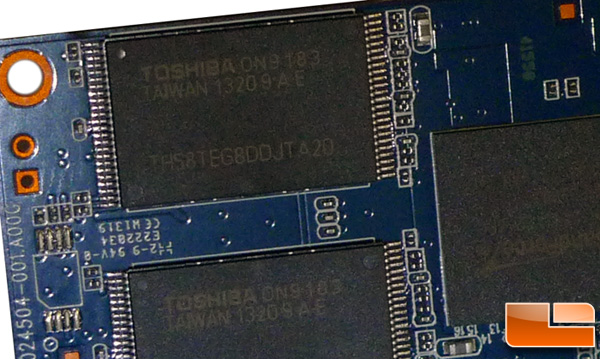 The MLC NAND on board is Toshiba in manufacture, carrying part number TH58TEG8DDJTA20. The architecture is 19nm and the NAND is of the Toggle variety.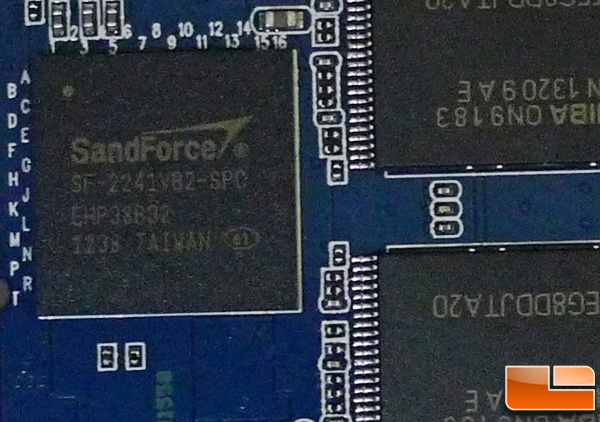 This is the first time we've come across the SF-2241 controller from LSI SandForce which is a close relative to the familiar SF-2281 controller. The difference? It's actually pointed out in the part number as the 2241 is a 4-channel controller while the 2281 is an 8-channel controller. This means overall performance will not be as good, especially where the controller can't exercise the compression techniques it uses to boost performance. Ostensibly, the reason for using the SF-2241 over the SF-2281 is the former uses less power which is why we see it on mSATA drives destined for mobile hosts and not on the larger 2.5″ drives that are more used in desktops these days. It still supports all of the same technology as the SF-2281 like TRIM and the features of SandForce's DuraClass technology.