Kingston HyperX 8GB 1866MHz PnP Memory Kit For Notebooks
By
Hyper Pi to 1 Million Places
Hyper Pi is a front end mod for Super Pi. Hyper Pi allows you to run multiple instances of Super Pi automatically without manually setting processor affinity. Super Pi is a utility that allows you to calculate between 16 thousand and 32 million decimal places of Pi. Pi was originally calculated to 33.5 million places using a Pentium 90MHz processor, 40MB of main memory, and 340MB of available storage. This system was able to calculate the 33.5 million digits within 3 days! Fortunately we are able to do it a little bit quicker with modern computers! Today, we'll be finding Pi to 1 million places on all four cores simultaneously.
6GB DDR3 1333MHz CL9 Memory: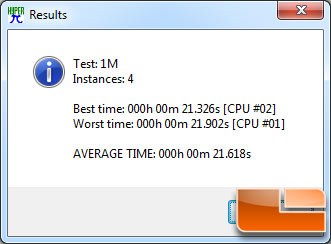 8GB DDR3 1866MHz CL11 Memory: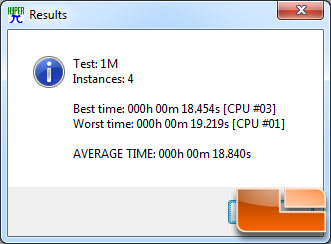 Benchmark Results: The average time with the 6GB DDR3 1333MHz CL9 dual channel memory kit was 21.618 seconds, but that wasn't enough to keep up with the Kingston HyperX Plug and Play 8GB 1866MHz CL11 SO-DIMM kit as it was able to complete Pi to 1 million places in just 18.840 seconds. This is an improvement of 2.778 seconds or 13%.
If you want a detailed look at the runs you can look at the images below that show the results for CPU0.
6GB DDR3 1333MHz CL9 Memory: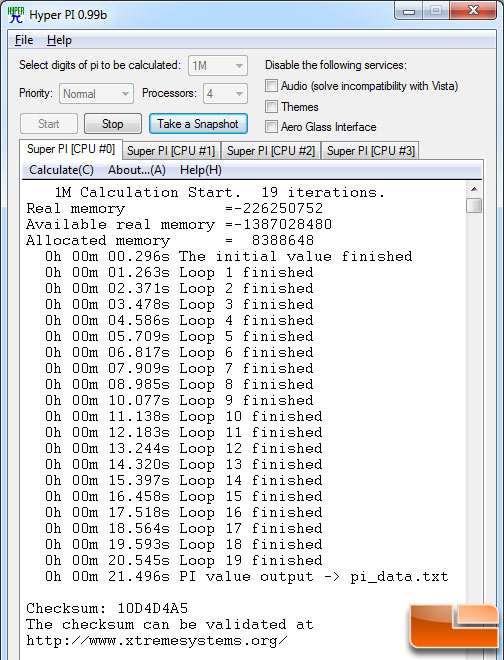 8GB DDR3 1866MHz CL11 Memory: