Intel SSD 760p 512GB PCIe NVMe SSD Review
By
Intel SSD 7 Series Gets New Controller & TLC NAND
When Intel launched the SSD 600p Series back in 2016 they rocked the storage market with a solid performing PCIe NVMe SSD series that was available at affordable prices. Intel was able to do this by pairing the Silicon Motion SM2260 controller with Intel 32-layer TLC NAND Flash memory. The result was a series of drives that were was capable of sequential read/write performance of up to 1800 / 560 MB/s and random read/write performance of 155K / 128K IOPS.
In January 2018, Intel released the successor to that series with the SSD 760p Series. Intel did some major updates under the hood on the SSD 760p Series as they went with newer Silicon Motion SM2262 controller with custom firmware and the latest Intel 64-layer 3D TLC NAND Flash memory. The specifications of the new drive are impressive with sequential performance reaching up to 3200 MB/s read and 1600 MB/s writes along with 4K Random numbers of up to 340K read and 275K write. Intel has more than doubled the performance of the Intel SSD 7 Series over the Intel SSD 6 series!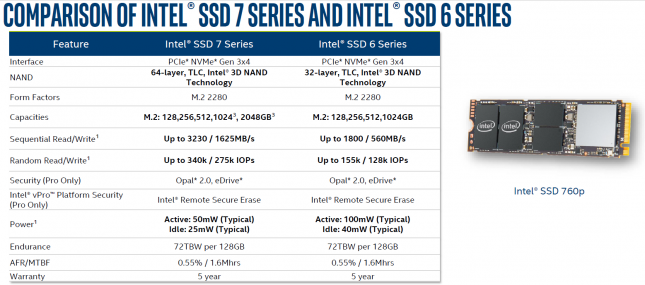 One other interesting area of improvement on the Intel SSD 760p series was on power management. Back when launched the Intel SSD 600p series back in 2016 it was was rated for typical active/idle power consumption of 100mW and 40mW. Those numbers weren't bad for the time, but the new Intel SSD 760p series is rated at 50mW and 25mW. Intel has managed to cut the typical active power down by half and reduced the idle power by 37.5%. That is great news to laptop users that want to get the longest battery life possible. So, the Intel SSD 760p series delivers more performance and up to half the power than the previous generation Intel SSD 600P series.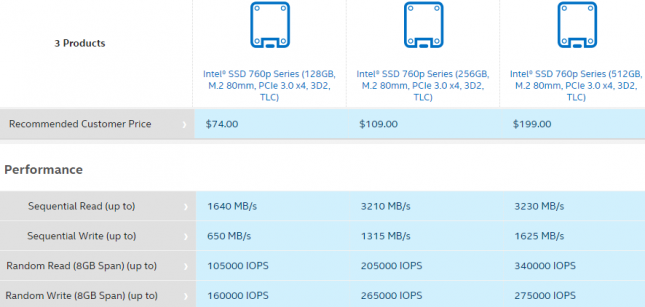 The drive that we will be testing for this review is the Intel SSD 760p 512GB model that is sold under part number SSDPEKKW512G8. The MSRP on this drive is $199, but
we found that Amazon was selling it for $237.59 shipped and Newegg was asking $299.95 shipped. We aren't sure exactly why some retailers are asking almost 50% over MSRP for this drive, but they are and Intel can't force anyone to sell it at the MSRP.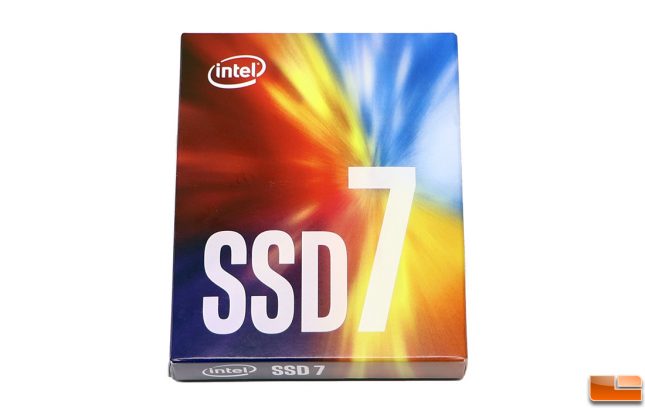 The Intel SSD 760p Series comes in colorful packing and inside you'll get the M.2 2280 'gumstick' drive and the paperwork covering basic installation and information on the 5-year warranty. The Intel SSD 760p series has en endurance rating of 72 TBW per 128GB of storage capacity. That means our Intel SSD 760p 512GB drive has an endurance rating of 288 TBW when it comes to lifetime writes. That works out to meaning that you can write 157.8 GB of data to the drive per day over the 5-year warranty period and be fully covered.
The green PCB used on the Intel SSD 600p series with the white product label has been updated to a more desirable black PCB with a black label. Under the large label are two Intel 64-layer 3D TLC NAND Flash packages, two Micron DRAM packages and the SM2262 8-channel controller. The label does not appear to have any heatspeader capabilities for heat dissipation as it does not contain any copper layering.
Our Intel SSD 760p 512GB drive arrived with a crooked label and if you look very close at the gold interconnects you'll see that part of the PCB is chipped and part of the last pin is missing on one side. We've never had a drive show up damaged like this and the packaging was perfect, so this must have happened during packaging at the factory.

The back of the PCB is bare, but you can see that Intel has room two place two more 64-layer TLC NAND packages on the back for the larger capacity drives. Right now only 128GB, 256GB and 512GB capacities are available for purchase, but 1TB and 2TB models will be released later this year. Our sources inside Intel said that they will be about in the first half of 2018, so they will be hitting the market shortly.