Intel Pentium G3258 Processor Review – Overclocking Quest For 5GHz
By
SiSoftware Sandra 2014 SP2a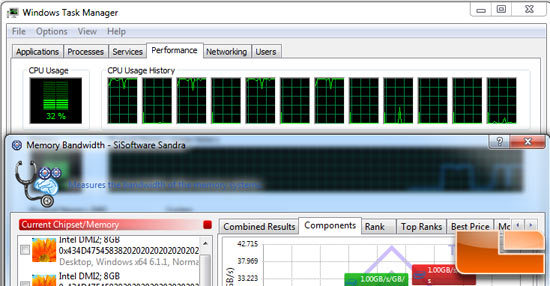 The Sisoft Sandra 2014 SP2a benchmark utility measures pretty much all of your system components, but we'll be using it to focus on memory and CPU performance!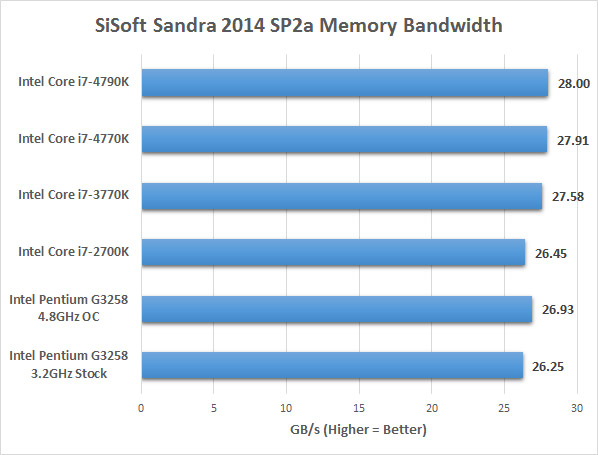 Results: As you can see from our memory testing that was completed with a Corsair 2133MHz DDR3 memory kit, all the processors perform roughly the same. The Intel Pentium G3258 was the slowest of the group, but we did see a slight memory bandwidth improvement when the processor was overclocked up to 4.8GHz.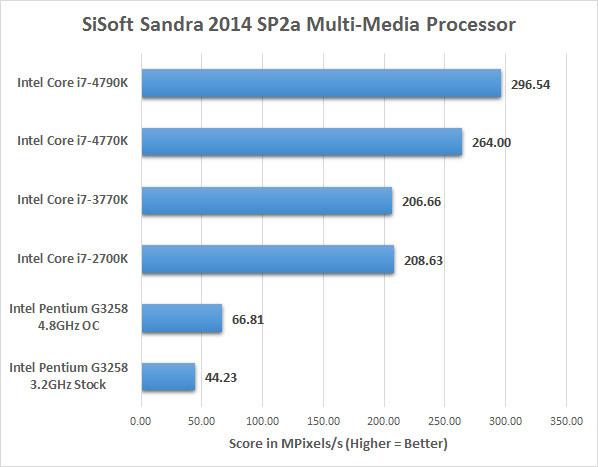 Results: The Intel Pentium G3258 doesn't support the Intel AVX, AVX2 or TSX-NI instruction set, so the performance was notably lower than the other processors that do. Still, The Intel Pentium G3258 processor scored 44.23 MPixels/s in stock form and that jumped up by 51% to 66.81 MPixels/s when overclocked to the max.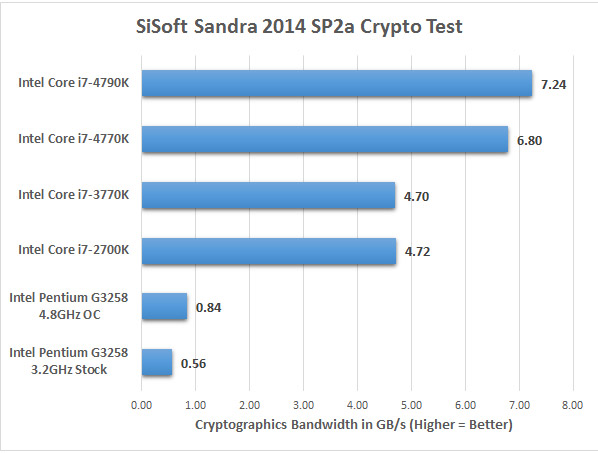 Results: All the new mainstream and high-end desktop processors support AES-NI, but not the Intel Pentium series. The Intel Pentium G3258 scored 0.56 GB/s for this AES benchmark test, which is significantly lower than other high-end unlocked K-series processors that are also in the performance charts. The good news is that the Intel Pentium G3258 costs $60 whereas the other processors cost upwards of $280.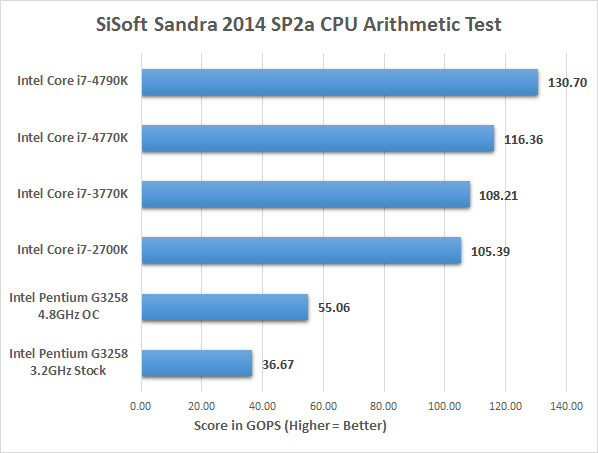 Results: In the Sandra 2014 SP2a CPU Arithmetic Benchmark the Intel Pentium G3258 scored 36.67 GOPS, but when overclocked we were able to get 55.06 GOPS. This is an improvement of 50% from a 50% overclock, so we are seeing 1:1 performance gains with the overclock so far!