Intel Pentium G3258 Processor Review – Overclocking Quest For 5GHz
By
Intel Pentium G3258 Processor Overclocking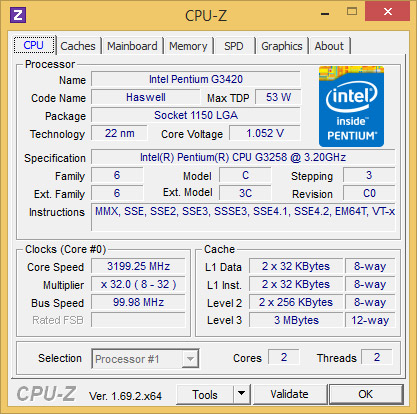 The IntelPentium G3258 Anniversary Edition processor is 3.2GHz . We heard that reaching 4.7GHz should be easy for most platforms with high-end air or water cooling. For this review we wanted to see what we could hit with the Corsair H105 water cooler and we were hoping that the rumors of being able to hit 5GHz on an inexpensive dual-core processor would be found true. It would be awesome to hit 5GHz on a dual-core processor that costs just $65!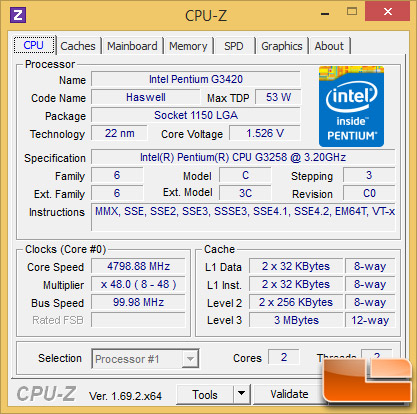 The top overclock on both of our Intel Pentium G3258 processors was 4.8GHz. We could get into Windows at 4.9GHz, but it would crash with the launch of pretty much any application and was far from stable. The ASUS Z97-A motherboard we were using was already feeding 1.526V to the CPU and we certainly didn't feel comfortable going any higher. We know of one person inside ASUS that was able to get 5.0GHz up and running with 1.5V on the core and 1.4V on the cache, but ended up killing the chip when running the ASUS ROG RealBench torture test. Sure, this processor only cost us $65 after taxes, but we don't feel like killing it in the first 48 hours of owning it.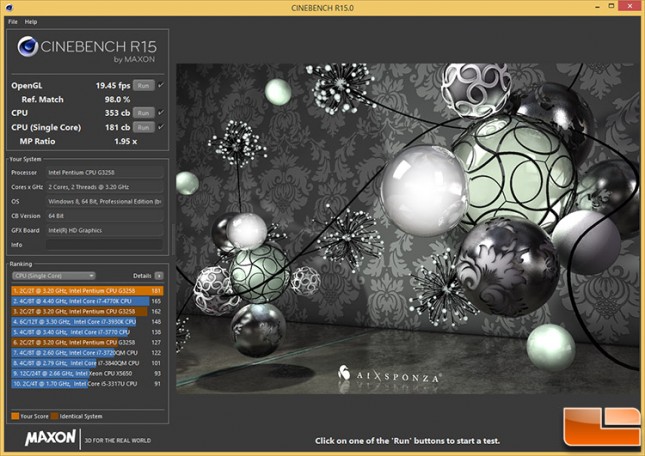 With the Intel Pentium G3258 Anniversary Edition processor running 4.8GHz we were able to score 353 on the CPU test in Cinebench. We got a score of2 47 stock, so this is a nice 43% performance gain. All of the performance charts in the review show performance at 4.8GHz, so please reference those in the pages ahead to see how the chip performs in a wider variety of benchmarks.

At 4.8 GHz we saw the temperatures hit 80C, which isn't bad considering the processor doesn't start throttling until you reach 95C. The ASUS Z97-A board puts the voltage at 1.5260V if you leave the voltage on auto and bump up the multiplier, but you can go into the BIOS and lower the voltages to see if you can use less voltage. We were able to back the voltage down to 1.46V with the cache voltage at 1.20V and that helped keep the temperatures down and lowered power consumption a little bit. If you are overclocking you'll find out quickly that you can get far with leaving the voltages on Auto, but you have to remember that increasing the voltages reduces the longevity of the processor and degrades it. Always try to lower it and see what you can do manually!
Let's see how the Intel Pentium G3258 performs at both stock speeds and at 4.8GHz!