Intel Pentium G3258 Processor Review – Overclocking Quest For 5GHz
By
Intel Pentium G3258 CPU – Budget Overclocker of the Year?
The Intel Pentium G3258 20th Anniversary Edition processor was released to the public this week and Legit Reviews have been waiting for weeks to pick this processor up. Why have we been highly anticipating a low-end Intel Pentium processor? Well, we remember the old days when you could get massive overclocks on inexpensive processors and get some decent performance out of them. The days of using a pencil or rear window defogger kit to get a sick overclock are certainly a thing of the past, but that doesn't mean that there still aren't budget friendly processors that can be overclocked to the hilt. When Intel announced that they were coming out with a Pentium Processor Anniversary Edition processor we were excited. The thought of a cheap processor that was unlocked was no longer going to be a thing of a past that old timers reminisce about at LAN parties or to friends. The Intel Pentium G3258 20th Anniversary Edition processor has been released and it will be the budget overclocking champion for the DIY PC enthusiast of this generation!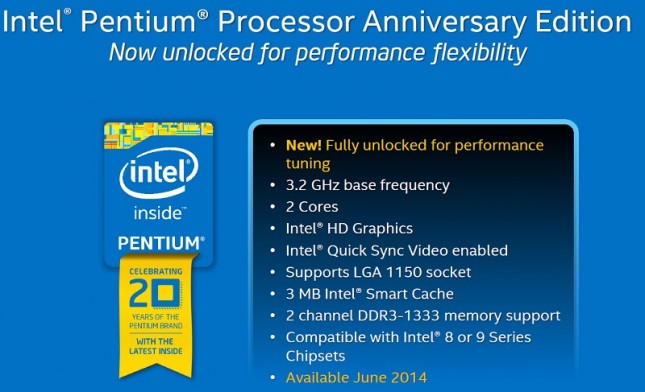 The Intel Pentium G3258 processor (Intel ARK) is an unlocked Dual-Core, 3.2GHz processor with 3MB of cache. This is a basic 22nm Haswell processor that has entry level Intel HD Graphics (up to 1100MHz) with Intel Quick Sync Video enabled. The bad news is that it is a basic processor. That means it lacks Intel Hyper-Threading, Turbo Boost, Intel Clear Video HD, vPro, VT-d technologies along with the AES and TSX-NI instruction sets.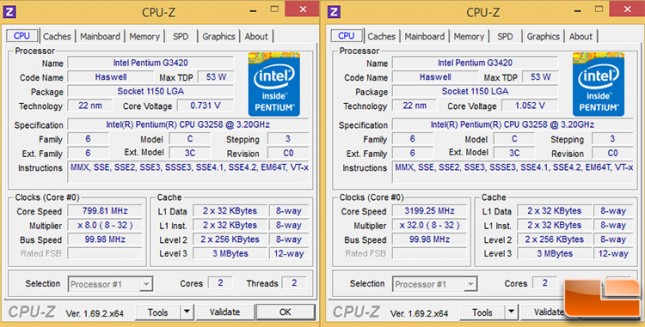 The key selling point of this specific processor is that it has an unlocked multiplier and it is the only Intel Pentium processor that is currently on the market to be unlocked.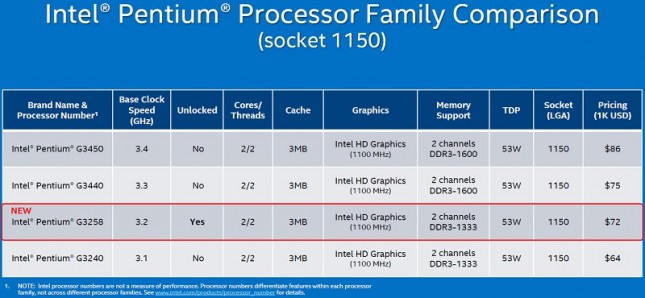 Intel has interestingly priced the Pentium G3258 processor at $72, which is actually less expensive than the Intel Pentium G3440 ($75) and the Pentium G3450 ($86). The all of the Intel Pentium G3XXX series processors share the same dual-core Haswell microarchitecture, Intel HD Graphics at 1100MHz and 3MB of L2 cache. The only real big difference between the processors in this series is their clock speeds. The Intel Pentium G3258 is clocked at 3.2GHz, which is 100-200MHz slower than the G3440 and G3450. Who cares? We won't spoil the overclocking section, but you should easily be able to get the Intel Pentium G3258 by at least 1GHz and some lucky folks will get 1.5-1.8 GHz overclocks on this processor. Why Intel priced the Pentium G3258 lower than some of the other Pentium SKUs is strange, but it is in the consumers favor and we'll take the gift. As far as we are concerned the only Intel Pentium processor that one should be buying right now is the unlocked Intel Pentium G3258 as long as it is placed on a board that supports overclocking and is overclocked!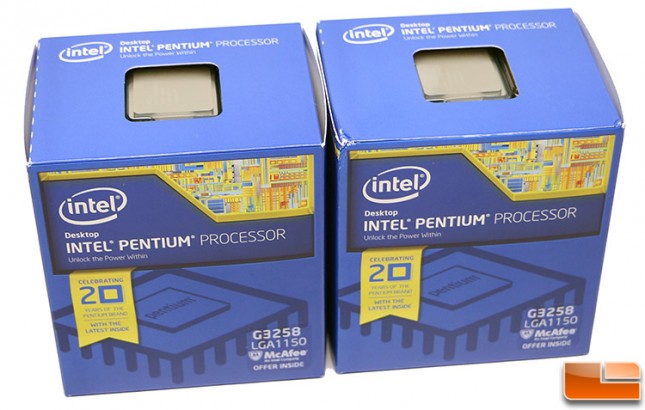 We were able to purchase two of them up at Micro Center locally when they were on a pre-order special for $59.99 plus tax. This meant that we were out the door for $65 each, which is a great price and below the Intel suggested tray pricing. If the Intel Pentium G3258 can get close to hitting 5GHz like the rumors say that would almost be a steal! Amazon currently has the Pentium G3258 in-stock, but they want $89.99 shipped for it right now. The product code for this retail boxed LGA1150 processor is BX80646G3258.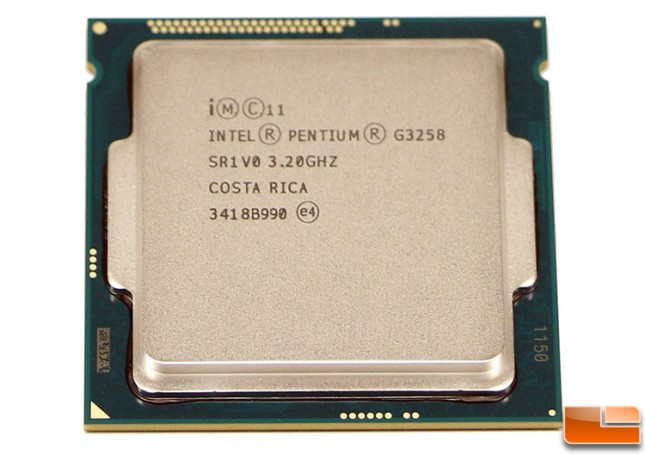 Here is a look at the Intel Pentium G3258 processor and on the Integrated Heat Spreader (IHS) it shows the model number, S-Spec, Batch number and where it was made. This particular Intel Pentium G3258 CPU has an S-spec of SR1V0, a batch number of 3418B990 and that it was made in Costa Rica.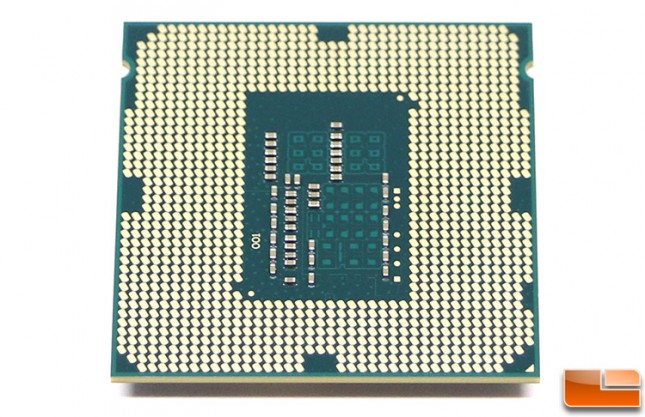 Flipping the processors over you can see that the Intel Pentium G3258 has the usual capacitors that reside in the middle around the pins needed to operate in an LGA1150 socket.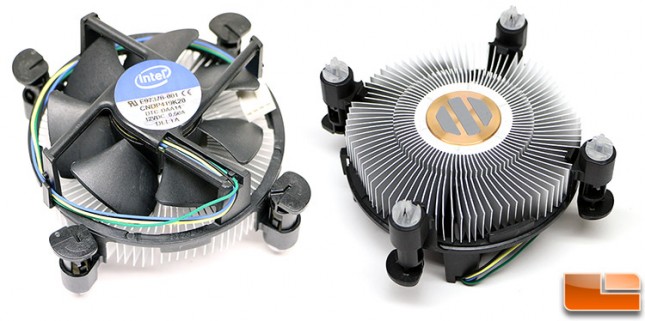 Intel includes a small CPU cooler or HSF with the Intel Pentium G3258 processor. The part number is E97378-001 and this particular model uses a Delta Fan (DTC-DAA14). This HSF supports processors up to 95W TDP, so it should handle the 53W TDP Intel Pentium G3258 processor without any issue (unless you overclock it and then you'll want an aftermarket air or water cooler). Here are the specs the included CPU Cooler:
Mfr Part Number: E97378-001
CPU Socket Type: LGA 1155/ 1156/ 1150
Compatibility: Intel Core i7/ Core i5/ Core i3/ Pentium/ Celeron/ Xeon Processors; Supports up to 95W TDP
Fan:

Speed: 1200 – 2800 RPM
Noise Level: 22 dBA
Bearing Type: Hydraumatic
PWM Function: Yes
Rated Voltage: 12 VDC
Rated Current: 0.6A
Connector: 4pin
Dimensions: 92.0 x 92.0 x 32.0 mm

Heatsink:

Material: Aluminum + Copper insert
Dimensions: 87.0 x 87.0 x 19.0 mm

Weight: 280.0 g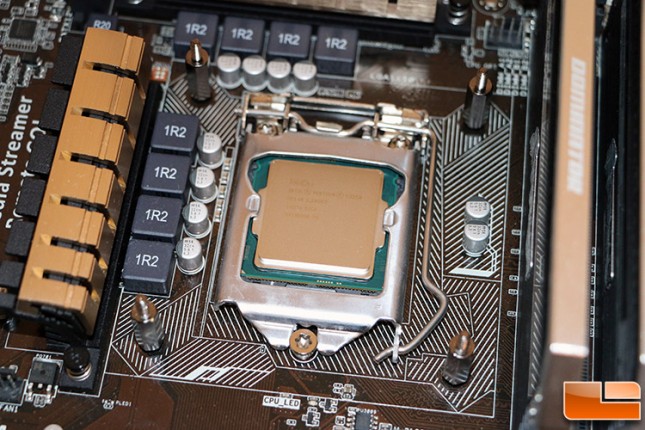 Let's take a look at how the Intel Pentium G3258 20th Anniversary Processor performs in our Intel Z97 test platform!