Intel Optane SSD 800P 58GB and 118GB SSD Review
By
Final Thoughts & Conclusions
The Intel Optane SSD 800P series offers impressive performance and does not require a custom Windows driver. At first we liked that, but then we found out that you can't change the Windows cache buffer settings for the Intel Optane SSD 800P series, so it might actually benefit from a custom driver down the road. If you like the performance numbers and aren't held up by the small capacities, then you'll likely be impressed and interested in this drive as a boot drive. Our audience will likely be most interested in the larger 118GB model for $199.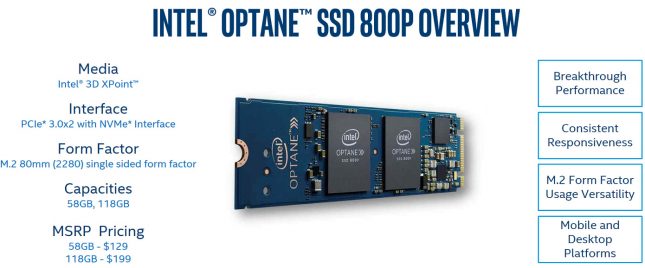 When it comes to pricing the Intel Optane SSD 800P 58GB drive runs $129 ($2.22 per GB) and the 118GB drive fetches $199 ($1.67 per GB). The small capacities and high cost of the components on the Intel Optane SSD 800P series will likely be a bit too much for many enthusiasts. Here is how the pricing looks like for bootable drives between 58GB and 512GB in capacity.
Most people look at capacities first when shopping for an SSD and we haven't seen many enthusiasts around the web looking for a 58GB or 118GB drive. Heck, we just got an Huawei Mate 10 Pro phone to review and it comes with 128GB as the standard storage capacity. It feels like the market for these drives is going to be tiny. Maybe some laptop users that don't need tons of storage will upgrade or enthusiasts that are okay running one of these as a boot drive. You can pick up the entry-level Intel 600p Series 256GB M.2 PCIe NVMe drive for $97.01 shipped though and the wildly popular Samsung SSD 960 EVO 250GB PCIe NVMe SSD runs $119.99 shipped. They don't have the low-queue depth performance that the Optane 800P series has to offer or consistent steady state performance, but is that enough to sway consumers?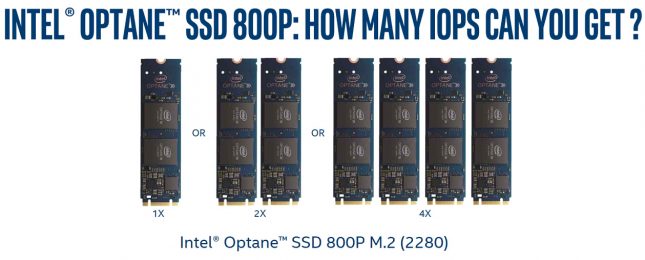 Intel hopes that the enthusiast will be drawn to the Intel Optane SSD 800P series and buy a handful of them. The Intel Optane SSD 800P series with Intel Rapid Storage Technology can reportedly get you to the 1 million IOPS mark for Random Read performance in a RAID 0 array. We'll be taking a look at two 118GB drives in RAID0 soon and hopefully can get two more and run four in our ASUS Hyper M.2 x16 card.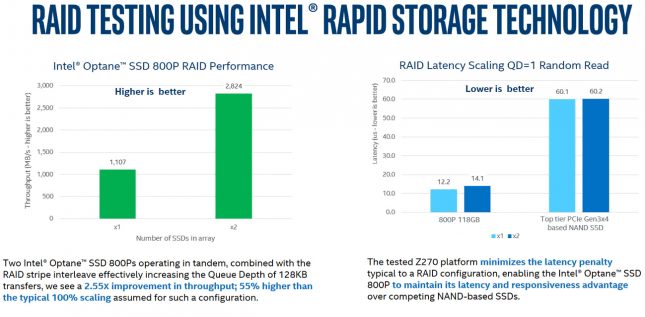 At the end of the day the Intel Optane SSD 800P series has sold performance, but will have a tough time getting mainstream appeal due to the small capacities it is available in and the high price points. This is understandable though as 3D XPoint is a brand new technology and the cost is going to limit the mainstream market to utilizing it as a boot drive until pricing can drop further. If you are okay with using the Intel Optane SSD 800P as a boot drive and then having a secondary NAND based SSD for mass storage we can easily recommend this drive!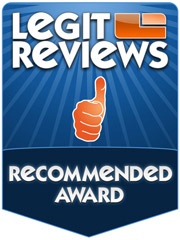 Legit Bottom Line: The Intel Optane SSD 800P is only available in small capacities, but if the price tag doesn't bother you the performance is unlike any NAND powered SSD on the market.