Intel NUC DC3217BY Review w/ Windows 8
By
The Intel NUC DIY Barebones Kit Arrives
During the Intel Developer Forum 2012 I was able to sit down with some Intel engineers that were in charge of developing the Intel Next Unit of Computing or NUC for short. This was back in September and they showed me the NUC in all its little glory. I say little as this PC measures just 4.59″x4.41″x1.55″ and it has a weight of just 18 ounces! Think of the Intel NUC as a desktop version of an Intel Ultrabook if you want to keep things simple.

Intel will be coming out with two versions of the NUC: the DC3217IYE and the DC3217BY.
Intel NUC Kit Versions Comparison Table
DC3217IYE
DC3217BY
CPU
Intel Core i3-3217U
Intel Core i3-3217U
Chipset
Intel QS77 Express
Intel QS77 Express
RAM
2 x DDR3 SO-DIMM slots
2 x DDR3 SO-DIMM slots
HDMI Output
2
1
USB
3 x USB 2.0
3 x USB 2.0
Gigabit Ethernet
Yes
No
Thunderbolt
No
Yes
mini PCIe (half-height)
1
1
mini PCIe (full-height, mSATA support)
1
1
Chassis Color
Black
Maroon
Power Supply
External 19V DC
External 19V DC
Street Price
$308.99 Shipped
$319.99 Shipped
As you can see from the table above, Intel is making you choose between having Gigabit LAN and Thunderbolt. You can't have both in this first generation device. Both versions come with three external High-Speed USB 2.0 ports. Why didn't Intel include SuperSpeed USB 3.0 support? I have no clue as the Intel QS77 Express chipset has native support for up to four of them.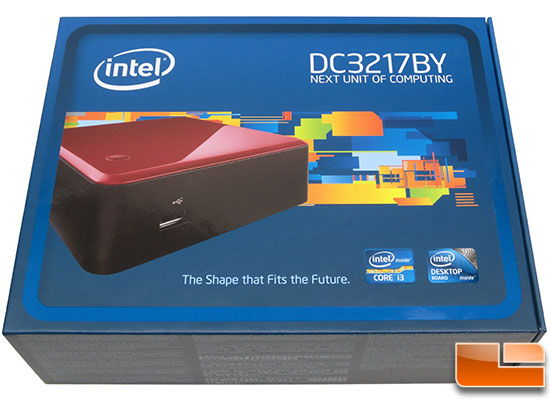 The Intel NUC that I am looking at today is the DC3217BY, which is the version that is equipped with Thunderbolt. Inside this unit uses the tiny Intel D33217CK motherboard that uses the Intel QS77 Express chipset along with a permanently attached Intel Core i3 3217U dual-core processor with Intel Hyper-Threading technology.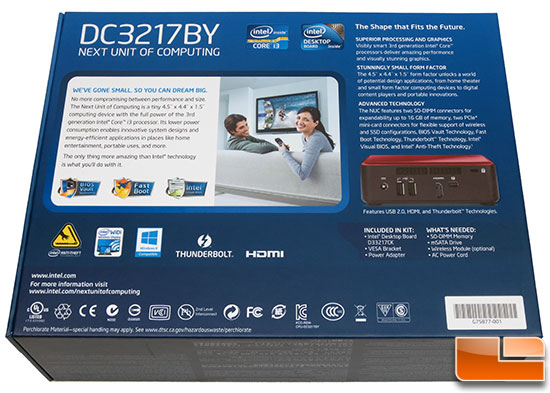 The Intel NUC retail box is very well made and clearly shows what the main features are and also what is not included. For example this is a barebones kit, so you need DDR3 SO-DIMM memory, a mSATA drive, and a AC power cord for a notebook power brick. This model doesn't come with an ethernet port, so if you want internet you'll need a wireless module for that. The Intel NUC DC3217BY will be available in early December if all goes well and Intel estimates the retail price to be between $300 and $320. By the time you add all the extra goodies you will be easily over the $500 price point.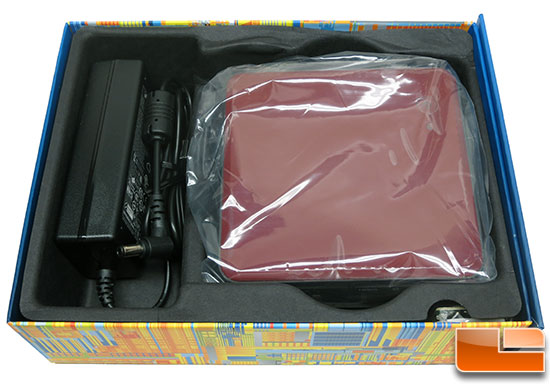 Inside the retail box you'll see the NUC with its maroon top cover and the power adapter.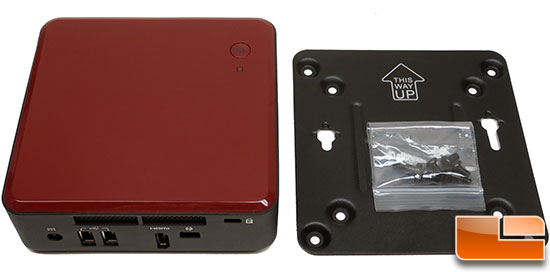 Under the NUC you'll find a VESA mounting bracket and the necessary screws for mounting the NUC behind a monitor.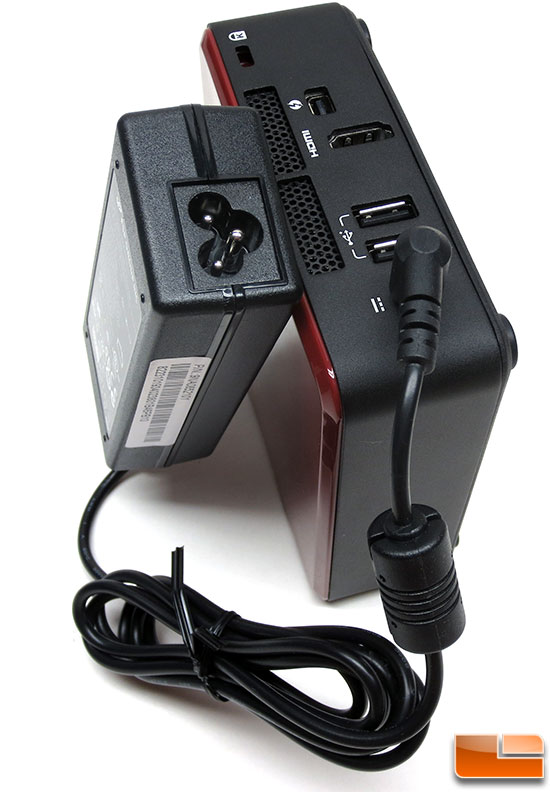 The switching power adapter that came with our test sample was a 19V, 65W power brick made by FSP Group. This adapter is rated with 'V' level efficiency, which is the highest category right now for these power bricks. It's nice that Intel included the power brick, but we are still scratching our heads as to why they didn't include the 3 prong power cord that goes to the wall. Not many people have an extra 3 prong cable, but they are only $3 shipped if you need to buy a brand new one.
Let's take a look at what is inside the NUC!