Intel NUC NUC10i7FNH Review – Frost Canyon – Comet Lake
By
Final Thoughts and Conclusions
The Intel NUC10i7FNHA is one of the most powerful Intel NUC models that we have had a chance to try out thanks to the Intel Core i7-10710U 6-core, 12-thread mobile processor. This processor has a maximum turbo frequency of 4.70 GHz and that along with other components helps create a peppy little system capable of tackling a wide variety of tasks. That is to be expected though as this is the fastest Comet Lake processor that comes in Intel's NUT 10 series.
Our model features the fastest Comet Lake processor that comes in Intel's NUT 10 series along with 16GB of RAM, a 256GB NVMe SSD and a 1TB hard drive. This fully configured system can be found for $970.98 shipped and everything is backed by a 3-year warranty. Not a bad option for those that are looking to order a mini PC in and have it up and running in minutes.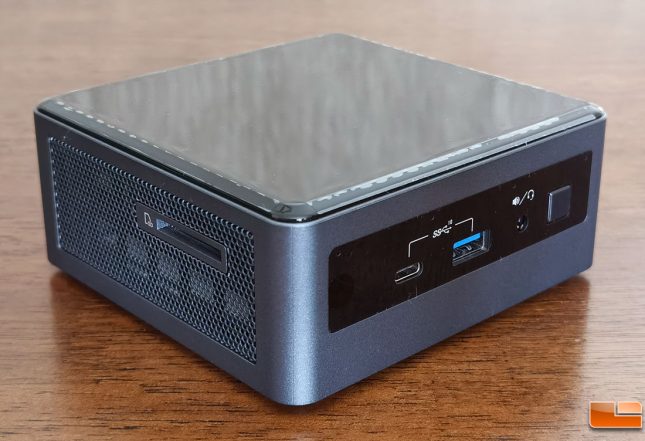 For those that want to build their own NUC or use certain components, we are still fans of building your own NUC here at Legit Reviews. The Intel NUC 10 Frost Canyon series is available with Intel Core i3, Core i5, and Core i7 processors at a variety of price points. Here are some starting prices for barebones configurations:
NUC 10 with Intel Core i3-10110U dual-core processor for $339.95 (slim)
NUC 10 with Intel Core i5-10210U quad-core processor for $433.00 (slim)
You can pick up the Intel Core i7-10710U based NUC 10 for $599, toss in a G.SKILL Ripjaws Series 16GB (2x8GB) DDR4 2666MHz memory kit for $65, and a WD Blue SN550 1TB SSD for $140. That would give you a comparable system for just about $805 before the operating system cost. If you wanted more storage speed you could use a larger 2TB NVMe drive like the Sabrent Rocket Q for $240 and be all in at under $905 before the OS. Windows 10 keys can usually be found for reasonable rates, so if you are comfortable installing a couple things you can easily built up a very nice NUC 10 system. Most laptop memory comes backed by a lifetime warranty and SSDs generally carry a 3 to 5-year warranty. This means that building your own system won't impact the warranty length much and may even save you some money.
If you are looking for a powerful PC that is tiny and can be easily VESA mounted, the Intel NUC 10 models are an excellent choice. The NUC 10 uses a design that has been perfected over the past 9 years and millions of NUC Mini PCs have been sold, so this model is easy to recommend!