Intel Dual Core: Pentium EE 840 Arrives
By
Conclusion
Conclusions:
Nathan Kirsch's Thoughts:
I have only had a few days to spend tinkering with this test system, so it is really too early to come to a solid conclusion on anything thus far. Everyone knew Intel had dual core up and running, but the embargo lift on performance data was a shock to all of the media/press that works within the hardware industry, Intel said that they wanted us to get a feel for the capabilities of dual core systems before the launch. This means that today's April 4th embargo lift is not actually a launch date, it is simply for us to post our reviews and thoughts on the system for you, our readers. Intel has not given us of a specific launch date or pricing on these products.
The new 840 Processor/955X Express chipset will eventually enhance consumers computing capabilities thanks to dual core processors. The ability to run four threads really shows when running multiple applications and processor intensive software that is designed for multiple threaded processors. Hopefully our readers have noticed that dual core doesn't do much when it comes to single threaded applications. Intel is not positioning these first dual-core units as the highest-performing Intel parts for single-threaded applications/usages. Since the initial dual cores are running at 3.2 GHz, they will trail some of the higher-clock speed Intel CPUs on single-threaded usages. But, as with all new releases, expect better performance as the technology matures.
I think we are really at the same spot the hardware industry was a year ago. Intel processors have a quicker "feel" on the desktop when running applications thanks to hyper-threading, and now dual core processors while AMD processors, although still single core, still have better gaming performance and strong single thread performance.
Legit Reviews will have more articles on dual core in the near future. Although we didn't talk about overclocking, it is going well and we have been playing quite a bit. On the memory side of things we have gotten up to DDR2-907MHz and are currently getting around 4GHz out of the processor. Just to tease you a bit, take a look at the multipliers on our sample (14-60), the new BIOS has overclocking options up to 30% as well as the voltage options. Has Intel really opened up to the idea of overclocking? Stay tuned as our next dual core article will be later this week, and will focus on overclocking these new chips.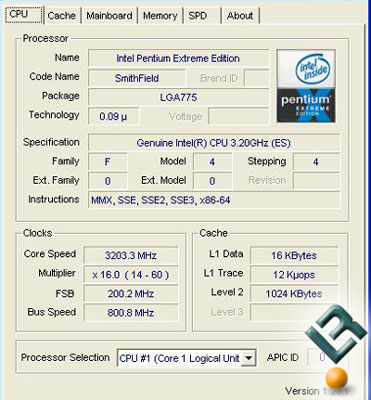 .