Intel Dual Core: Pentium EE 840 Arrives
By
Sandra / FutureMark
Sisoft; Sandra 2005 SR1:
SiSoftware, founded in 1995, is one of the leading providers of computer analysis, diagnostic and benchmarking software. The flagship product, known as "SANDRA", was launched in 1997 and has become one of the most widely used products in its field. SANDRA is used by almost 400 world-wide IT publications, magazines, review sites to analyse the performance of today?s computers.
Multi-Core Support: As well as SMP (multi-processor) and SMT (multi-threading/Hyper-Threading) support we have added multi-core support for future AMD and Intel CPUs. The benchmarks have been optimised to schedule the optimum number of threads on the optimum (virtual) CPU on both multi-core and Hyper-Threaded computers.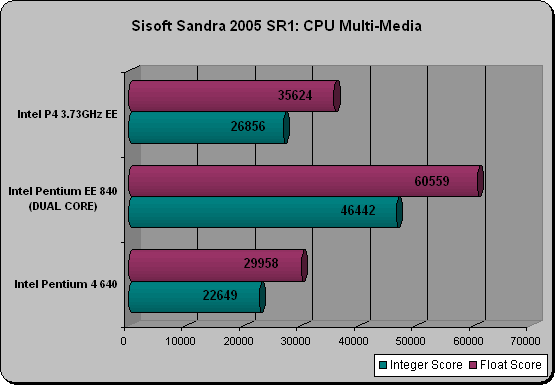 The first benchmark run on the Intel Pentium EE 840 was the Multi-Media benchmark. Since the 840 has double the core logic of the 640 one would expect the performance to almost double and it does. The 840 processor achieves the highest Multi-Media scores that we have seen to date.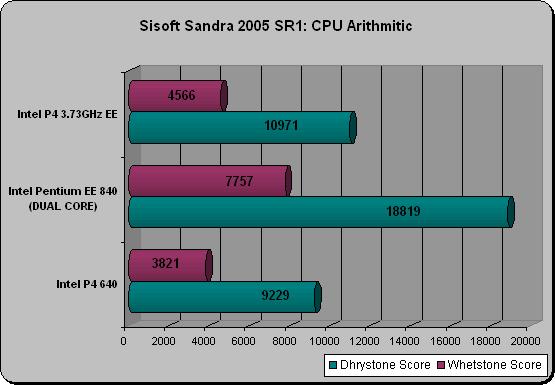 When it comes to the CPU Arithmetic it is basically the same exact situation again. The Dhrystone and Whetstone scores double over the Intel P4 640 (3.2GHz, single core, EMT64, 2MB Cache) and easily beats out the faster clocked 3.73GHz Extreme Edition
Futuremark; 3DMark 2005 v1.2.0:
3DMark05 is best suited for the latest generation of DirectX 9.0 graphics cards. It is the first benchmark to require a DirectX9.0 compliant hardware with support for Pixel Shaders 2.0 or higher! By combining high quality 3D tests, CPU tests, feature tests, image quality tools, and much more, 3DMark05 is a premium benchmark for evaluating the latest generation of gaming hardware.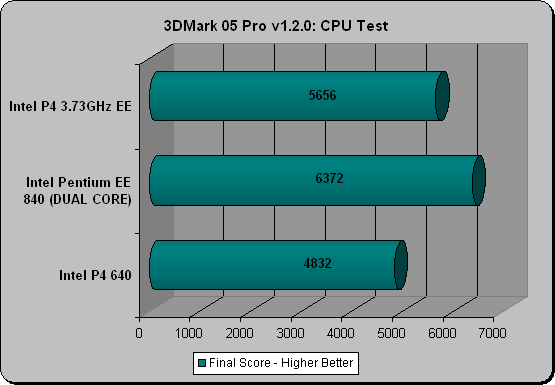 Moving over to 3DMark 05 version 1.2.0 we can see how dual core performs in a lightly threaded application. We don't see the Intel Pentium EE 840 double over the Intel P4 640, but the additional threads once again help push the Intel 840 into the lead. When it came to overall benchmark score the Intel 840 came in behind the 3.73GHz. (The 3.73GHz EE recieved 4920, the 840 made 4861, while the 630 reached 4878)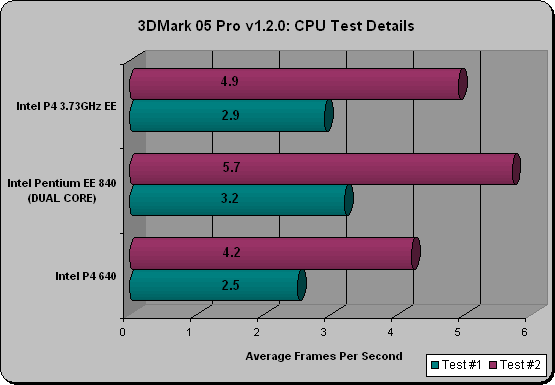 Taking a quick look at the CPU Test details from the 3DMark05 test runs it can be seen that the Intel Pentium EE 840 processor has a slight lead in the average frames per second during testing.