Intel Dual Core: Pentium EE 840 Arrives
By
PCMark04 & Cinebench 2003
Futuremark; PCMark04 v1.3.0:
PCMark04 is an application-based benchmark and a premium tool for measuring overall PC performance. It uses portions of real applications instead of including very large applications or using specifically created code. This allows PCMark04 to be a smaller installation as well as to report very accurate results. As far as possible, PCMark04 uses public domain applications whose source code can be freely examined by any user.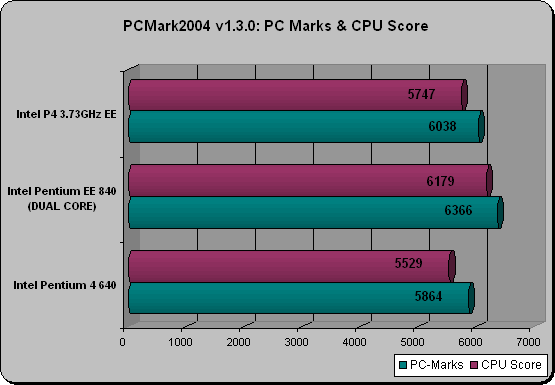 PCMark04 is another free benchmark that has threaded content, and the CPU shows the boost in performance that the threads aid in.
MAXON; CINEBENCH 2003:
CINEBENCH 2003 is the free benchmarking tool for Windows and Mac OS based on the powerful 3D software CINEMA 4D R8. The tool is set to deliver accurate benchmarks by testing not only a computer's raw processing speed but also all other areas that affect system performance such as OpenGL, multithreading, multiprocessors and Intel's HT Technology. CINEBENCH 2003 includes render tasks that test the performance of up to 16 multiprocessors on the same computer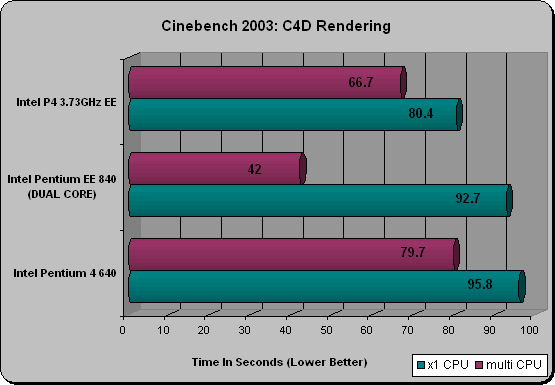 Cinebench 2003 really uses all four threads that the Intel Pentium Extreme Edition 840 has available. When single rendering the image the dual core processor barely beat the Intel 640, but all that changed when all multi CPU support was enabled. The dual core design shaved off an amazing 50.7 seconds of rendering time! That is a 2.17x speedup in rendering support. A score of 618CB – CPU is the highest we have seen from any single desktop processor.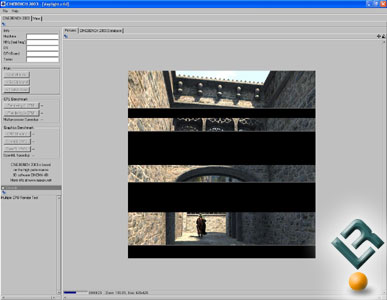 Here is a screen shot of Cinebench running on our test system while rendering Cinema 4D with all threads enabled. Go ahead and count them and you can clearly see all four threads running at the same time. Benchmarks like this really show that when threaded applications become mainstream a huge performance increase will be noted.