Intel Dual Core: Pentium EE 840 Arrives
By
ScienceMark 2 / Everest 2.0
ScienceMark 2.0 Final:
Science Mark 2.0 is an attempt to put the truth behind benchmarking. In an attempt to model real world demands and performance, ScienceMark 2.0 is a suite of high-performance benchmarks that realistically stress system performance without architectural bias. Lower results (time in seconds) represent better performance. All of our testing was completed on the 32 Bit Final benchmark version that is dated March 21st 2005.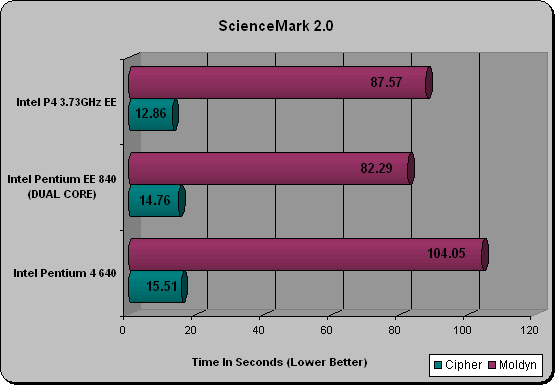 ScienceMark 2 has the dual core Intel 840 beating out the others in Molecular Dynamics, but comes in second place in Cipher and Primordia. In Primordia the Intel 840 clocks in at 454 seconds, which beats the 477 seconds that the Intel 640 can do, but falls short of the 399 second finish of the 3.73GHz EE processor.
Everest Version 2.00.300 Beta:
Everst 2.0 is a professional system information, diagnostics and benchmarking program for Win32 platforms. It extracts details of all components of the PC. It also tests the actual read and write speeds of your memory giving a fairly accurate look of true memory performance.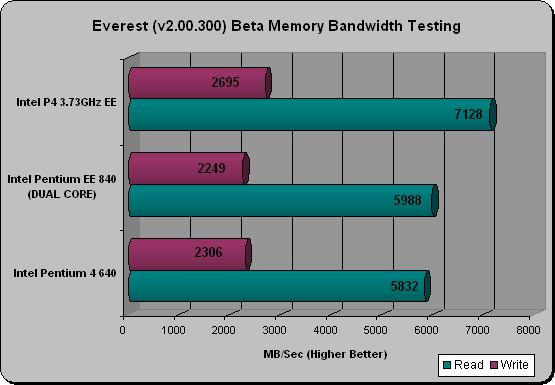 Legit Reviews is not sure if Everest supports the latest dual core Intel processors. These numbers seemed a bit low from what LR expected, so stay tuned for a closer look at the new memory controller.
Game Testing