Intel Dual Core: Pentium EE 840 Arrives
By
Testing Setup
Individual Test Systems:
Intel P4 630, 840, 3.73 EE — Intel D955XBK (Intel 955X), 1GB (2x512MB) Corsair PC5400 @ DDR2 667 (3-2-2-8), Geforce 6800GT 256mb (Forceware 71.84), 120GB Seagate SATA150 HDD, Windows XP w/SP2 and DX9C.
Intel P4 630 — ABIT AA8XE Fatal1ty (Intel 925XE), 1GB (2x512MB) Crucial PC5300 @ DDR2 533 (3-3-3-8), Geforce 6800GT 256mb (Forceware 71.84), 120GB Seagate SATA150 HDD, Windows XP w/SP2 and DX9C.
Testing Procedure:
All testing was done on a fresh install of Windows XP Professional build 2600 with Service Pack 2 and DirectX 9.0c. All benchmarks were completed on the desktop with no other software programs running. No overclocking was done on the video card during any of this review.
How do you test dual core? I pondered the thought for some time, and thought for the very first article that I should benchmark the 3.2GHz DC versus the 3.2GHz SC processor. Then I took into consideration that the Intel 630 processor is priced just under $300, so comparing it to a ~$1000 CPU is not a fair. I then settled on using the 3.73GHz Intel Pentium 4 Extreme Edition processor, since it's at an equal price point. So, for this article I will be comparing the single core prescott versus the dual core Smithield to see the difference between DC and SC. At the same time I will also be running the fastest extreme edition processor to see how the 3.2GHz Smithfield EE stacks up to the 3.73GHz Pentium 4 EE.
Memory & HyperThreading Testing:
Having never used the i955X chipset with the new memory controller I went ahead and did some memory testing to see how tight I could get the timings. At the same time I ran the testing with and without Hyperthreading enabled. Below are the test results from one of the tests.
Comanche 4 Testing: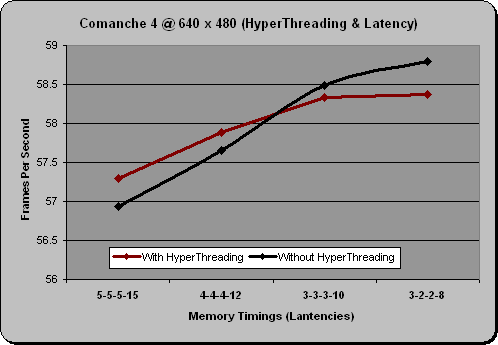 Running a few different single threaded gaming applications (Doom 3, FarCry, Comanche 4) it was determined that 3-2-2-8 timings would be used throughout the benchmarking. Just like when HT first came out years ago, it can help or harm system performance depending on the systems configuration. Above you can see the importance of memory timings versus having Hyper Threading enabled and disabled.