Intel Core i7-6950X Processor Review – 10-core Broadwell-E Benchmarked
By
Intel Core i7-6950X Arrives With 10-Cores!
Intel Broadwell-E processors are finally here and sadly before I even started to type this review most of the details have been leaked out around the web this month and some have already made it up on eBay. It's getting harder to keep a secret these days and it certainly impacts traffic on sites like Legit Reviews that just so happens to play by the rules. While we are bummed by leaks, we are still excited that Intel is launching new enthusiast desktop processors today!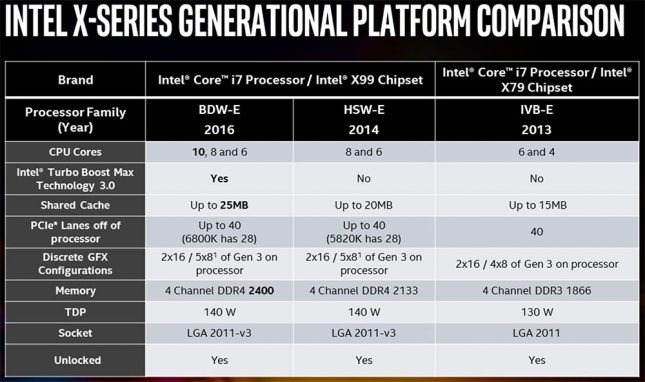 Intel Broadwell-E series processors are LGA 2011-v3 socketed for the Intel X99 platform. The Intel X99 platform was released in late August 2014 along with Haswell-E processors and has proven to be a very robust and powerful platform over the past two years. The good news is that after a UEFI/BIOS update most all existing Intel X99 chipset powered boards should be able to support the new Broadwell-E processors if one should choose to drop on in their existing board. We don't see too many enthusiasts upgrading their Haswell-E processor to a new Broadwell-E processor though as the generational performance gains between Haswell-E to Broadwell-E are modest at best. Those that have been happily using their Intel X79 platform with a Sandy Bridge-E (2011) or Ivy Bridge-E (2013) processor are those that itching to update. Those users are still running 4-6 core processors, quad-channel DDR3 memory and are running motherboards that lack USB 3.1 ports, Thunderbolt 3, SATA Express, M.2 PCIe SSD slots and more. Motherboard manufacturers are releasing updated Intel X99 boards with all the latest technologies, so those using 3-5 year old platforms can get a significant performance boost with the new 6, 8 and 10 core Broadwell-E processors as well as a modern platform with all the features they've been missing.
Intels Broadwell-E processors will be available in four flavors ranging from $434 for a base 6-core model all the way up to the flagship 10-core model that runs $1,723. The Intel Core i7 6900K, 6850K, and 6800K are direct successors to the current generation 5960X, 5930K, and 5820K processors, respectively. The main differences would obviously be the newer Broadwell-E CPU core that uses 14-nanometer technology and run at slightly higher frequencies out of the box thanks to new Turbo Boost 3.0 technology that we will hit on a bit later.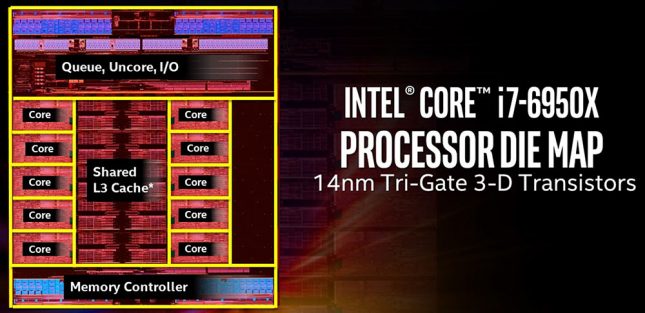 The brand new addition to this processor series would be the Intel Core i7-6950X. This is the first consumer-grade 10-core processor released by Intel!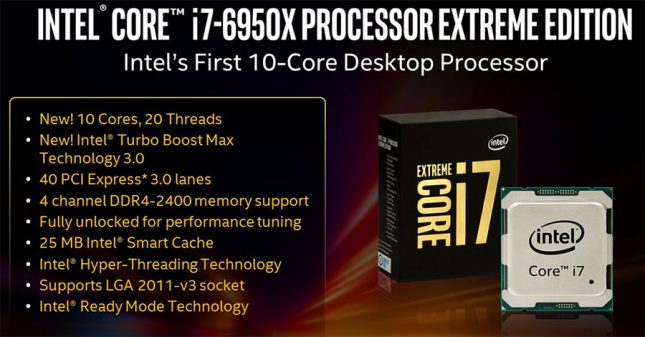 The Intel Core i7-6950X has 25MB of cache, a 3GHz base clock and up to a 3.5GHz Turbo Boost clock speed. It also supports Intel Turbo Boost Max 2.0 technology, quad-channel DDR4 2400MHz memory, 40 PCIe 3.0 lanes. The Core i7-6950X processor appears to be a beast, but so is the price tag of $1,723.
Processor
Core Count
Lithography
Launch Date
1ku Tray Price
Intel Core i7-975X
4 Cores
8 Threads
45nm
Q2 2009
$1039
Intel Core i7-980X
6 Cores
12 Threads
32nm
Q1 2010
$999
Intel Core i7-990X
6 Cores
12 Threads
32nm
Q1 2011
$999
Intel Core i7-3960X
6 Cores
12 Threads
32nm
Q4 2011
$990
Intel Core i7-4960X
6 Cores
12 Threads
22nm
Q3 2013
$990
Intel Core i7-5960X
8 Cores
16 Threads
22nm
Q3 2014
$999
Intel Core i7-6950X
10 Cores
20 Threads
14nm
Q2 2016
$1,723
I looked back seven years and found that Intel Extreme Edition processors have ranged from $990 to $1,039 on their launch date regardless of the addition of cores and whether or not there was a die shrink. To see Intel raise the price of their flagship processor by ~72% was very shocking to me, but this is what happens when a company has absolutely no competition in a segment of the market. I've been writing PC hardware reviews for nearly 14 years now and it seems like an odd time for Intel to raise the price and drastically to boot. I'm fine with corporations making money and profiting from what they do, but I've never been a big fan of huge price jumps with no clear answer as to why. I questioned Intel about this directly and they said it was due to the additional cores. Clearly the chart above shows that historically, adding cores doesn't impact the price and way back in the day the price when down when a 6-core processor was introduced! The value-for-the-money will be interesting as how many applications today or in the near future use 10 cores/20 threads in the consumer market?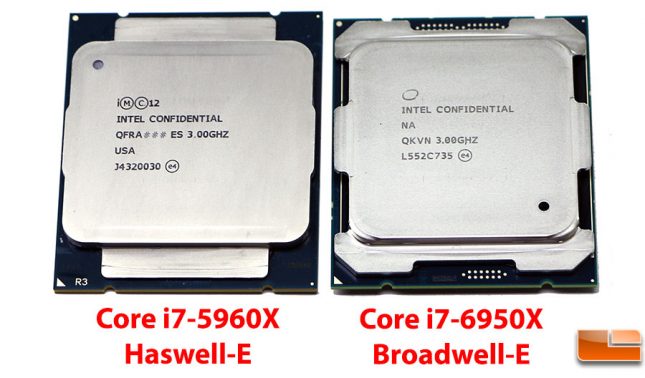 Here is a look at the Intel Core i7-5960X processor (Haswell-E) on the left and the new Intel Core i7-6950X (Broadwell-E) processor on the right. As you can see there have been some changes to the Integrated Heat Spreader (IHS), but it still shows the model number, S-Spec and Batch number. This particular Intel Core i7-6950X processor has an S-spec of QKVN, a batch number of L552C735.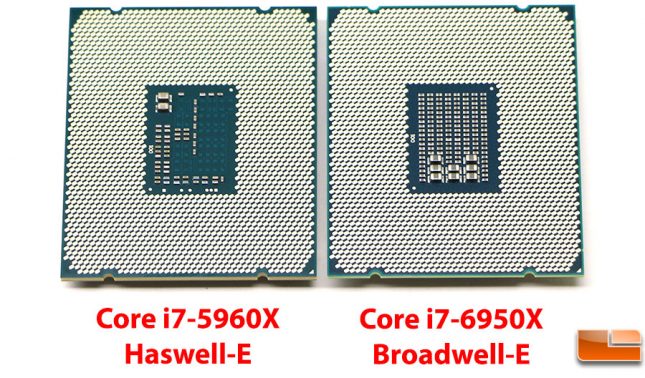 Let's take a closer look at Intel Turbo Boost Max Technology 3.0!