Intel Core i7-5960X 8-Core Haswell-E Processor Review
By
Final Thoughts and Conclusions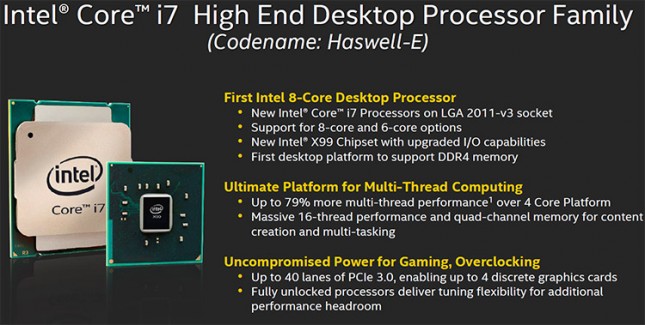 Where should we begin? The Intel Core i7-5960X is an impressive processor from a multi-thread perspective. In applications where you can fully utilize the 8-cores and 16-threads there are significant performance improvements to be had. The down side to having that many cores is heat and Intel put the base clock of the processor down to just 3GHz. If you are using only a handful of threads, the Intel Core i7-5960X can find itself in a position where a much less expensive Haswell processor with higher clock speeds could outperform it. That said, the Intel Haswell-E series was designed for uncompromised performance and is targeted at power users, gamers and overclockers. Right now there is no better desktop processor on the market when it comes to multi-thread computing.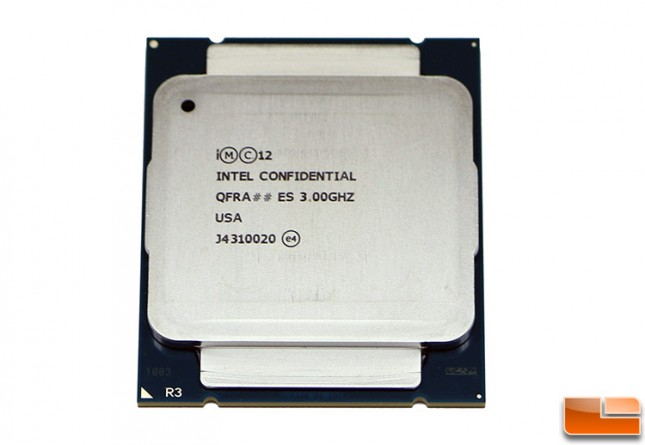 Overclocking performance wasn't stellar, but we were happy with the overclock that we were able to get on this 8-core processor. The 3.0GHz base clock is not impressive and would be considered conservative by many, so after getting our processor up to 4.4GHz we were pretty damn happy. We were able to get into Windows 8.1 at 4.7GHz and run a couple benchmarks, but it wasn't stable with 1.3-1.35V and that is as high as we were wanting to go on our closed loop liquid cooler as we were above 90C when the CPU was at 100% load across all the cores.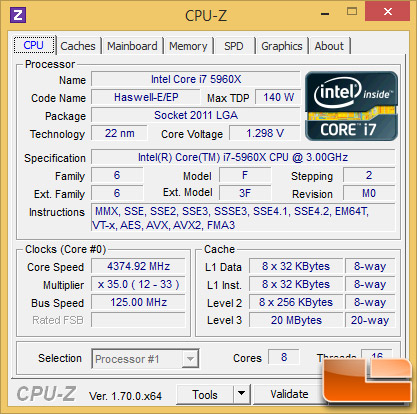 Pricing will be the sticking point for many. The Intel Core i7-5960X costs $999.99, the ASUS X99-Deluxe motherboard that we used for our test platform runs $399.99, the Corsair DDR4 2666MHz memory kit runs around $375 and we have another $100 tied up in the Corsair H105 CPU liquid cooler. That all adds up to around right around $1,875 and that is before the video card, solid-state drive, power supply, case, operating system and so on. Building a system around the Intel Core i7-5960X won't come cheap, but the performance is impressive and will be of interest to those that need the multi-threaded power like this. If you build a system on this platform with a Haswell-E processor you'll have 40 lanes of PCIe 3.0, ten SATA III 6Gbps connections, 14 USB ports, 4-Way SLI/CrossFire support and likely M.2 PCie ports depending on the motherboard you pick out. The Haswell-E CPU + X99 Chipset combination will be potent for years to come as any past X58 or X79 owner will tell you that these high-end platforms will last many years.
The Intel Core i7-5960X gets our Editor's Choice Award due to the fact that it is the fastest desktop processor that we have ever had the pleasure of using!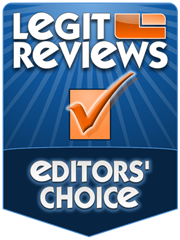 Legit Bottom Line: The Intel Core i7-5960X shows that Intel can keep adding cores, but we need more applications and game titles that can use all these threads that Intel is able to give us!