Intel Core i7-5960X 8-Core Haswell-E Processor Review
By
3DMark 2013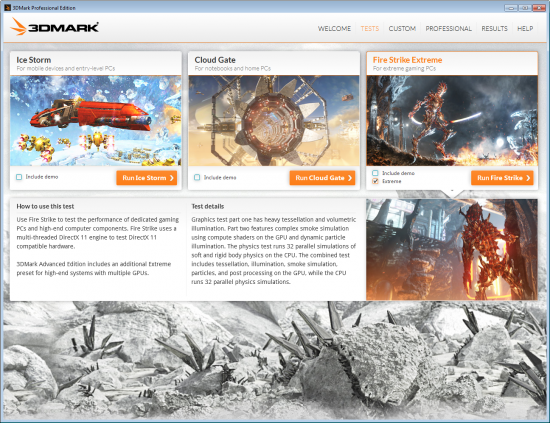 Futuremark 3DMark has three primary benchmark tests that you can run and which test you should be running depends on the system that you are benchmarking on.
Ice Storm – For mobile devices and entry-level PCs
Cloud Gate – For notebooks and home PCs
Fire Strike Extreme – For extreme gaming PCs (extreme mode for those with multiple GPUs)
Let's take a closer look at the 3DMark Cloud Gate results and specifically the Physics test results.
Intel Core i7-920:

Intel Core i7-4960X:

Intel Core i7-5960X:

Benchmark Results: The latest NVIDIA GeForce 334.79 beta drivers aren't approved by Futuremark, but they are the latest and we used them on the GeForce GTX Titan video card for each platform. The graphics score was very close on the Core i7-4960X and the Core i7-5960X, but the Core i7-5960X managed to edge out a slight victory thanks to the higher physics score. The Core i7-5960X managed to get 12,153 in the physics test compared to just 9,924 on the 4960X and 4,976 on the Core i7-920.