Intel Core i7-5960X 8-Core Haswell-E Processor Review
By
Intel Core i7-5960X – Haswell-E CPU's Finally Cometh
Intel today launched three new high-end Haswell-E processors for the brand new Intel X99 chipset based platform that was also launched today along with the new LGA 2011-v3 socket. This means that you'll have to get a new motherboard with an LGA 2011 v3 socket, but your old LGA 2011 CPU cooler will still work as the CPU cooler mounting holes remain the same. This new platform also ushers in support for DDR4 memory! So, in addition to the new processor, chipset and socket, there is a major advancement with regards to the DRAM!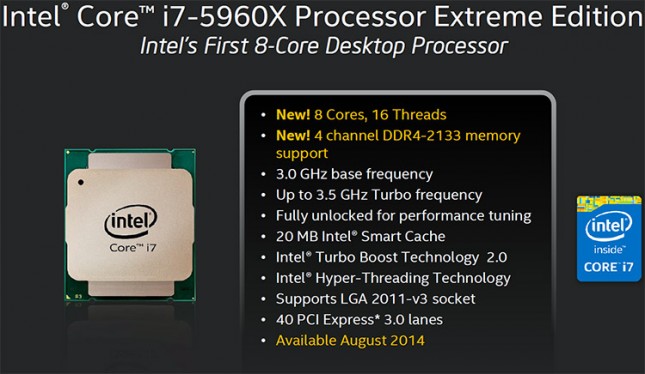 Intel has clearly shaken things up for power users around the world, but the Haswell-E processors are based on essentially the same architecture that the mainstream Haswell processors feature. The Haswell-E processor series will feature either 6 or 8 cores that can each process two threads simultaneously thanks to IntelHyper-Threading technology. The actual execution cores are essentially identical to the original Haswell microarchitecture, so the die shot is very similar. The die size is approximately 355.5mm2 (17.6 mm x 20.2 mm) The new flagship desktop processor for Intel is the Intel Core i7-5960X Processor Extreme Edition.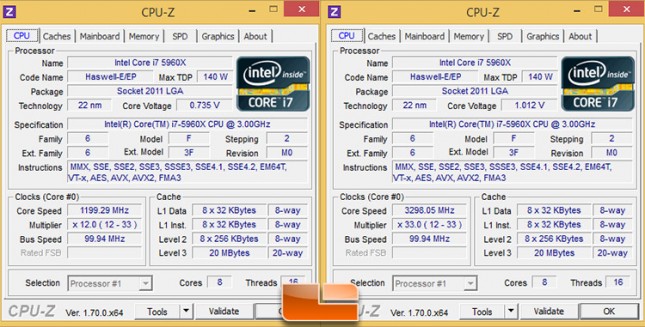 The Intel Core i7-5960X processor is a fully unlocked 8-core, 3.0GHz processor with 20MB of L3 cache that can boost up to 3.5GHz thanks to Intel Turbo Boost technology. This 22nm Haswell-E processor supports Hyper-Threading, Turbo Boost, SSE4.2, VT-d, AES, AVX, AVX2 and FMA3 instruction sets.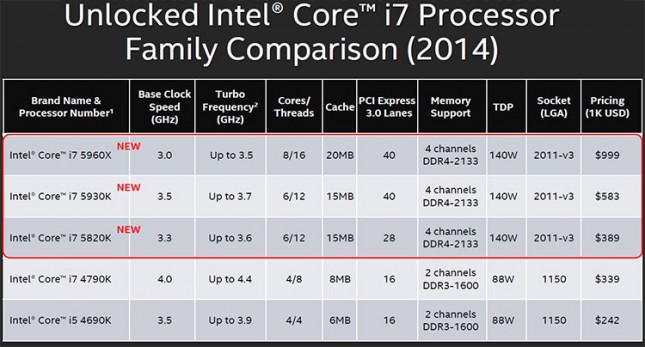 As it was mentioned earlier, Intel is releasing three Haswell-E processors today and they range in price from $389 to $999. The processors vary in cores, cache, clock speeds and even the number of PCIe 3.0 lanes that are available off of the CPU, so be sure that you fully understand the differences before ordering a processors in the weeks or months ahead. Here is the lineup with the basic key features.
Intel Core i7-5960X – $999 – 8 physical cores with 16 total threads, a clock speed of 3.0GHz at base and 3.3GHz at Turbo, 20MB of L3 cache and 40 PCIe Gen 3 Lanes.
Intel Core i7-5930K – $583 – 6 physical cores with 12 threads at 3.5/3.9GHz, 15MB of L3 cache and 40 PCIe Gen 3 Lanes.
Intel Core i7-5820K – $389 – 6 physical cores with 12 threads at 3.3/3.6GHz, 15MB of L3 cache and 28 PCIe Gen 3 Lanes.
The Intel Core i7-5820K has six cores, but the PCIe support goes from 40 to just 28 lanes and that might be an issue for a small group of users. Having 28 PCIe lanes is still enough for many as you can do a 16+8 configuration for optimal dual-GPU performance and still have some lanes left over for USB or M.2 PCIe storage needs. You could even do three PCIe x16 slots at x8 and have 4 lanes leftover again, so the Core i7-5820K is still a potent processor and we can't wait to see how it overclocks. The Intel Core i7-920 was a very popular processor back in the day due to its price and overclockability, so we can only hope that the Intel Core i7-5870K will have the same potential.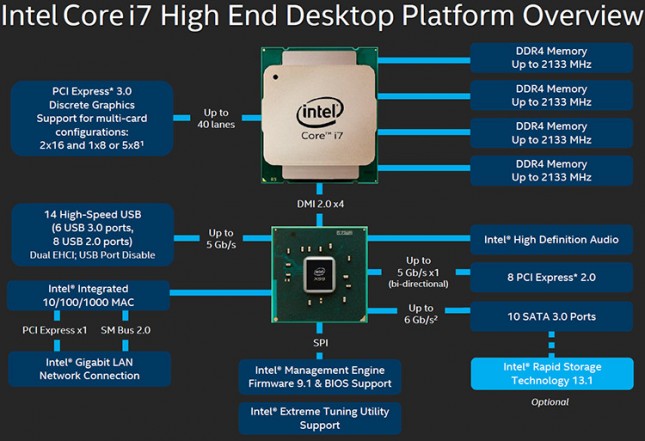 To support the new Haswell-E processor lineup you'll find the Intel X99 chipset. The block diagram above shows you what all can be supported and not too much of it should come as a shock to you. There is support for DDR4 quad-channel memory kits and Intel currently supports up to 64GB (8x8GB modules) at speeds of up to 2133MHz. There are up to 40 PCI Express Gen 3 lanes available off the processor and the processor is connected to the chipset through the DMI 2.0 x4 interface. The Intel X99 chipset has support for 8 additional PCI Express Gen 2 lanes, 10 SATA III ports with support for Intel RST 13.1 if the motherboard maker wants to support it, 8 USB 3.0 ports, 6 USB 2.0 ports, Intel integrated Gigabit MAC and Intel HD audio. This chipset/processor combination screams for PCIe devices, so get ready to see some wicked Multi-GPU systems with NVIDIA SLI and AMD CrossFire setups that have PCIe storage to boot. Intel noted that popular multi-card configurations are 2×16 and 1×8 or 5×8. Most Intel X99 boards will have M.2 x4 PCIe slots on them, so it looks like PCIe storage will really start to take off in the months ahead.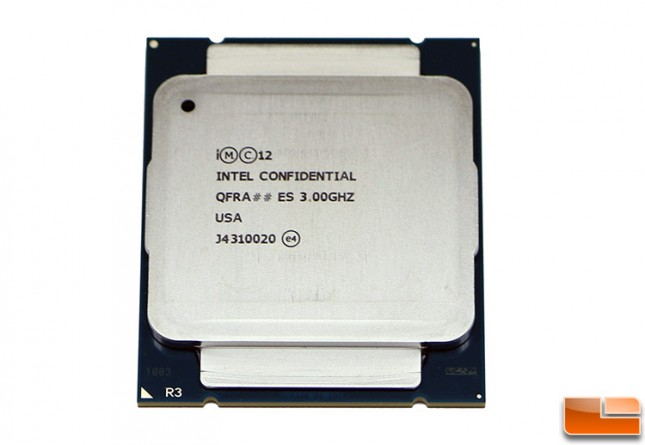 Here is a look at the Intel Core i7-5960X processor and on the Integrated Heat Spreader (IHS) it shows the model number, S-Spec, Batch number and where it was made. This particular Intel Core i7-5960X processor has an S-spec of QFRA, a batch number of J4310020 and that it was made in the USA.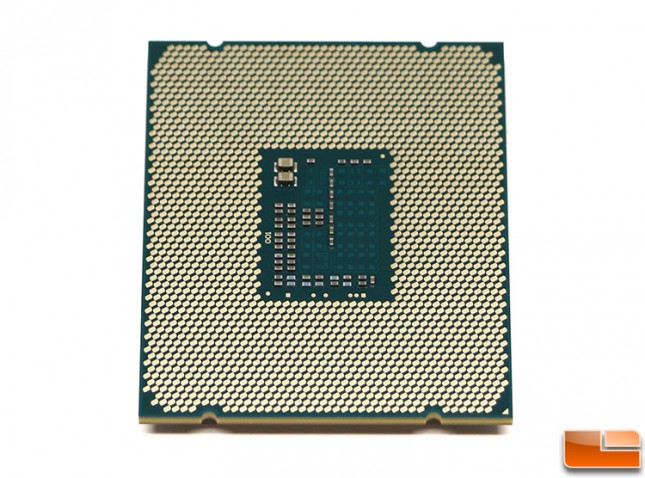 Flipping the processors over you can see that the 5960Xhas the usual capacitors that reside in the middle around the pins needed to operate in an LGA2011 v3 socket.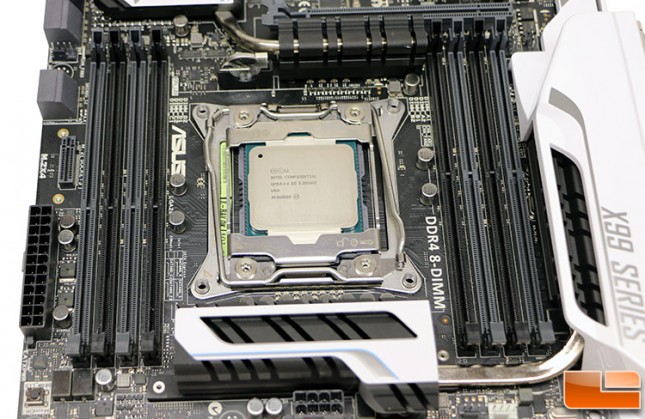 Let's take a look at how the Intel Core i7-5960X Processor performs in our Intel X99 test platform, which is the ASUS X99-Deluxe motherboard!