Intel 730 Series 480GB SSD Review in RAID
By
By The Power Of Grayskull
There once was a time, not so long ago, where an Intel SSD was the gold standard against which all other consumer SSDs were measured. That didn't last long as other drive makers improved quickly and a handful of third party controllers emerged to level the playing field to anyone willing to put out a drive of their own. Since then, Intel has kept pace, mainly with third party controllers, but slowly invested more interest into the enterprise market. Now, Intel's work in that area along with the hardware is being made available in a consumer drive with the 730 Series. Intel took has taken the DC S3500/S3700 drives from enterprise space and moved them down into the enthusiast market space and that is how the Intel 730 series was born.
This is significant because it also marks the return of an all Intel hardware consumer drive. The Intel 730 SSD is Intel's first fully in-house designed client drive since the SSD 320. The Intel 730 SSD is their third generation controller which is paired with 20nm NAND and firmware optimized for performance consistency across all data types and for RAID array use. They've also seen fit to crank up performance with overclocking by increasing controller speed by 50% and adding a 20% increase in the NAND bus speed. Don't worry about the higher clock speeds though as this drive can handle 70GB of writes per day. The industry standard is 20GB writes per day, so this is industry leading. You can pound on this drive pretty hard and it should take it just fine. This is one of the reasons that Intel put a longer than normal 5-year warranty on the drive. The only downside to this drive is that the controller on 3700 series wasnt designed to be super power efficient as it was not originally designed to be used outside the enterprise market. This shouldn't be a deal breaker for enthusiasts with a desktop PC, but might matter enough to deter use in notebooks.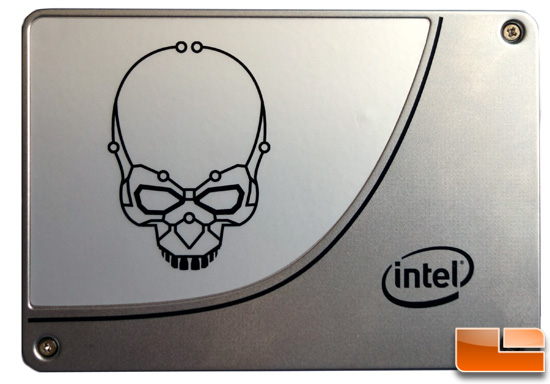 Given the boosted performance and the large skull (Skulltrail anyone?) printed on the front of the drive, it's clear that Intel isn't playing around here. Intel cites read speeds of up to 550MB/s and writes up to 470MB/s. IOPS are rated for 89,000 and 74,000 for reads and writes respectively. For those looking for a 120GB version of the drive, you're out of luck. Only the 240GB and 480GB versions are available and follows the trend of lower capacity drives dying off with 30GB and 60GB drives being all but extinct. We can currently find the 240GB drive kit for $234.29 shipped and the 480GB kit for $439.99 shipped. You can also purchase just the bare OEM drive for a bit less as the 240GB drive can be bought for $229.99 shipped. This isn't always the case though as the 480GB bare drive is $494.99 shipped, so you'll more for the bare drive than the retail kit.
Intel SSD 730 Series Options
Retail Kits:

240 GB – SSDSC2BP240G4R5
480 GB – SSDSC2BP480G4R5

OEM Bare Drive:

240 GB – SSDSC2BP240G410
480 GB – SSDSC2BP480G410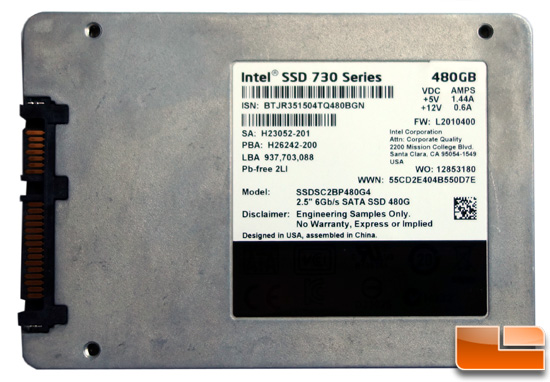 Intel 730 Series Features and Specifications:
Capacities: 240GB, 480GB
Components:

Intel 20nm NAND Flash Memory
Multi-Level Cell (MLC)

Form Factors: 2.5 inch
Thickness: 7mm
Weight: Up to 78 grams
SATA 6Gb/s Bandwidth Performance1 (Iometer Queue Depth 32, 128KB3 IO):

Sustained Seq Read: Up to 550MB/s2
Sustained Seq Write: Up to 470MB/s2

SATA 6Gb/s Read and Write IOPS1 (Iometer Queue Depth 32):

Random 4KB4 Reads: Up to 89,000 IOPS
Random 4KB4 Writes: Up to 74,000 IOPS

Latency (average sequential):

Read: 50 s (TYP)
Write: 60 s (TYP)

Power Management:

2.5 inch: 5V or 12V SATA Supply Rail4

Power (5V / 12V):

Active: 5.0W / 5.5W
Idle: 1.3W / 1.5W

Temperature:

Operating: 0 C to 70 C
Non-Operating: -55 C to 95 C

Compatibility:

Intel SSD Toolbox with Intel SSD Optimizer
Intel Data Migration Software
Intel Rapid Storage Technology
SATA Revision 3.0
ACS-2 (ATA/ATAPI Command Set 2)
SSD Enhanced SMART ATA feature set

Reliability:

Uncorrectable Bit Error Rate (UBER):
< 1 sector/ 1017 bits reads
Mean Time Between Failure (MTBF):
2 Million Hours
Shock (operating and non-operating):
1,000 G/0.5 msec
Expect to get quite a bit of use out of these drives as they are rated for 70GB of writes per day for five years, which is way more than just about any user would ever come close to performing. This is not only thanks to the quality hardware but also the firmware employed that uses proprietary algorithms to maintain drive health and endurance. It would also appear that these drives are optimized for RAID configurations and Intel boasts throughputs of 1500MB/s with a RAID 0 configuration on an Intel chipset motherboard. It just so happens that we got a pair of the 480GB drives and we'll see what we end up with in RAID 0 mode as well as single drive mode.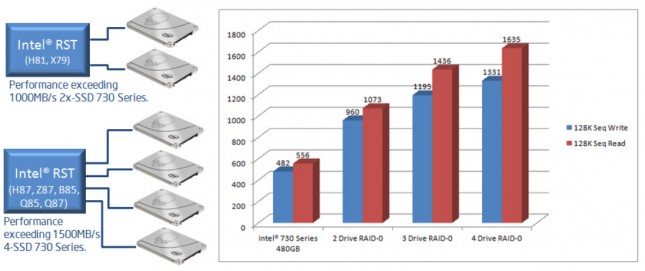 As we reported in March, in addition to the skull on the front, Intel has a little "Easter egg" surprise awaiting those with a UV-A light. It's also worth noting that this is a 7mm z-height drive so it should fit in most any device designed to accept a SATA interface drive.