G.SKILL Ripjaws 4 16GB DDR4 3000 MHz Memory Kit Review – F4-3000C15Q-16GRR
By
Final Thoughts and Conclusions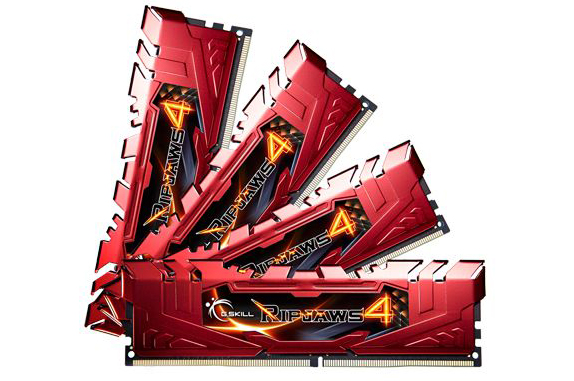 G.Skill has come out with an impressive lineup of DDR4 memory modules and if you are building an Intel X99 platform today they have the best offerings on the market hands down! They have nine 16GB (4x4GB) memory kits available this very second with prices that range from $239.99 to $699.99. The lowest price kit is a value oriented kit with no heatspread and then from there you move up to the eight Ripjaws 4 modules
G.Skill DDR4 16GB (4x4GB) Memory Kit Options
16GB – 2133MHz – F4-2133C15Q-16GNT – 15-15-15-35 – 1.2V – $239.99
16GB – 2133MHz – F4-2133C15Q-16GRR – 15-15-15-35 – 1.2V – $249.99
16GB – 2400MHz – F4-2400C15Q-16GRR – 15-15-15-35 – 1.2V – $259.99
16GB – 2666MHz – F4-2666C15Q-16GRR – 15-15-15-35 – 1.2V – $279.99
16GB – 2800MHz – F4-2800C16Q-16GRK – 16-16-16-36 – 1.2V – $329.99
16GB – 3000MHz – F4-3000C15Q-16GRR – 15-15-15-35 – 1.35V – $389.99
16GB – 3200MHz – F4-3200C16Q-16GRK – 16-16-16-36 – 1.35V – $469.99
16GB – 3300MHz – F4-3300C16Q-16GRK – 16-16-16-36 – 1.35V – $579.99
16GB – 3333MHz – F4-3333C16Q-16GRK – 16-16-16-36 – 1.35V – $699.99
The G.Skill Ripjaws 4 16GB 3000MHz DDR4 memory kit that we looked at today runs $389.99 Shipped, which puts this overclocking kit of memory on the higher side of the price spectrum. DDR4 is not inexpensive right now, but prices will fall as DDR4 becomes more prevalent in the market in the years ahead.
We found ths G.Skill kit to be rock solid at the advertised Intel XMP 2.0 settings and we did find some nice performance gains when running the DDR4 memory kit at 3GHz clock speeds. The overclocking performance wasn't really that stellar due to the fact that G.Skill is heavily screening their kits internally and if they can run faster then they are selling them as a higher clocked kit and getting more money for them. We usually don't see such tight tolerances on memory kits! Our 3000MHz kit with 15-15-15-35 timings won't do 3200MHz with 16-16-16-36 timings with even 1.5V, so if you wanted a 3200MHz kit you are best off spending the $80 as our kit wasn't able to match those speeds. We were able to get an extra 100MHz out of the kit by overclocking the CPU base clock, so you have a little wiggle room, but not a full memory multiplier worth. When it comes to tightening the timings we were unable to do so at stock voltages (1.35V), but we were able to get a 1T command rate at 1.4V and ultimately CL13 timings with a 1T command rate at 3000MHz with 1.5V. The only problem is the performance gains we saw weren't worth running the kit 24/7 at 1.5V. We only saw single digit performance gains in most of our benchmarks and real world testing. The largest performance gains came in memory bandwidth benchmarks, but we are having a hard time finding consumer applications that can benefit from having over 60GB/s of memory bandwidth. This 3000MHz quad-channel kit of memory gives Intel Haswell-E processor all the memory bandwidth it needs from the looks of it!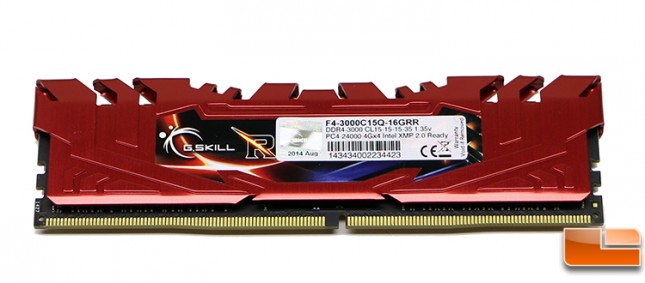 At the end of the day G.Skill appears to have done a good job with their Ripjaws 4 series of DDR4 memory. We like the slightly redesigned heatspreaders and they fact than you can get them in red, black or blue. If you are looking for a kit of DDR4 memory the G.Skill Ripjaws 4 series should certainly be considered. We can only advise that you get the clock speed that you ultimately want to run at as the overclocking headroom is very low due to how they are well they are sorting them. It's good to see a company come out with eight different speeds grades so quickly, but they took away all the overclocking fun.
The G.Skill Ripjaws 4 F4-3000C15Q-16GRR memory kit easily earns our recommended award as it was a very nice performing kit of memory and we were glad we could hit 1T command rates on it with a slight bump up in voltage. The pricing on this kit is also very competitive and substantially lower than other brands right now. With a huge section, tighter timings, lower prices and a lifetime warranty we can say that G.Skill has come out aggressively on their DDR4 memory kits and might have caught some memory companies off guard.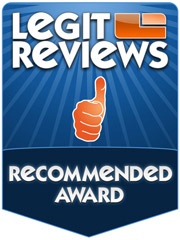 Legit Bottom Line: The G.Skill Ripjaws 4 16GB (4x4GB) DDR4 3000MHz memory kit (F4-3000C15Q-16GRR) looks good, is fully stable and the performance numbers are solid, what more can you ask for from a memory kit?