G.SKILL Ripjaws 4 16GB DDR4 3000 MHz Memory Kit Review – F4-3000C15Q-16GRR
By
G.SKILL Ripjaws 4 – The Most Widely Available DDR4 Kit Available
When Intel moved the launch of the X99 platform forward it caught some companies off guard, but one company that was more than ready for the launch was G.Skill. G.Skill had no less than 23 different DDR4 memory kits ready to sell on launch day! That is an impressive number of kits and if you are looking for a 16GB, 32GB or 64GB kit of four DDR4 modules the folks over at G.Skill will be more than happy to sell you a Ripjaws 4 DDR4 memory kit that is clocked at 2133MHz, 2400MHz, 2666MHz, 2800MHz, 3000MHz, 3200MHz, 3300MHz or even the World's fastest memory kit at 3333MHz. G.Skill has by far the most impressive lineup of DDR4 memory modules by any company and they are priced very aggressively. Take a look at the nine 16GB DDR4 kits they are currently offering.
G.Skill DDR4 16GB (4x4GB) Memory Kit Options
16GB – 2133MHz – F4-2133C15Q-16GNT – 15-15-15-35 – 1.2V – $239.99
16GB – 2133MHz – F4-2133C15Q-16GRR – 15-15-15-35 – 1.2V – $249.99
16GB – 2400MHz – F4-2400C15Q-16GRR – 15-15-15-35 – 1.2V – $259.99
16GB – 2666MHz – F4-2666C15Q-16GRR – 15-15-15-35 – 1.2V – $279.99
16GB – 2800MHz – F4-2800C16Q-16GRK – 16-16-16-36 – 1.2V – $329.99
16GB – 3000MHz – F4-3000C15Q-16GRR – 15-15-15-35 – 1.35V – $389.99
16GB – 3200MHz – F4-3200C16Q-16GRK – 16-16-16-36 – 1.35V – $469.99
16GB – 3300MHz – F4-3300C16Q-16GRK – 16-16-16-36 – 1.35V – $579.99
16GB – 3333MHz – F4-33330C16Q-16GRK – 16-16-16-36 – 1.35V – $699.99
As you can see prices range from $239 for the basic value kit of DDR4 2133MHz all the way up to $699 for the World's fastest kit of memory at 3333MHz. The G.Skill Ripjaws 4 series starts at $249 and from what we can tell it's just the value part with the Ripjaws 4 heatspreader on it, so you are paying $10 to have a heat spreader on the kit. Having a heat spreader certainly does make a memory kit look better, but DDR4 memory has such low voltage as it is they don't get very hot. From the base 2133MHz kits that are the JEDEC standard you will find small price to fairly significant price jumps as the clock speeds increase. Once you get to 3000MHz you'll find that the DDR4 voltage must be increased to 1.35V and then at 3200MHz all the kits are running at more relaxed CL16 timings. G.Skill looks like they are trying to gain some market share with this complete top to bottom DDR4 offering!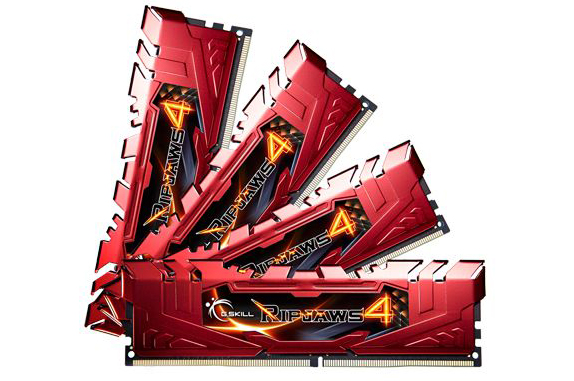 Today we'll be taking a look at the G.Skill Ripjaws 4 16GB (4x4GB) DDR4 kit of memory that is clocked at 3000MHz with CL15 timings and using 1.35 Volts. This is the kit that is sold under part number F4-3000C15Q-16GRR and runs $389.99 shipped. Last week we looked at a HyperX Predator 16GB (4x4GB) 3000MHz DDR4 memory kit by Kingston and it featured CL16 timings and needed 1.5Volts to operate. This G.Skill kit uses less voltage and has tighter timings, so it looks like G.Skill has a winner on paper. All G.Skill DDR4 memory kits are also backed by a limited lifetime warranty.
The G.Skill Ripjaws 4 series of DDR4 memory kits have a stylish looking heatspreader that you can get in red, blue and black. All of the PCBs are black and the modules have a height of just 40mm (1.58 inch), so they shouldn't have any clearance issue out there with many CPU coolers on the market.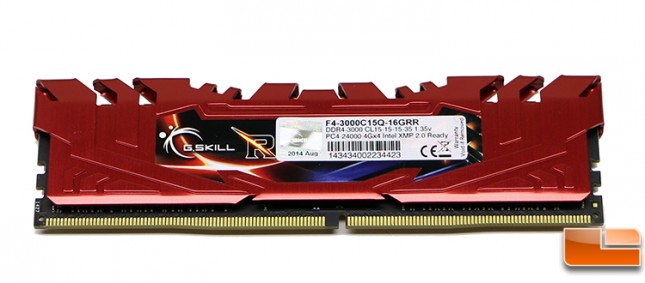 The label on the front of the G.Skill Ripjaws 4 memory kit lists the model number, clock speed, basic timings, voltage, serial number, month manufactured and finally the serial number of the kit. All G.Skill DDR4 memory kits that are running over 2800MHz need to run at 1.35V, which is over the JEDEC standard Voltage of 1.20V. G.Skill programmed the UEFI adjustments needed to run at 3000MHz on one Intel eXtreme Memory Profile (XMP) and this kit is programmed with the latest Intel XMP 2.0 functionality.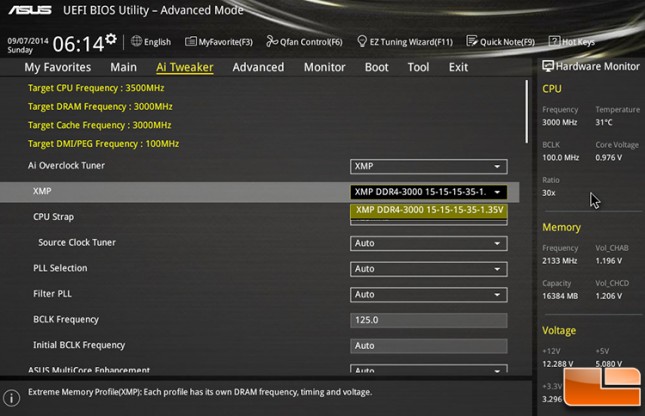 If you buy this memory kit and put it in a board like the ASUS X99 Deluxe you'll find that it boots up and runs by default at JEDEC values. This means you'll be running at 2133MHz with 1.2V and it guarantees that your board will post and that you'll be able to get into the UEFI to make the manual adjustments you need to make. You'll need to go into the Ai Tweaker menu and select XMP underneath the Ai Overclock Tuner to get this kit to automatically run at 3000MHz with the proper timings and voltages. Note that the base clock of the processor will be changed from the default value of 100MHz to 125MHz. So, the XMP profile will change the CPU strap and will technically be overclocking the processor beyond the default values. So, with the G.Skill Ripjaws 4 3000MHz memory kit we were running with a CPU strap of 125MHz with a multiplier of 28, which gives you a 3500MHz clock speed on the Intel Core i7-5960X processor that we were using.
The ASUS SPD information tool shows additional information that is programmed into the SPD. As you can see G.Skill could have loaded up a second XMP profile, but did not do so on this memory kit.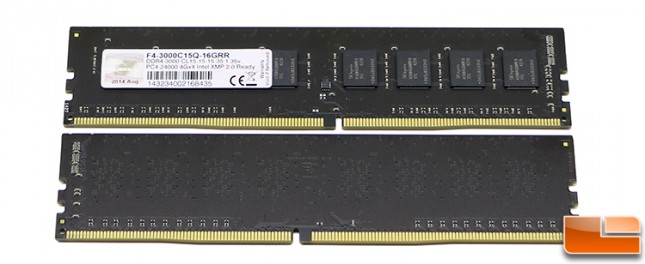 This is what the G.Skil Ripjaws 4 memory kit looks like with the heatspreaders removed. One side of the memory kit has the eight DDR4 IC's and the other side is bare since this is a 16GB (4x4GB) memory kit. If this kit were a 32GB (4x8GB) version, then both sides would have eight ICs on them.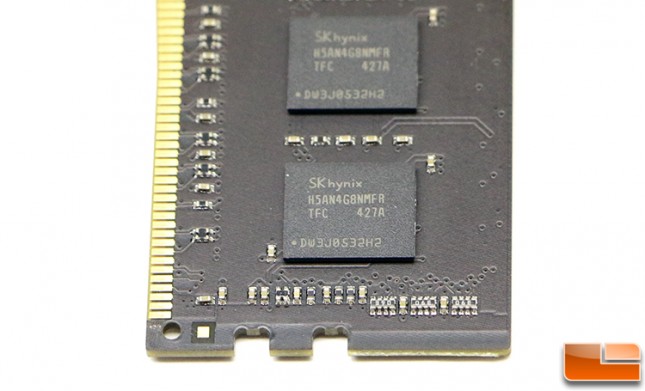 Our G.Skill 16GB set of 3000MHz-rated DDR4 memory modules were found to be using SKhynix H5AN4G8NMFR DDR4 memory ICs. We aren't sure how well these particular SK hynix 4Gb DDR4 SDRAMs can perform since this is the first time we have used them, so let's find out!