GIGABYTE Z77X-UP7 Intel Z77 Motherboard Review
By
GIGABYTE Z77X-UP7 Retail Packaging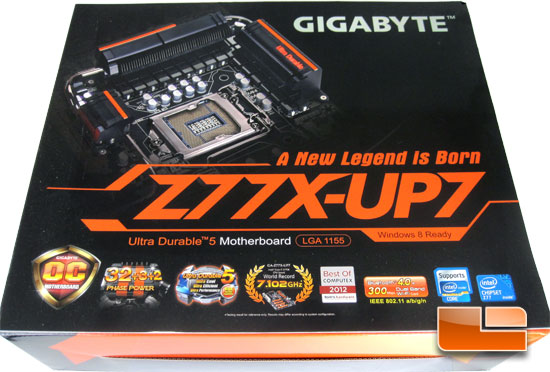 The retail packaging for the GIGABYTE Z77X-UP7 is nothing short of beautiful. This is one of the few retail packages that will stand out from the crowd without the use of characters and fluff. It really is a simple, elegant design. GIGABYTE placed a picture of the LGA1155 socket and surrounding area, product name, and some of the technologies that went into the design of the Z77X-UP7.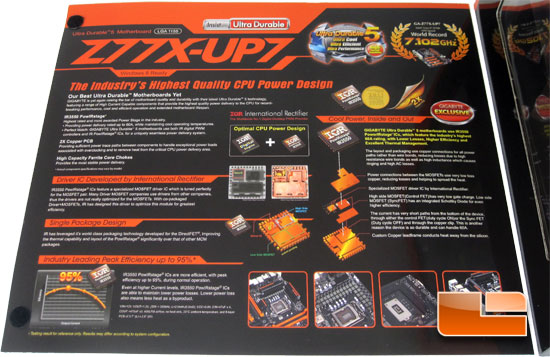 Opening up the front cover of the retail packaging for the GIGABYTE Z77X-UP7 we can find a lot of information about the CPU power design that GIGABYTE uses on the Z77X-UP7.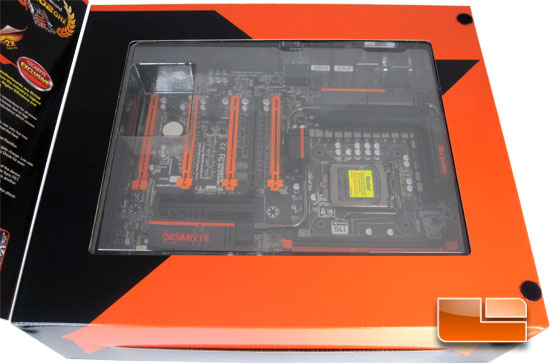 What high end motherboard packaging would be complete without a window to see what we are getting?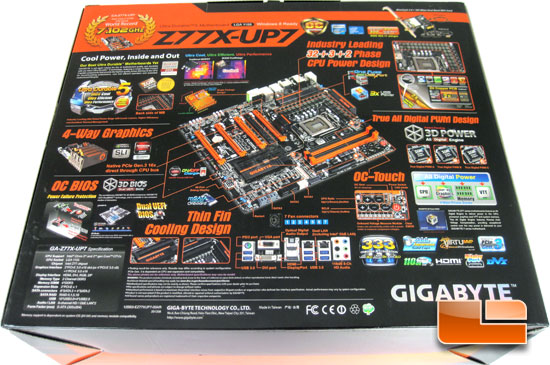 The back of the Z77X-UP7 retail packaging has no shortage of marketing text. Here GIGABYTE touches on everything from the 4-way graphics, OC-Touch, down to the all digital PWM Design.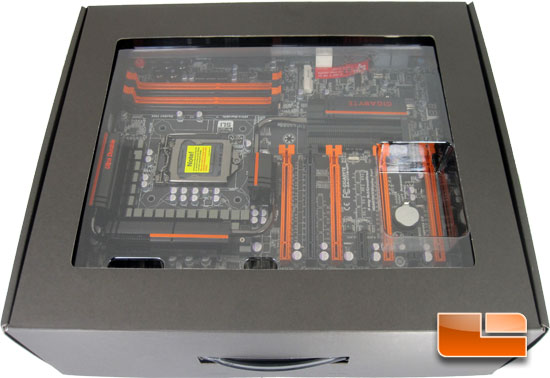 Removing the outer shell from the packaging of the GIGABYTE Z77X-UP7 isn't horribly exciting, it does show that GIGABYTE packages the Z77X-UP7 nice and secure.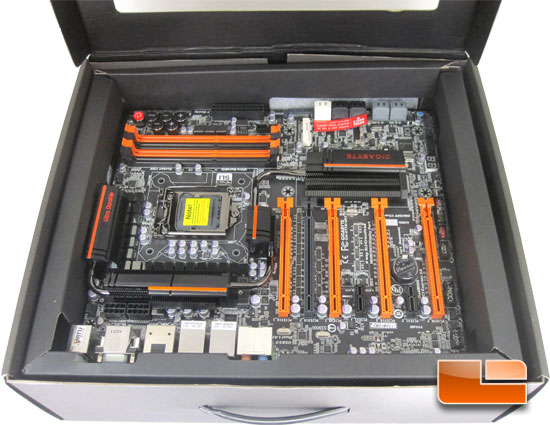 Removing the plastic cover over the Z77X-UP7 we can our first unobstructed view. Still not 100% sure about the orange on the board though. As long as it has the performance, who gives a damn about the colors!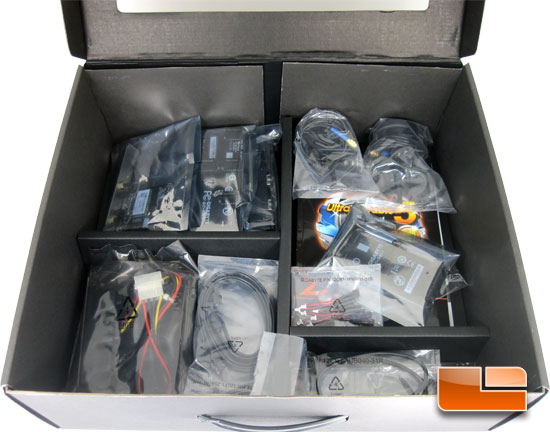 The bundle that accompanies the GIGABYTE Z77X-UP7 is nothing short of all inclusive as you can see above. Each piece of the bundle is individually wrapped and secured by four different compartments below the motherboard.

The bundle that accompanies the GIGABYTE Z77X-UP7 doesn't leave much out. Some of the key pieces included are the GC-WB300D Wi-Fi and Bluetooth expansion card plus the pair of antennas. If you happen to be using a case that doesn't have SuperSpeed USB 3.0, or are looking for an additional pair, GIGABYTE has included and 3.5″ drive bay adapter that has a pair built in. For the expansion side of things, we have an expansion bracket that includes a pair of SuperSpeed USB 3.0 ports, and 2-way, 3-way, and Quad SLI bridges, as well as a CrossfireX bridge. I was a little surprised that GIGABYTE only included six SATA cables with the board, not enough to take advantage of all of the SATA ports on the Z77X-UP7. Though to be fair, I doubt most people will use all ten SATA parts, and including ten cables in all of the retail packages would increase the overall cost.